By Kathie Stamps
In moving people and moving goods and commerce, both the transportation and logistics industries in Louisville and Southern Indiana are improving on their already positive statuses.
The flagship of this effort, the $2.3 billion Louisville-Southern Indiana Ohio River Bridges Project started construction full-force in July 2013. Substantially complete almost three and a half years later, on budget and ahead of schedule, two interstate bridges linking Kentucky and Indiana opened on Nov. 18, 2016.
The state of Indiana took the lead on the East End Crossing, while Kentucky led the Downtown Crossing. The Downtown Crossing was almost $1.3 billion of the total cost of the Ohio River Bridges Project. Kennedy Bridge, built in the mid-1960s, carries six lanes of I-65 South traffic. Its $22 million in improvements are expected last at least 35 years. The new Abraham Lincoln Bridge carries six lanes of northbound I-65 traffic.
Electric buses mean cleaner air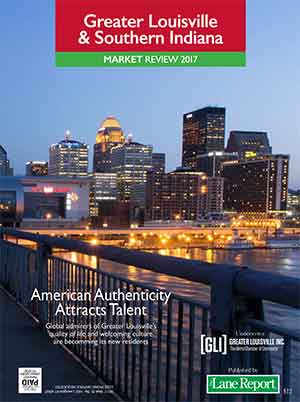 The Transit Authority of River City, TARC, is doing its part in contributing to a healthier environment, with 15 zero-emission buses in Louisville. These all-electric buses have replaced TARC buses that were 16 years old and had traveled more than 600,000 miles, thereby eliminating 30,000 pounds of harmful emissions into the air on an annual basis and 60,000 gallons of diesel fuel.
Six all-electric buses were added in the summer of 2016 to operate along the Fourth Street corridor between downtown and Iroquois Park, and have racks to hold up to three bicycles.
The buses were funded primarily with a $3.3 million grant from the Federal Transit Administration's Low or No Emission Vehicles Deployment Program. Other federal and local funding covered the remaining costs of the $4.65 million investment.
UPS invests $300 million in hub
In late August 2016, ground was broken for the UPS Centennial Ground Hub facility on Air Commerce Drive, an expansion project for the shipping and logistics company United Parcel Service. The estimated $300 million investment will create 300 new full- and part-time jobs. Planned in three phases through 2020, the expansion will triple the size of the package facility to 838,000 s.f., and more than double the sorting capacity from 40,000 to 85,000 packages per hour.
"The Centennial expansion project continues to progress on schedule," said UPS project manager Jim Zimmer. The site's rough grading was completed October 2016 and a month later the building construction began; it was 20 percent completed by April 2017.
The original Centennial hub was constructed in 2007 during UPS's 100th anniversary year to provide services for customers in Louisville and surrounding counties. The hub also is a transfer point for trailers moving to destinations beyond Kentucky.
By March 2017, a $9.5 million improvement project was completed inside Louisville International Airport (SDF), as part of the Terminal Enhancement Project. Aesthetic improvements included new terrazzo floor and carpet, wall treatments, four new escalators and a meditation room. Bethesda, Md.-based food and beverage operator Host International, Inc., and Paradies-Lagardère, a gift and news retailer based in Atlanta, have invested $8.3 million in bringing in new or remodeling existing food outlets and shops.
Outside the terminal, the third and final phase of the Crittenden Drive relocation project is expected to be finished this summer, a $4.8 million reconstruction of Woodlawn Overpass, an overpass bridge for automobile traffic.
"We've just completed a beautiful renovation of our terminal and we've prepared our airfield to accept a new generation of larger aircraft. These and many more of our successes mean that Louisville International and Bowman Field are prepared to serve this city and region for decades to come," said Skip "C.T." Miller, executive director of Louisville Regional Airport Authority.
Formerly Standiford Field and still using the location identifier SDF, the airport has been flying passengers since November 1947.
As of May 2017, Allegiant added nonstop service year-round from to Fort Lauderdale, Orlando-Sanford, Tampa-St. Petersburg and Fort Myers-Punta Gorda.
North America's third busiest cargo airport
For the fourth year in a row, Louisville International Airport was the third busiest freight airport in North America and the seventh busiest in the world, with 2.7 million tons of cargo. In 2016, 3.34 million passengers were served at SDF. Louisville International Airport and Bowman Field generated more than $8.1 billion in economic activity in 2014, the latest economic report numbers.
"Louisville International Airport and Bowman Field comprise the largest employment center in Louisville Metro, accounting for one in 10 jobs," Miller said. "Growth at the airports translates into additional jobs, payroll, business expenditures and construction projects."
Growth, construction, continual improvements and a strong ethic of working together are components the transportation and logistics industries contribute to the economic development and quality of life for Louisville and Southern Indiana.
AIRPORTS & GENERAL AVIATION
Atlantic Aviation
Louisville International Airport
atlanticaviation.com
Bowman Field
Louisville – flylouisville.com
Clark Regional Airport
Sellersburg, IN – flyjvy.com
Lebanon-Springfield Airport
Springfield, KY – visitlebanonky.com
Louisville International Airport
flylouisville.com
INTERNATIONAL SHIPPING COMPANIES
DHL
dhl.com
FedEx International
fedex.com
UPS
ups.com
PUBLIC RIVERPORTS & Rail Canadian Pacific Railway
cpr.ca
CSX
csx.com
Norfolk Southern
nscorp.com
Port of Indiana-Jeffersonville
portsofindiana.com
Jefferson Riverport International
Kentucky – jeffersonriverport.com
Meade County Riverport
transportation.ky.gov
TRANSIT SYSTEM
Transit Authority of River City
Louisville – ridetarc.org