By Kevin Gibson
Louisville has a new brand, a new distillery destination and an added boost in tourism in 2017.
Angel's Envy opened at the end of 2016 downtown following a $27 million renovation to the former Vermont American and Baer Fabrics Warehouse on East Main. The gorgeous structure includes a visitor center with a gift shop, and a fully functioning distillery, meaning that everything in the production of Angel's Envy bourbon, from milling grains to bottling the finished product, happens on site.
And that's only the beginning of what has Louisville's status as a tourist destination and economic grower ever evolving. But it's a big one, with bourbon and Angel's Envy on the leading edge of this growth.
Plans for the new distillery were first put forth by the late distiller Lincoln Henderson and have been several years in the making.
"Opening the Angel's Envy distillery and visitor's center in downtown Louisville was a dream Dad and I had," Wes Henderson, Angel's Envy chief innovation officer, said. "He would be so proud of what we've accomplished in such a short amount of time."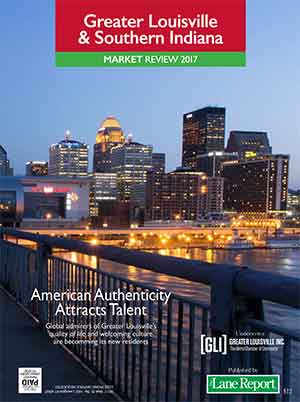 It isn't going unnoticed, if a recent study by Longwoods International is any indication. The study showed that visits to Louisville rose 4 percent to 24.2 million from 2014 to 2015, adding $1.235 billion in spending, increase of 10 percent over the previous year. Another study suggests 85 percent of all visitors to Louisville can be considered "leisure travelers." It isn't all due to bourbon, but the light brown, state-native liquid sure helps.
Another recent step forward in this effort was the city's dedication of the first phase of the downtown Bourbon District, which pays homage to downtown Louisville's rich bourbon history, featuring historic site signs, destination signs, banners and a pop-up "event scape." 
"While Louisville's bourbon story goes back to the late 1700s, it's only been in the last decade that bourbon tourism has become a defining point of our city's authenticity," said Karen Williams, president and CEO of the Louisville Convention & Visitors Bureau. "We are thrilled to be part of sharing this cultural heritage with locals and visitors and think it will enhance their appreciation of Louisville's unique destination experience."
"We've seen first-hand how Bourbonism can boost economic development and revolutionize tourism," Louisville Mayor Greg Fischer said. "Today, Bourbonism is thriving in Downtown Louisville, with four distillery experiences already open and three more planned, as well as a number of additional bourbon attractions slated to open."
If that wasn't enough, on May 1 Fischer helped announce that a new Old Forester product, Old Forester Statesman, will debut in filmmaker Matthew Vaughn's upcoming film "Kingsman: The Golden Circle," starring Colin Firth, Taron Egerton, Mark Strong, Jeff Bridges, Halle Berry and others. Part of the film will be set in Louisville, with bourbon a key ingredient.
But bourbon isn't the only hospitality-based economic driver in Louisville.
Convention traffic gaining steam
Louisville's convention business is on track to increase in the coming years, thanks in no small part to the expansion and renovation of the Kentucky International Convention Center (KICC) in downtown Louisville, along with the new hotel development currently under construction or proposed. The convention center is set to reopen in summer 2018.
In addition to the Omni and others, Concord Hospitality and 725 Partners recently began construction on the new AC Hotel Nulu, which will feature 156 rooms and 6,000 s.f. of retail space.
In conjunction with that growth, the Louisville Convention and Tourism Bureau reports that booking for conventions in 2019 and 2020 is strong. Doug Bennett, senior VP of convention development for LCVB, said that "between the anticipated opening date of August 2018 through August 2020, the Bureau has worked with 24 groups that will utilize the new center."
But bourbon also plays a role in that as well. It's pretty well known now that the CVB first played the bourbon card in 2007, which is when it began to fiercely promote it to potential conventions. It has worked in tandem with what the mayor's office and Downtown Louisville have done, by design.
"Over time, even though we still promote collectively as 'Bourbon Country' with our regional partners, we began to incorporate a bourbon message into our overall city messaging," Stacey Yates, vice president of marketing for the CVB, said. "With the Louisville brand re-launch last year, bourbon was identified as one of four brand pillars that would guide our messaging overall."
Dining and beer can't hurt
Add in Louisville's vaunted dining scene – it is widely recognized nationally as a culinary destination – and you're really onto something. With roughly 2,500 restaurants encompassing a wide range of cuisines, from Southern-inspired fare that reflects Kentucky's heritage, to a healthy array of world cuisines, dining becomes one more jewel in the crown of economic growth.
David Oetken, of the Louisville Small Business Development Center, believes tourism helps drive the culinary scene, and vice versa. Naturally, he includes bourbon in the equation as well.
"If you think about what Bourbonism truly is, it is all about an experience," Oetken said. "Visitors come to Louisville to experience, not simply to consume. This fits hand in glove with the local food scene where local chefs try new concepts and feel free to abandon old."
"The dining and culinary scene just continues to flourish," Yates added. "The bulk of that is simply organic and then a little of the spotlight that we are able to help shine on that story."
Meanwhile, Louisville slowly becomes a brewing destination as well. With expansions to Great Flood Brewing Co. and 3rd Turn Brewing either complete or in the works, and new breweries like Mile Wide Beer Co., Old Louisville Brewery, Holsopple Brewing, and others, people from around the region are beginning to take notice and make visits.
Gravely Brewing, a combination brewery and music venue, is set to open later in 2017, and co-owners Nathaniel Gravely and Cory Buenning relocated here from other markets, but chose Louisville because of its brewing heritage and its music scene.
It's a recipe for continued growth in the River City, with bourbon as the key mixer.
ATTRACTIONS & DISTILLERIES
Barton 1792 Distillery
Bardstown – 1792bourbon.com
Bourbon Classic
Louisville – bourbonclassic.com
Early Times
Louisville – earlytimes.com
Four Roses (warehouse/bottling facility)
Cox's Creek – fourrosesbourbon.com
Heaven Hill Distilleries Inc.
Bardstown – heaven-hill.com
Jim Beam Brands Co./Jim Beam American Stillhouse
Clermont – jimbeam.com
Jeptha Creed
Shelbyville – jepthacreed.com
Kentucky Bourbon Festival
Bardstown – kybourbonfestival.com
Kentucky Bourbon Trail
bourbontrail.com
Limestone Branch Distillery
Lebanon – limestonebranch.com
Maker's Mark Distillery Inc.
Loretto – makersmark.com
Michter's Distillery LLC
Louisville – michters.com
Old Forester
Louisville – oldforester.com
Urban Bourbon Trail
Louisville – bourboncountry.com/urban-bourbon
Whiskey Row
Louisville
URBAN BOURBON TRAIL STOPS
(All in Louisville)
Asiatique
1767 Bardstown Road asiatiquerestaurant.com
Avalon
1314 Bardstown Road avalonfresh.com
The Bar at BLU
280 W. Jefferson St. blugrille.com
Baxter Station Bar & Grill
1201 Payne St. baxterstation.com
Bourbons Bistro
2255 Frankfort Ave. baxterstation.com
Bristol Bar & Grille
614 W. Main St. bristolbarandgrille.com
The Brown Hotel Lobby Bar
335 W. Broadway brownhotel.com
Buck's
425 W. Ormsby buckslou.com
Corbett's: An American Place
5050 Norton Healthcare Blvd.
Corbettsrestaurant.com
Derby Café: at the Kentucky Derby Museum
704 Central Ave. derbycafe.com
Dish on Market
434 W. Market St. dishonmarket.com
Doc Crows Southern Smokehouse & Raw Bar
127 W. Main St. doccrows.com
Equus & Jack's Lounge
122 Sears Ave. equusrestaurant.com
Jockey Silks Bourbon Bar
140 N. 4th St. galthouse.com
Limestone
10001 Forest Green Blvd.  limestonerestaurant.com
Maker's Mark Bourbon House & Lounge
446 S. 4th St. makerslounge.com
The Old Seelbach Bar
500 S. 4th St. seelbachhilton.com
Proof On Main
702 W. Main St. proofonmain.com
Ramsi's Café on the World
1293 Bardstown Road ramsiscafe.com
Village Anchor
11507 Park Road villageanchor.com