By Kathie Stamps
Tourists from all walks of life are welcome in Louisville every day of the year.
"Louisville is now on the map as an authentic travel destination. There is a very cool, hip vibe to Louisville and people want to check it out," said Susan Dallas, senior communications manager of the Louisville Convention & Visitors Bureau. She has been with the LCVB 26 years and has seen tourism change, particularly from visitors who once considered Louisville a one-trick pony as the home of the Kentucky Derby that now offers dozens of tourist attractions.
"Along with the iconic, one-of-a-kind attractions, the city's mix of eclectic neighborhoods, amazing restaurants, bourbon resurgence, hotel array, meeting venues and the gracious hospitality that is offered makes the city a place people want to be," Dallas said.
With 24.2 million visitors spending $3.3 billion in travel and tourism (according to the most recent statistics available from 2015), tourists and locals alike are enjoying the Derby and other annual events as well as daily experiences like bourbonism. Public tours are available at one brandy and six bourbon distilleries, and 30 different Urban Bourbon Trail stops provide tourists a cocktails experience.
"We expect the interest in bourbon and craft beer to continue to grow," Dallas said. Two new bourbon distilleries are expected to open in late 2017 or early 2018.
"I think as Louisville's reputation grows as a solid culinary destination, it brings a certain cachet to Louisville that may have been missing in the past," Dallas said. "Mix this with the burgeoning spirits landscape, I think it brings attention to Louisville to a more sophisticated audience, which may include entrepreneurial talent (and) business owners."
Getting off the beaten path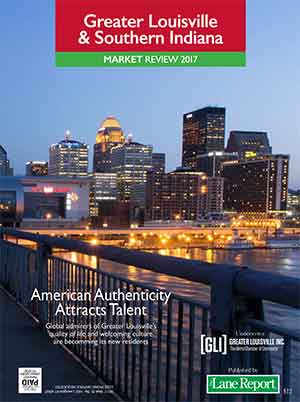 Conrad-Caldwell House Museum is one of the many venues that stay in close contact with the LCVB. Located on Saint James Court in the historic Old Louisville, the museum benefits from foot traffic of conventions and meetings at nearby hotels.
"Oftentimes, those traveling will look for interesting and different places to explore," said Angela Williams, the museum's events and rentals coordinator. "We partner with the Louisville Convention & Visitors Bureau to ensure our guests know about their tourism efforts and vice versa."
Conrad-Caldwell participated in LCVB's motor-coach familiarization tour, or fam tour, by hosting a group of representatives from local attractions, hotels and restaurants "to discover the unfamiliar places that are off the beaten path, with hopes they will have a better understanding of how to encourage leisure travelers and locals alike to see something different," Williams said.
Conrad-Caldwell also frequently join forces with the Old Louisville Neighborhood Council to collaborate on community events and tours that highlight the offerings of Old Louisville.
Speeding ahead
After being closed almost four years for a $60 million renovation and expansion, the Speed Art Museum reopened in March 2016. Thanks to a donation from Brown-Forman, admission is free on Sundays through 2020 at the Speed, which is located on South Third Street adjacent to the UofL campus. Downtown on West Main, the Kentucky Museum of Art and Craft went through a 10-month closure for a $3 million redesign, reopening in July 2016. A grant from Delta Dental of Kentucky has provided free admission for a year to KMAC.
A 4,000-acre park known as the Parklands of Floyds Fork was completed in 2016, eight years after the nonprofit 21st Century Parks organization drew up a master plan for the four public parks. Funding came from the nonprofit's $120 million capital campaign.
'The Greatest' attractions
The death of boxer and humanitarian Muhammad Ali in June 2016 brought people to Louisville to mourn the nation's most celebrated athlete in his birthplace. One month prior, his childhood home on Grand Avenue was opened as a museum. A new festival, "I Am Ali," takes place June 3 to July 15 in various venues and community events throughout Louisville to honor the late humanitarian's six core principles of confidence, conviction, dedication, respect, giving and spirituality.
In April 2017 "The Hunger Games: The Exhibition" opened at the Frazier History Museum for a six-month run, featuring seven galleries of hands-on interactive opportunities, movie set re-creations and hundreds of authentic costumes and props from the film franchise. A portion of full-price ticket proceeds benefit the Jennifer Lawrence Foundation.
Lawrence, a native of Indian Hills, Ky., starred as Katniss Everdeen in the Hunger Games movies. The Frazier Museum, on Museum Row in downtown Louisville, has partnered with hoteliers to offer room-night packages that include exhibition tickets. Almost three dozen local businesses are participating in the Panem Citizens Card, a discount savings card for consumers. Museum personnel have also worked with the Kentucky State Tourism board and LCVB to promote the exhibition.
Adjacent to the Louisville International Airport, the Kentucky Exposition Center has 1.2 million s.f. of multiuse space housing Freedom Hall, Broadbent Arena, Cardinal Stadium, Newmarket Hall, the east hall and west hall, west wing and north wing, three south wings and a pavilion. Often still referred to as "the Fairgrounds" by locals, the property was built in 1956 and is governed by the Kentucky State Fair Board. The Kentucky State Fair is an in-house signature event, as is the annual Championship Tractor Pull, National Farm Machinery Show, North American Championship Rodeo and World's Championship Horse Show.
The Kentucky State Fair Board rebranded in March 2017 under a new name, Kentucky Venues, comprising the Kentucky Exposition Center and its signature events, plus the downtown Kentucky International Convention Center six miles north of the Exposition Center.
Visitors can conveniently explore the counties around Louisville for easy day trips with a full range of activities including boating, hiking, horseback riding, wineries, apple picking and much more.
Here is a sampling of some of the area's highlights.
Abbey Road on the River
World's largest Beatles festival
abbeyroadontheriver.com
Abraham Lincoln Birthplace National Historic Site
Symbolic cabin of Lincoln's birth
Hodgenville, Ky. – nps.gov/abli
American Printing House for the Blind
Factory and museum
aph.org/museum
Beck's Mill
Restored late 1800s mill
Salem, Ind. – becksmill.org
Belle of Louisville/Spirit of Jefferson
Steamboats
belleoflouisville.org
Bernheim Arboretum and Research Forest
Nature preserve
Clermont, Ky. – bernheim.org
Blackacre State Nature Preserve and Historic Homestead
Home dates to 1785
blackacreconservancy.org
The Brennan House
Historic home and gardens
thebrennanhouse.org
Bullitt County History Museum
In old courthouse
Shepherdsville, Ky. – bullittcountyhistory.org
Carnegie Center for Art & History
Includes multimedia experience
New Albany, Ind. – carnegiecenter.org
Cave Hill Cemetery
cavehillcemetery.com
Churchill Downs
Home of the Kentucky Derby
churchilldowns.com
Conrad-Coldwell House Museum
Home celebrates Edwardian Age
conrad-coldwell.org
Corydon Capital State Historic Site
Indiana's first state capital
Corydon, Ind. – thisisindiana.org
Culbertson Mansion State Historic Site
Built by Indiana's wealthiest man in 1867
New Albany, Ind.
indianamuseum.org/explore/culbertson
Falls of the Ohio Foundation
Ancient fossil beds
Clarksville, Ind. – fallsoftheohio.org
Farmington Historic Plantation
Home to prominent Speed Family
historicfarmington.org
Flame Run Glass Studio and Gallery
Glassblowing studio
flamerun.com
Forecastle Festival
Music, art, activism
forecastlefestival.com
Fort Duffield
Union stronghold during Civil War
West Point, KY
Fourth Street Live!
Downtown dining, entertainment, shopping
4thstlive.com
Frazier History Museum
fraziermuseum.org
General George Patton Museum of Leadership
Cavalry and armor history
Fort Knox, Ky. – generalpatton.org
George Rogers Clark Homesite
Replica of cabin built in 1803
Clarksville, Ind. – fallsoftheohio.org
Gheens Science Hall and Rauch Planetarium
At the University of Louisville
louisville.edu/planetarium
Harvest Homecoming Festival
Family-oriented activities
New Albany, Ind. – harvesthomecoming.com
Historic Old Louisville
Neighborhood of Victorian architecture
oldlouisville.org
Howard Steamboat Museum
Located in mansion built in 1894
Jeffersonville, Ind. – howardsteamboatmuseum.org
Huber's Orchard, Winery & Vineyards
Starlight, Ind. – huberwinery.com
Ironman Louisville triathlon
ironmanlouisville.com
John Hay Center
Washington County, IN, history
Salem, Ind. – johnhaycenter.org
Joe Huber Family Farm & Restaurant
Taste of the farm
Starlight, Ind. – joehubers.com
Kentucky Center for African American Heritage
History, heritage, cultural contributions
kcaah.org
Kentucky Crossroads Harvest Festival
Springfield, Ky.
springfieldkychamber.com/harvestfestival.php
Kentucky Derby Festival
Two-week community celebration
kdf.org
Kentucky Derby Museum
At Churchill Downs
derbymuseum.org
Kentucky Museum of Art and Craft
Promotes traditional arts
kentuckyarts.org
Kentucky Railway Museum
22-mile train excursion
New Haven, Ky. – kyrail.org
Kentucky Science Center
Hands-on science center
kysciencecenter.org
Kentucky State Fair
kystatefair.org
Lanier Mansion
Greek Revival showplace
Madison, Ind.
indianamuseum.org/explore/lanier-mansion
Light Up Louisville
Downtown holiday activities
louisvilleky.gov
Lincoln Heritage Trail
Sites connected to U.S. President
kylincolntrail.com
Lincoln Heritage Scenic Highway
Explore Kentucky history
byways.org/explore/byways/2348
Lincoln Homestead State Park
Site of Lincoln's parents' marriage
Springfield, Ky.
stateparks.com/lincoln_homestead.html
Louisville Bats
Triple A affiliate of the Cincinnati Reds
louisville.bats.milb.com
Louisville Mega Cavern
100 acres of underground passageways
louisvillemegacavern.com
Louisville Palace
Concert venue opened in 1928
louisvillepalace.com
Louisville Slugger Museum & Factory
Interactive baseball exhibits
sluggermuseum.com
Louisville Zoo
Home to more than 1,700 animals
louisvillezoo.org
Madison Regatta
Boat race on Ohio River
Madison, Ind. – madisonregatta.com
Maple Hill Manor
Built in 1851
Springfield, Ky. – maplehillmanor.com
Marengo Cave
U.S. National Natural Landmark
Marengo, Ind. – marengocave.com
Mt. Zion Covered Bridge
Built in 1871
Springfield, Ky. – kentuckytourism.com
Muhammad Ali Center
International education center
alicenter.org
Museum Row on Main
Nine downtown attractions
museumrowonmain.com
My Old Kentucky Dinner Train
2-hour train excursion
Bardstown, Ky. – kydinnertrain.com
My Old Kentucky Home State Park
Bardstown, Ky. –
parks.ky.gov/parks/recreationparks/
   old-ky-home/default.aspx
Oscar Getz Museum
Whiskey and Bardstown history
Bardstown, Ky. – whiskeymuseum.com
Patriots Peace Memorial
Honors fallen servicemen/women
patriotspeacememorial.org
Schimpff's Confectionery
Look at candy making, packaging, advertising
Jeffersonville, Ind. – schimpffs.com
Scribner House
Built in 1814
New Albany, Ind. – scribnerhouse.org
Squire Boone Caverns & Village
Cavern tours, village crafts
Mauckport, Ind. – squireboonecaverns.com
Thomas Edison House
Inventions on display
historichomes.org
Thomas Merton Center
Writings of famous monk
mertoncenter.org
Whitehall House & Gardens
Victorian mansion
historichomes.org
Wickland
Home of 3 governors
Bardstown, Ky. – visitbardstown.com/wickland/
Zachary Taylor National Cemetery
Burial site of 12th U.S. President
cem.va.gov/cems/nchp/zacharytaylor.asp