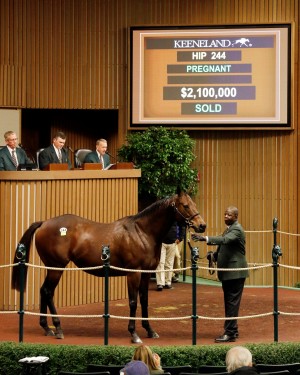 LEXINGTON, KY (Nov. 8, 2017) – For Royalty, dam of Grade 1 winner Constellation in foal to Bernardini, sold to Summer Wind Equine for $2.1 million to lead today's second session of the Keeneland November Breeding Stock Sale, which saw increases in average and median prices and the sale of eight broodmares and broodmare prospects and one weanling for $1 million or more each.
On Wednesday, Keeneland sold 105 horses for $41,692,000, down 20.98 percent from the second session in 2016 when 138 horses brought $52,764,000. The average of $397,067 rose 3.85 percent versus last year's $382,348. The median of $285,000 was up 9.62 percent when compared with $260,000 in 2016.
Through the first two days of the sale, which make up the premier Book 1 portion of the auction, Keeneland sold a total of 201 horses for $83,996,000, down 18.39 percent from the first two sessions last year when 253 horses brought $102,919,000. The cumulative average of $417,891 rose 2.73 percent from $406,794 in 2016. Median price increased 15.38 percent from $260,000 to $300,000.
"Today was very solid again," Keeneland Director of Sales Operations Geoffrey Russell said. "Book 1 this year had one less million-dollar horse (17 this year versus 18 in 2016) with 20 percent fewer horses in the catalog compared to Book 1 last year, so the numbers at the top end were very good.
"We want Book 1 to start off strong with the top-end horses selling well. Having a $6 million horse this year (champion Stellar Wind, who sold Tuesday) compared to $3.8 million last year definitely shows buyers are spending money. Having nine million-dollar horses today shows the market is very healthy.
"The barn area has been very busy with buyers looking at Book 2 horses already," Russell said. "Comments are very positive and lots of people have said they haven't bought yet. You try to establish what the market is the first two days to see what's going to happen through the rest of the sale."
Denali Stud, agent, consigned the session-topping For Royalty, a 10-year-old daughter of Not For Love out of the stakes-winning Irish Open mare Taft Lil Queen. A stakes winner herself, For Royalty is a half-sister to Grade 2 winner Kiss to Remember and stakes winner El Viento.
The November Sale continues through Nov. 18. Thursday's session begins at 10 a.m. The entire sale is streamed live at Keeneland.com.