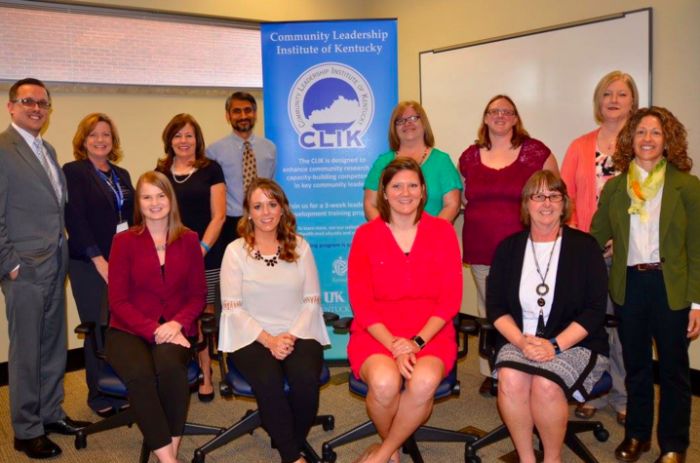 LEXINGTON, Ky. (Dec. 7, 2017) — The Community Leadership Institute of Kentucky is accepting applications for its 2018 spring program.
CLIK is an intensive four-week leadership development program designed to enhance research and capacity-building competencies in community leaders, senior staff, directors and administrators working to reduce health disparities. Applications are due Jan. 10, 2018; downloadable application information can be found in the sidebar to the right.
CLIK is offered in Hazard, Ky., as a partnership between the UK Center of Excellence in Rural Health, the UK Center for Clinical and Translational Science and the Kentucky Office of Rural Health.
Participants in the CLIK program, which has a competitive admission process, receive training in grant writing, finding and leveraging data, survey development, evidence-based programming, quality improvement, budgeting, evaluation, public speaking and more. Each participant is paired with a mentor for their proposed project, and their organization receives a $2,500 grant. The participant's organization must have 501(c)(3) status or a designated fiscal agency with such status to receive and manage the grant award.
Priority will be given to applications from leaders from Appalachian counties and to applicants who proposed projects are consistent with the UK CCTS Community Engagement areas of focus, including cancer prevention (e.g., nutrition, physical activity, smoking cessation), reducing obesity and sedentary lifestyle, chronic disease (diabetes, cardiovascular disease) prevention or management and substance abuse prevention and treatment.
Training sessions will take place at the UK Center of Excellence in Rural Health in Hazard on March 19, 20 and 27; and April 3 and10. Following the training dates, mentoring and technical assistance will be available throughout the year as participants' projects are implemented and completed.
For questions regarding this training program, please contact Beth Bowling at [email protected] or (606)-439-3557 ext. 83545.