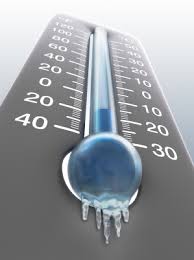 ASHLAND, Ky. (Jan. 3, 2018) – Arctic air blasting into Eastern Kentucky this week bringing with it bitter winds, cold temperatures, snow and ice, could contribute to higher electric bills for Kentucky Power customers during their next billing cycle.
"As temperatures get colder, heating systems run longer and work harder to maintain warmth within our homes," said Del Borden, director of customer service and business development. "If the outside temperature is 50 degrees, heating systems might only need to run a few minutes each hour to maintain the temperature within our homes, but when the temperature drops to near zero and below, it will need to come on more often and run longer each time to maintain indoor temperature. In addition, if you have a heat pump, less efficient supplemental electric resistance often is the backup heating source that comes on if the outdoor temperature is below 30 degrees."
The National Weather Service has called for continued bitterly cold weather in Eastern Kentucky through the weekend with temperatures dropping to near or below zero. The potential for snow also is in the forecast. Kentucky Power is monitoring its distribution system closely to ensure reliability in advance of the expected increase in demand and possible outages.
"We do not anticipate widespread outages due to cold temperatures," said Everett Phillips, Kentucky Power's managing director of distribution operations. "Our system is designed to handle temperature extremes but we always want to be prepared. That is why we will be monitoring the conditions and our system, especially during peak hours this evening and early in morning. In addition, Kentucky Power crews and contract workers are on alert to respond quickly in the event outages do occur."
Even before arctic air sent temperatures plunging, the U.S. Energy Information Administration had predicted that average household expenditures for all major home heating fuels would rise this winter because of the expected colder weather and higher energy costs. Among U.S. households, 40 percent rely on electricity as their primary heating source. Nearly two-thirds of homes in the South heat primarily with electricity compared with only 16 percent in the Northeast.
"Customers who heat with electricity sometimes are unaware of their increased electric usage when it is so cold because they are turning up the thermostat to counter the bitter cold," Borden said. "I would anticipate they will see an increase in their electrical usage over the past two Januarys, which will naturally result in higher bills. "Fortunately there are simple things customers can do to help lessen the burden of a higher bill, and it's not too late to take action."
Consumers can take simple conservation steps that can help:
· Decrease thermostat settings to the lowest comfortable level, if health permits.
· Turn off unused and unneeded lights and appliances.
· Keep vampire electronics, such as TVs, computers and other gadgets under control. The EPA estimates vampire electronic gadgets burn through more than 100 billion kilowatt hours of electricity nationwide each year. That is about $10 billion worth of energy.
Customers should examine their bill comparing last year's usage to this year. If the kilowatt-hour usage is more than 25 to 30 percent higher than last year, or if they have any questions, the next step should be to contact Kentucky Power's 24-hour Customer Solutions Center at 1-800-372-1113. A representative can review the account and arrange a personalized payment plan.
Customers preferring to budget for electric bills also can consider the Average Monthly Payment (AMP) plan. This plan differs from the older Budget plan because there is no settle up month. Instead, bills adjust on a 12-month rolling average and change slightly each month. Again, a customer service representative can provide more information about the AMP plan.
Air leaks, lack of insulation and lack of heating system maintenance are the three major areas in a home that contribute to wasted electricity. Customers should consider addressing these three areas to help lower their energy usage.
Customers who lose service during the winter and at other times can report their outage to Kentucky Power by calling customer service center at 1-800-572-1113. During times of high call volume callers may hear a recorded message and can leave a message about their outage. Those customers with access to a charged laptop, smartphone or tablet can report an outage online at https://kentuckypower.com/outages/. They also can check the website for individual outage details.
Customers also can prepare for outages by assembling an emergency kit with flashlights and fresh batteries; candles, matches, or lighters; water for drinking and cooking; canned goods and a manual can opener, and other supplies. A mobile cell phone charger also is useful.
Kentucky Power, based in Ashland, serves about 168,000 customers in 20 eastern Kentucky counties: Boyd, Breathitt, Carter, Clay, Elliott, Floyd, Greenup, Johnson, Knott, Lawrence, Leslie, Letcher, Lewis, Magoffin, Martin, Morgan, Owsley, Perry, Pike and Rowan. Kentucky Power is an operating company of the American Electric Power system.
AEP, based in Columbus, Ohio, is focused on building a smarter energy infrastructure and delivering new technologies and custom energy solutions to customers. AEP's more than 17,000 employees operate and maintain the nation's largest electricity transmission system and more than 224,000 miles of distribution lines to efficiently deliver safe, reliable power to nearly 5.4 million regulated customers in 11 states. AEP also is one of the nation's largest electricity producers with approximately 33,000 megawatts of diverse generating capacity, including 4,200 megawatts of renewable energy.