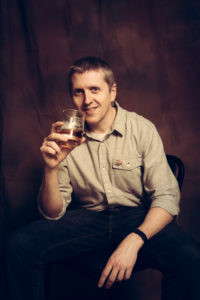 LEXINGTON, Ky. (Jan. 3, 2018) – Adam Johnson, senior director of Kentucky Bourbon Trail experiences, was elected to the board of directors of Horse Country by the members of the organization at the annual business meeting Dec. 14.
"From the early days, the team at the Kentucky Bourbon Trail and the Kentucky Distillers' Association have been great mentors for us in our quest for fan development, so we welcome the opportunity to have Adam working with us on the board," said Price Bell, Horse Country's board president. "In 2016, the members of the Kentucky Bourbon Trail welcomed 1 million visits to their distilleries and their commitment to experience is one we've learned from already. This will only strengthen the bonds of our two signature industries."
As Kentucky Bourbon Trail director, Johnson is responsible for strengthening partnerships among the Bourbon and tourism industries; working with member distilleries to manage tourism growth and solidifying Kentucky as the authentic home for Bourbon. Johnson has also previously served as the Executive Director of the Danville/Boyle County Visitor's Bureau.
"Bourbon and horses are two of the iconic industries of our Commonwealth," said Johnson. "Working together to bring more visitors to both will be an exciting opportunity."
Horse Country, a 501(c) 6 not-for-profit organization, now has 38 members, which comprise equine attractions such as farms, clinics, Thoroughbred Aftercare Alliance-accredited aftercare and retraining facilities, and even a feed mill. Collectively, the members have sold nearly 50,000 tickets to tour guests from 50 states and 17 countries since the first tours in 2015.
Allison Bishop of Claiborne farm and Price Bell, Jr., of Mill Ridge farm were re-elected to the board. Johnson replaces outgoing director John Philips of Darby Dan farm, who served on the organizing board of Horse Country.