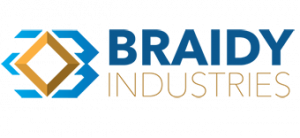 ASHLAND, Ky. (Jan. 12, 2018) – Braidy Industries announced today key hires and executive promotions as they progress plans for their flagship 300,000 ton-capacity aluminum rolling mill in Eastern Kentucky.
Brigadier General Blaine Holt, USAF (Ret.) assumes the role of COO from his previous role as executive vice president of Operations and will continue to report to Braidy Industries CEO, Craig Bouchard. Holt will manage operations and logistics, including the War Room, and general oversight of the $1.3 billion flagship rolling mill in Eastern Kentucky.
Jaunique Sealey assumes the role of executive vice president of Business Development and will continue to report to Braidy Industries CEO, Craig Bouchard. Sealey will hold responsibility for Business Development and Strategy, Investor Relations, Community and Government Relations, Corporate Communications and Marketing.
Gregg Whigham joins Braidy Industries as general manager of the Braidy Plant from his previous role as world class operations manager for Arconic's Global Rolled Automotive and Aerospace Aluminum Products Division's Davenport facility. Prior to that, Whigham was operations manager for Arconic's Davenport facility, managing all aspects of operations for all 2,600 employees, servicing 1,100 customers across 8,000 different product specifications.
David Durci joins Braidy Industries as the operational readiness manager from his previous role as light metals engineering manager at Arconic's Davenport facility where he led and assisted in business case development for rolling products processing investments, and completed commissioning and post commissioning of automotive sheet production assets, including continuous heat treat (CASH) and A951 surface pre-treatment lines.
Dr. Eric Dahlgren joined Braidy Industries as a vice president of R&D, focused on mill process improvement, recycling optimization, and cost reduction. Dahlgren joins from his former role as co-founder and chief scientific officer of an MIT-incubated spin-off company focused on the development of new processes to manipulate solidification of metallic melts for facilitating the next generation of materials. He has co-authored numerous publications on metals processing and materials modification and holds a process patent for hydrocarbon gas conversion. Dahlgren received his doctorate degree from Columbia University and was a Visiting Scientist at MIT's Department of Materials Science and Engineering. His doctoral thesis work focused on the economics of large-scale infrastructure investments within the energy and materials processing industries. This work was awarded the Grant Award in 2014.
Captain David Shealy US Navy (Ret.) joins Braidy Industries as managing director of the War Room, Braidy Industries' operational center, dedicated to efficient lean six-sigma enterprise management and strategy deployment. Captain Shealy joins following four successful sea tours with the United States Navy, including support for Operation Desert Shield, Operation Iraqi Freedom, Operation Enduring Freedom and Joint Task Force Liberia. As a logistician, he was commander of the Defense Logistics Agency Distribution Center in San Diego, California, and was hand-selected to join the U.S. Military Delegation to the Military Committee of NATO.
Matt Rakes and Cassandra Flocker, both lifelong local residents, have assumed the roles of information and technology operations engineer and administrative assistant, respectively. Flocker's hire resulted from her submission to the Braidy Industries website job portal.
Of the developments, Braidy Industries CEO Craig Bouchard said, "Braidy Industries is making progress at an unprecedented pace. We're currently over 160 percent pre-sold for our mill capacity, and have closed our initial land parcel acquisition. Expect more news on the land acquisition front. Land in Eastern Kentucky is undervalued. We expect to break ground roughly one year from the date of our announcement in Greenup County. I credit this progress to the hard work and commitment of our talented team and the support of the community we are proud to call home in Eastern Kentucky. The spirit and camaraderie of what we are building has attracted the best and the brightest stars in our field. I am proud to welcome our new hires, congratulate Blaine and Jaunique on expansion of their roles and look forward to several more exciting announcements in the very near future."