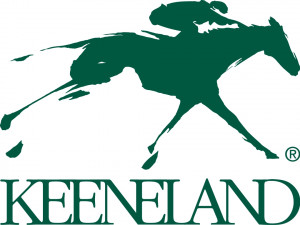 LEXINGTON, Ky. (Jan. 11, 2018) – Keeneland's 2018 January Horses of All Ages Sale concluded Thursday with healthy results that signal continued buyer confidence and demand for quality that  buoyed the recent September Yearling and November Breeding Stock auctions. Evidence of market strength were the significant growth in gross, average and median prices spurred by competition among major domestic and foreign buyers who took advantage of this final chance to purchase quality stock prior to the start of breeding season, and the sale of two seven-figure horses, including the third-highest-priced yearling colt in January Sale history.
Gross sales of $34,996,000 for the four-day auction, held Jan. 8-11 rose 21.57 percent when compared with $28,785,500 recorded for last year's five-day sale. Gross sales surpassed last year's total on the third day of selling. In all, 909 horses were sold versus 961 in 2017.
The average of $38,499 jumped 28.53 percent from last year's $29,954. The median rose 14.29 percent from $10,500 to $12,000.
"The strong results of the January Sale continue to reflect a great enthusiasm to own racehorses," Keeneland Vice President of Racing and Sales Bob Elliston said. "Buyers are bullish on the economy and the horse industry. They are bringing capital into the market in the form of long-term investment in broodmares and broodmare prospects. Short yearlings were at a premium, and a good balance of pinhookers and end-users battled to take them home. Pinhookers in particular had to step up to buy yearlings, suggesting strength because they anticipate rewards at the September Sale."
The January Sale also produced signs of a healthy middle market as the number of horses sold for $200,000 or more increased from 17 last year to 28 this year.
"As we believed it would, the optimistic trend we saw in September and November carried forward to January," Elliston said. "The surging stock market and the new tax treatments of investments should continue to positively impact the horse industry through this new year."
As another positive indicator, the clearance rate for the entire sale also improved significantly over 2017 as the total number of horses not meeting their reserve fell 27.73 percent.
"Our goal is to see commerce being done, which is reflected in a high clearance rate," Elliston said. "Quality not quantity is the industry guidepost now, and we work in partnership with consignors and buyers to get it right."
Two horses sold for $1 million or more at the January Sale, the first time since 2013 the auction has had multiple seven-figure sales.
Grade 2 stakes winner Mrs McDougal, supplemented as a broodmare prospect to the January Sale and sold as the final horse in the ring on Tuesday, brought top price of $1.6 million from Steven W. Young as agent for an undisclosed client. Eaton Sales, agent, consigned the 6-year-old daughter of leading sire Medaglia d'Oro in addition to two other of the sale's 10 highest-priced horses. The others were multiple Grade 3-placed broodmare prospect Banree, sold for $450,000 to Andre Lynch, agent, and a War Front yearling colt purchased for $390,000 by Baccari Bloodstock.
"It was a very good sale, a really good market," Reiley McDonald of Eaton Sales said. "The good horses all sold well and our good horses sold extremely well. It makes sense to me to bring horses to the January Sale."
On behalf of an undisclosed client, Young also paid $485,000, the sale's third-highest price, for stakes winner Bellavais and reported she would resume her racing career with trainer Todd Pletcher. A 4-year-old filly by Tapit out of Grade 3 winner La Cloche, by Ghostzapper, Bellavais is a half-sister to Grade 1 winner Winter Memories. Her second dam is Grade 1 winner Memories of Silver. Bellavais was consigned by the Phillips family's Darby Dan Farm, agent.
"The horses that have the quality, they're going to bring the good money," Darby Dan Sales Director Hunter Houlihan said. "The premium really is especially for race fillies, quality stakes fillies. There are some horses that I would have appraised at $100,000 that brought $200,000. I think if you were lucky enough to come in here with a really nice stakes horse, which we were, you were rewarded handsomely."
With the two purchases for a combined $2,085,000, Young was the sale's leading buyer.
A colt from the first crop of 2015 Triple Crown winner American Pharoah brought a final bid of $1 million from Coolmore's M.V. Magnier. Coolmore raced the colt's half-brother, multiple Group 1 winner Caravaggio.
January Sale success was fueled by participation from a diverse buying bench that featured horsemen from across the U.S. as well as multiple buying entities from Australia, Ireland, England, Japan, Korea, Russia, South America and Turkey.
"The international aspect of the January Sale was stronger than we normally see," Keeneland Director of Sales Operations Geoffrey Russell said. "The depth and breadth of foreign participation are unique to Keeneland. Our sales team travels year-round to educate horsemen about our auctions and nurture relationships with established buyers in markets around the world. Foreign buyers value American bloodlines."
New Mexico-based trainer Justin Evans, who attended the sale with his wife, Vanessa, was the sale's leading buyer by volume with the purchase of 14 horses of racing age, yearlings and mares for Toews On Ice, a Grade 3 winner who will stand his first season at their A & A Equine near Anthony, New Mexico.
"This is only our second time (to attend the January Sale)," Evans said. "We came four or five years ago with some clients and bought a few nice horses. We've now got a stud, Toews On Ice, so I wanted to get a few mares to breed to him. What better place than Keeneland to get some good mares?
"You've got such a big variety of horses here. You can come here and buy a really nice horse for the right price. We love the atmosphere, being at Keeneland."
Taylor Made Sales Agency was the January Sale's leading consignor for the fifth consecutive year and the 16th time since 2001. Taylor Made sold 77 horses for $3,455,700.
During Thursday's final session, two horses sold for $80,000. Donato Lanni, agent for Baoma Corp., bought the first, Tabulation, an 8-year-old daughter of Giant's Causeway in foal to Mineshaft. Consigned by Gainesway, agent, she is out of the Afleet mare The Administrator and is a half-sister to Grade 3 winner Saint Marden, stakes winner Sweet Lips and Kentucky Derby (G1) runner-up Nehro.
The second, Mr Classical, sold to Fergus Galvin, agent for Marc Detampel. Consigned by Mill Ridge Sales, agent, the 4-year-old Bernardini colt out of the Empire Maker mare Solo Piano is to resume his racing career with trainer Brendan Walsh at Fair Grounds.
Keeneland on Thursday sold 258 horses for $3,251,300, up 30.60 percent from the fourth session in 2017 when 209 horses brought $2,489,600. The average of $12,602 was 5.79 percent above last year's $11,912, while the median of $6,000 increased 20 percent from $5,000 last year.
Keeneland's next auction is the September Yearling Sale, to be held Sept. 10-22.