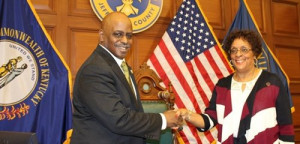 LOUISVILLE, Ky. (Jan. 12, 2018) – In a unanimous vote, Councilman David James (D-6) is the new president of the Louisville Metro Council for 2018.
"To my colleagues I want to say thank you to each of you for your vote tonight and your commitment to making our city a better place for our constituents. Each of you represent every person in our city and I know from working with each of you that you are dedicated to expressing yourselves passionately as you represent your constituents and that's one of the things I love so much about each of you," said James. "This past year we came together to do some great things for our city."
The President highlighted the Council's work on The KFC YUM Center refinancing agreement, the Butchertown Soccer Stadium, The Passport Project at 18th and Broadway, the separation ordinance, the tree ordinance, the Affordable Housing Trust Fund, and the continued commitment to over $20 million in infrastructure improvements.
"I look forward to working with each of you in the coming year and helping you however, wherever and whenever I can. I'm a humble man and I ask each of you to help shepherd me through this process, so that together we can move our city forward," said James.
In mapping out the year ahead, the president named these as challenges:
• The $38 million deficit caused by the State Pension Crisis
• Redoubling all efforts to Public Safety
• Address a dangerously overcrowded Jail,
• A Youth Detention Services Agency in desperate need of attention
• A dilapidated Police Headquarters that should have been replaced years ago.
• Continue commitment to fight the Opioid crisis which saw a 14% increase in Overdose deaths from the previous year.
• Continue infrastructure commitment to ongoing street paving and side walk repairs throughout our city, that this Metro Council started 3 years ago.
• Continue efforts of addressing Vacant and Abandoned Properties. Continue our commitment to Affordable Housing and Accessible Housing throughout our city.
"In 2018 we will need to reach across the aisle, pull up our sleeves and work together not as political parties but as one body – Louisville Metro Council!" said James.
The President concluded by asking for the community's help in the coming year.
"So, while we tackle all of these issues and many more, I ask the community to pray for us and I ask that we pray for each other, that we are able to find solutions to our challenges and peace in our hearts as we work together passionately to make Louisville Metro a better place for all of our citizens, in all geographic areas and in all neighborhoods so that no one is left behind and every one throughout our city has the same opportunities to prosper, have a good education, enjoy good health, be safe and live in peace."
David James was elected to the Metro Council in November of 2010. He serves the neighborhoods of Algonquin, California, Limerick, Old Louisville, Park Hill, Russell, St. Joseph, Shelby Park, Smoketown-Jackson, Taylor-Berry, University, and the Central Business District.
He has previously held leadership positions as Democratic Caucus Chair in 2013 and 2015. He has also been chair of the Metro Council's Public Safety Committee.
H. Stephen Ott was unanimously reelected as the Metro Council Clerk for 2018. He has served as Metro Council Clerk since 2013.