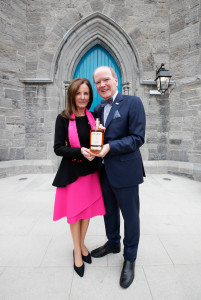 LEXINGTON, Ky. (Jan. 22, 2018) – Though the stills at Pearse Lyons Distillery at St. James in Dublin have been working full time at their new home for over six months, they have been producing whiskey for over five years. Now putting whiskey away at full capacity, Pearse Lyons Distillery is ready to share its spirits with the rest of the world.
Imported by Alltech's U.S. operations, the distillery is set to introduce all four expressions of Pearse Irish Whiskey beginning February 2018. The Pearse The Original and Pearse Distiller's Choice varieties contain whiskey distilled by the stills at Pearse Lyons Distillery. Also included in the lineup are Pearse Founder's Choice, a 12-year-old single malt Irish Whiskey, and Pearse Cooper's Select, a malt Irish Whiskey finished in first-fill sherry barrels. All four varieties register at 84 proof, or 42 percent ABV.
"Having worked on this project for a long time, I am excited to have these whiskeys available at home," said Mark Coffman, master distiller at Alltech Lexington Brewing & Distilling Co., who worked on the original blending of the brands with Alltech's Irish brewers and distillers.
"Our goal was to make sure that each has a unique personality but delivers notes that accentuate the single malt recipe coming from Pearse Lyons Distillery," continued Coffman.
Pearse Irish Whiskey will be available for sample and sale at Town Branch Distillery in Lexington, Ky., in February and in major markets soon after. For more information visit www.TownBranchBourbon.com.