By Brent Cooper
As the new Northern Kentucky Chamber of Commerce President and CEO I'm often asked "why NKY?" I'm pleased to say that the answer expands every month for the better. My response is often, "Well, how long do you have?" After all, as a region, we've got a lot going for us.
Whether it's the strength of our small business community, our laid-back urban feel, the large businesses that have made Northern Kentucky home or our talented workforce, now is simply a great time to live, work and play in our region.
Next year the Northern Kentucky Chamber of Commerce celebrates 50 years in existence. Since our formation in 1969, we have worked to foster strategic business growth and leadership opportunities throughout the region. The NKY Chamber has become a successful growth driver throughout the region, in Frankfort, and Washington, D.C.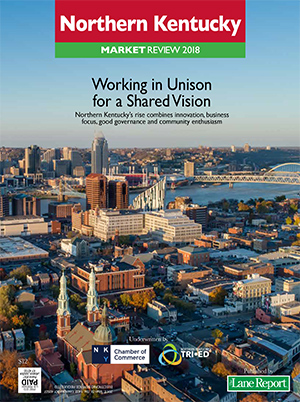 It's our hope that the NKY Chamber can build on the achievements of our first 50 years, and continue to foster growth in an innovative and productive way by leading, connecting, and advocating for the business community and professionals in our region.
Above all, we'll continue to work diligently with the community to grow and establish meaningful partnerships to move the region forward and solidify our position as a great place to do business for the next 50 years and beyond.
Legislative Wins
Recent changes in the Kentucky General Assembly have brought Republicans into leadership in the House of Representatives, Senate and the Governor's Office. With those changes, many of the NKY Chamber's legislative priorities were signed into law this past year.
Those top priorities included creating Kentucky as a right to work state, repealing prevailing wage laws and establishing medical review panels. Another major issue for our region was the passage of outcomes-based funding for post-secondary education. This will be good for all of Kentucky, but especially Northern Kentucky University, to have such funding be allocated in a strategic and fair manner.
We continue to work with the Kentucky General Assembly and Governor Matt Bevin to improve the business climate in Northern Kentucky to create a healthy business climate and healthier communities.
Leading the Way in Professional Development
The NKY Chamber is committed to providing top quality professional development and leadership initiatives to engage and retain a talented workforce in our region. From early career to the C-suite, professional development opportunities exist for employees at every level to achieve their career objectives and reach their full potential.
Workforce initiatives are a top priority for the NKY Chamber. We advocate for policies and practices that will support our regional business goals and cultivate a talented workforce well into the future. Our goal is to ensure our business community is knowledgeable on industry trends and provided the resources they need to stay compliant, healthy, productive and fueled by a strong pool of talented employees.
A motivated and talented workforce is a key success driver for our region. The NKY Chamber provides the resources and training opportunities that can continue to move our region forward. The workforce committee is focused on diversity and inclusion, employer best practices, labor law, and wellness and safety.
Leadership NKY (LNK) is targeted toward harnessing and developing the talents of a diverse group of potential, emerging and existing community advocates using the community as a classroom to develop leaders who will effectively serve the region.
Regional Youth Leadership (RYL) serves the future workforce of our region, specifically high school juniors in Cincinnati and Northern Kentucky. This program provides the opportunity for collaboration among a diverse group of students from the tri-state region attending public, private and home schools in urban, rural and suburban schools.
Fostering Meaningful Business Connections
Created to inspire area businesswomen in Northern Kentucky and Greater Cincinnati to connect, grow and achieve, the NKY Chamber started the Women's Initiative in 2008, and it continues to be the fastest growing area of the chamber. A leading organization for women of all career stages working toward business and professional success, the women's initiative is committed to helping area employers meet the rising professional development goals for their employees.
At the NKY Chamber we see ourselves as an advocate and partner to small businesses across the region. Approximately 85 percent of member companies have 50 people or less. Small businesses are the fuel that drives the country forward and our region is no exception. The NKY Chamber's role is to act as a catalyst for small business innovation, by creating opportunities for this community to thrive.
The Northern Kentucky International Trade Association (NKITA) is the singular point for Northern Kentucky businesses to gain guided access to the network of import and export resources.
Advocating for Members from the Bluegrass to the Beltway
Each year the NKY Chamber identifies key legislative issues that will affect the region, our members and the 175,000 taxpayers that we represent. Once issues are identified, policy development committees analyze and evaluate the issues and the potential impact on businesses. Our advocacy committees have dedicated many hours toward developing and refining policies.
Members and future members can plan to attend one of many events to learn more and connect with legislators and government officials. Some events include our popular Eggs N' Issues breakfast events, Government Forums, and many more throughout the year.
Get Involved
For more information on how your business can be involved in the NKY Chamber, and how membership can benefit your organization, contact Lynn Abeln at [email protected] or (859) 578-6390.