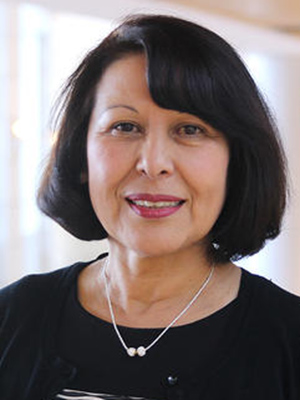 LEXINGTON, Ky. (Feb. 1, 2018) — College of Nursing associate professor Ana Maria Linares, DNS, RN, IBCLC, received a teaching and research award from the Fulbright Scholars Program for her work in the study of iron-deficiency anemia in children in Peru.
Linares is the second faculty member from the College of Nursing to be named a Fulbright Scholar, and the first to travel to another country to implement her program of research.
Studies have shown Peruvian children have one of the highest rates of iron-deficiency anemia in the world. Linares will evaluate a cohort of Peruvian children ages three months to one year old, and measure biological factors that are associated with decreased iron levels such as the type of feeding, fecal occult blood, lead concentration and intestinal parasites. Linares will also collect data about feeding history and feeding practice of the children.
While in Peru, Linares will work with faculty and graduate students at the National University of San Luis Gonzaga to determine the potential causes of iron deficiency in infants and children, and also visit other institutions to share research methodologies to improve learning experiences. She will lead a number of seminars throughout Peru on topics such as "Translation, Adaptation, and Validation of Instruments used in Research", "Use of Technology in Research Studies" and "Ethics and Responsibility in Clinical Research". Linares will also be the keynote speaker for a continuing education course offered by the Peruvian Scientific Society of Pediatric Nursing.
Linares joined the faculty at the UK College of Nursing in 2009 as an assistant professor, teaching obstetric nursing. She received a degree in midwifery from the University of Chile and a Doctor of Nursing Science degree from the University of Nuevo Leon in Monterrey, Mexico.
Prior to her position at UK, she was an associate professor at the University of Tarapaca in Chile, where she served as dean of the College of Midwifery and a professor of obstetrics and neonatology.
She also served as a faculty associate in UK's Center for Research on Violence Against Women.
Linares has a program of research on health disparities with an emphasis on the promotion of breastfeeding. She is conducting several studies on infant feeding in KY including a randomized controlled trial among Hispanics and their families to support breastfeeding and late introduction of solid food to children younger than 6 months. Some of these components she will include in her work in Peru.
The Fulbright Program awards over 500 teaching and research awards in more than 125 countries, and is designed to expand and strengthen relationships between the people of the United States and citizens of other nations and to promote international understanding and cooperation.