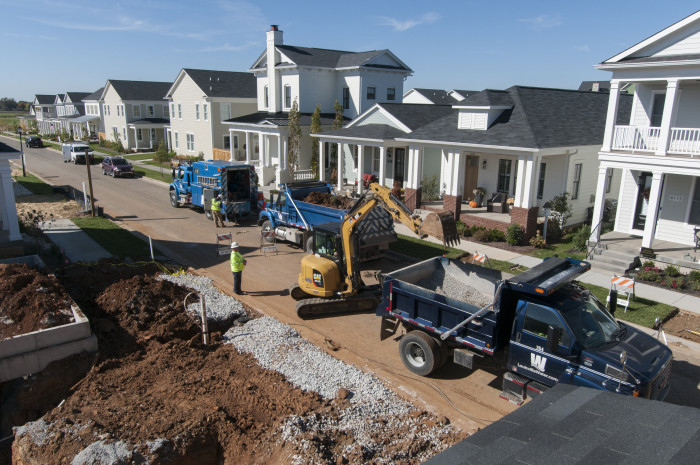 LOUISVILLE, Ky. (Feb. 1, 2018) — Talk of economic indicators typically includes references to the stock market, interest rates and inflation. But there's another factor worth looking at in the Louisville area these days: miles of water main.
That's right. Louisville Water Company is experiencing noticeable growth in its service area via pipelines constructed to serve new customers.
In 2017, Louisville area developers added 17.21 miles of new water main, as compared to 12.51 miles in 2016 and 5.63 miles for 2012, which actually shows a reawakening of real estate development following the recession because only 3.2 miles of pipeline were installed in 2011.
The increase in water pipeline projects generated more than $4 million in investment in 2017, which compares to about $3 million the year before and about $1.5 million in 2012.  And the numbers indicate that pipeline expansion last year was more than four times the volume of all of 2011, the low point in recent history.
All of this means that 2017 was "a stellar year," said James Grunow, Director of Engineering for Louisville Water, who has been with the company for more than 19 years.
"We've come a long way since the downturn," Grunow said, referencing the drop-off in real estate development projects during the recession.
Louisville Water engineers don't see an end to the uptick, either. "The economy is good. No one can predict the pace of development," Grunow said. "But I think we see every sign of it being sustained."
"It's not a blip," added Anthony Hewitt, a Louisville Water Project Engineer who has been with the company for 18 years. He expects the rising pace of pipeline expansions to continue.
Hewitt explained that the apartment complex market has been strong for the last several years and is maintaining its pace. Now, he said, single-family housing construction "has come back."
Hewitt noted that new development is happening in all areas of Louisville Water's service area — from new projects in Okolona and Dixie Highway to new subdivisions east of the Gene Snyder Freeway along the city's eastern corridors.
How does all this pipeline expansion happen?
Grunow said real estate developers, along with their design professionals, and Louisville Water's engineering team work together to get water to new structures. "We take their site plans, and we overlay our water main design on it," Grunow said. "We're not recreating the wheel. That's really efficient."
That process has evolved and improved through the years, which is appreciated by developers, according to Rocky Pusateri, Executive Vice President of Elite Homes, a longtime Louisville developer and home building company.
"They have refined the processes, and they're responsive," Pusateri said, crediting Grunow and Hewitt with creating an effective system. "They appreciate what people like us do — we're risk takers."
The relationship between Louisville Water and the development community is one of mutual respect and collaboration, according to Pat Durham, executive vice president of Building Industry Association of Louisville. "They are so responsive," he said. "They are very attentive to the needs of our industry."
As an example, Durham said, BIA officials recently learned details about Louisville Water's technology that overlays designs for water mains and pipelines atop developers' site maps.
Louisville Water's technology also is used to track planned developments, and the utility already has developments entered in the system that are to come online in 2018 and 2019.
"They have offered to share that with us. That will be most helpful," Durham said. "We look forward to working with them to use their system to better map new development we know is coming and keep up with development that is ongoing."
In turn, to support Louisville Water's tracking efforts, BIA officials shared information with Louisville Water engineers about where future development activity is about to occur. "They were all over it," Durham said. "They are very smart and proactive about keeping up their water lines and service lines. They've got a game plan."
Working well with the development industry is important to Louisville Water's engineers who are charged with planning and installing new pipelines.
"We know who our customer is — that's the builders and developers," Grunow said. "We try hard to serve our customers."