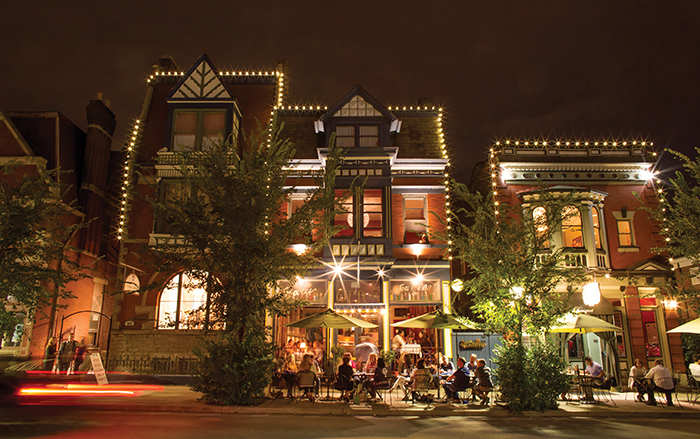 By Katheran Wasson
What a region most needs to thrive is livability – an ideal mix of economic growth that creates diverse professional opportunity, housing that attracts a talented workforce, and vibrant friendly culture that actively engages residents when they're off the clock.
Northern Kentucky scores major livability points. You want historic housing? The region's urban core has lots of it. Brimming with highly sought-after historic character, most homes are located in walkable neighborhoods, with tree-lined streets, surrounded by eclectic shops and restaurants.
The 'neighbor' everyone knows is the busy Ohio River, easily crossable by foot, bike or car straight into downtown Cincinnati. It adds an energy to the area and is a focal point for festivals, dining and walking and biking trails. The proximity of Cincinnati, a hub for corporate and creative careers plus everything from art museums to professional sports, is a key ingredient in Northern Kentucky's recipe for success.
For example, Kentucky residents can walk across the iconic Purple People Bridge, take in a professional sports game in Cincinnati and be back for dinner on the picturesque waterfront of Newport.
'Deep and diverse experiences'
Northern Kentucky is a great place to live and work or start a business, according to Jeanne Schroer, president and CEO of the Catalytic Fund, an organization devoted to boosting the three-county area's urban renaissance. The Catalytic Fund works closely with Southbank Partners, which is literally paving the way for development in the area with its multicity Riverfront Commons trail project.
"Northern Kentucky is a place that is very friendly to newcomers," Schroer said. "It is a place that is large enough to offer deep and diverse experiences of quality living, working and entertainment options yet is small enough that individuals and businesses can make a difference in their communities and are heard by and important to local government."
The Catalytic Fund offers real estate services and financing from its $10 million fund to revitalize the urban core in Covington, Newport, Bellevue, Ludlow and Dayton. The Catalytic Fund also helps developers assemble project funding packages, often a combination of traditional loans, tax credits, grants and city incentives.  
One of the organization's most visible projects is Hotel Covington, built as a downtown department store more than 100 years ago but now housing a modern 114-room boutique hotel and restaurant that boasts hyper-local cuisine. Other key developments include Duveneck Square, a mixed-use urban infill project; the Boone Block, an adaptive re-use of a 24,720-s.f. historic building into nine single-family townhomes; and the Market Lofts, which is converting the site of a former wholesale grocer into studio and one-bedroom apartments.
Engaged in the community
The Catalytic Fund Director of Community Initiatives and Communications, Jill Morenz, said Cincinnati's hip Over-the-Rhine (OTR) neighborhood has exploded with similar residential and commercial development in recent years. But prices there have risen, and people who love the feel of OTR are moving to Kentucky for a similar stellar quality of life at a lower cost, Morenz said.
"People are excited. They're engaged in the community," she said. "There's a huge, growing market for urban living, from millennials to empty nesters."
One of those people is Shannon Smith, who fell in love with Covington's Central Business District in 2014 and found a historic building in need of revival. It had housed a sewing factory and a hotel before she converted it to space that now houses her law practice, her partner's personal fitness business, a rental apartment and the couple's home.
"I could see the potential here – it felt like a tiny version of Bardstown Road (Louisville's popular Highlands)," she said. "There wasn't a lot here yet, but I knew there would be. There was an energy and feeling, and I felt the excitement."
The Elizabethtown native first moved to Northern Kentucky for law school. As she got to know the community, though, she decided to stay. And since then, the area has exploded in popularity and is bustling with restaurants, bars, shops and apartments.
Not only are the urban opportunities available and growing by the month on the Southbank, suburban and rural living in Northern Kentucky's picturesque rolling hills is easily attainable and even within a 20-minute drive from the urban core.
Infrastructure for quality of life, growth
It's the people of Northern Kentucky who are making the region hot by choosing to live, work, shop and dine in the area.
"Our primary focus is economic development, but you can't do economic development without community development," said Jack Moreland, president of Southbank Partners. "That's why we work with the Catalytic Fund to try to improve the urban core, from housing stock to venues for tourism, or apartments for empty nesters. Those are the kinds of things we focus on."
A major project Moreland predicts will have a huge impact is construction of a new, four-lane "entrance" into Newport. The $26 million state-funded road project will connect KY-9, also known as the AA Highway, to the Taylor Southgate Bridge, providing greater access to both Cincinnati and neighboring Northern Kentucky cities and helping to relieve traffic congestion on the area's other bridges.
The project will open up nearly 100 acres to commercial, residential and mixed-use development.
"The whole west side of Newport will be rehabilitated, too," Moreland said. "A lot of the housing stock will be upgraded, and there will be some new construction as a result of this new road coming in."
New Riff Distillery is banking on the area's future prospects. The distillery is constructing an $11 million "whiskey campus," including a rickhouse for barrel storage and a tasting room. The distillery has been in operation more than three years, and is about a year away from turning out its first bottles of aged bourbon.
The distillery is the northernmost stop on the Kentucky Bourbon Trail Craft Tour, which highlights the state's growing micro-distilling industry, making it an ideal entry point for bourbon-loving tourists from the north, Moreland said. He said existing neighborhoods are also likely to feel an economic shot from the bourbon investment.
Riverfront Commons progresses
Progress continues on the Riverfront Commons, an 11.5-mile walking and biking path that runs along the Ohio River. The most recent additions are sections in Covington and Ludlow, which were completed in summer 2017. Eventually, the path will connect all six Southbank cities, from Ludlow on the west side to Fort Thomas on the east. Cincinnati's Red Bike bicycle-sharing program now has a dozen stations in Covington, Newport and Bellevue.
A recently launched online "story map" shows residents and visitors attractions to discover along the trail using interactive satellite maps. Clicking icons on the route reveals real-time information about nearby parks, business districts and historical buildings.
"The Ohio River is a major asset to this community. People are drawn to the water – they want to be near it," Moreland said. "It's narrow enough here that it makes walkability on both sides of the river very attractive. It pulls the north side of the river and the south side of the river together because it's so walkable and bikeable."
Riverfront Commons connects many of Northern Kentucky's ample entertainment assets – from a popular aquarium, IMAX theater and other amenities at the bustling Newport on the Levee – to parks and cozy shops. Soon, a giant Ferris wheel in Newport will offer spectacular views to enjoy.
Those with families have the benefit of a top notch public schools system, including the highly acclaimed Kenton County School District. The U.S. Environmental Protection Agency recognized the Kenton County School District with a 2016 ENERGY STAR Partner of the Year – Sustained Excellence Award.
More information about the project can be found at nkyriverfrontcommons.com.