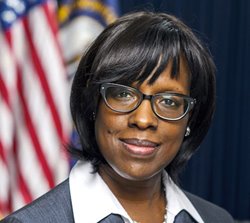 PIKEVILLE, Ky. (Feb. 1, 2018) – Kentucky Lt. Governor Jenean Hampton will be the featured speaker for the University of Pikeville's Coleman College of Business Speakers and Leadership Series. The event is set for Wednesday, Feb. 21, at 1:30 p.m. in Booth Auditorium, Record Memorial Building.
In November 2015, Hampton was elected as Kentucky's 57th Lt. Governor on a ticket with now Governor Matt Bevin. Lt. Gov. Hampton became the first African-American in Kentucky history to hold statewide office and the fourth woman to serve as Lt. Governor.
Hampton holds a bachelor's degree in industrial engineering and an MBA with concentrations in marketing, entrepreneurship and e-commerce. She served for seven years in the United States Air Force and has 25 years of experience in manufacturing, including the automotive and packaging industries.
The Lt. Governor is focusing her efforts on what she is calling the "4 E's: Entrepreneurship, Education, Emergency preparedness and being an Example." She is also working on the Lt. Governor's Challenge Series, which currently includes the Entrepreneurship Challenge and the Bluegrass Book Buddies Challenge.
The campus and the community are cordially invited to attend the Feb. 21, event.