By Abby Laub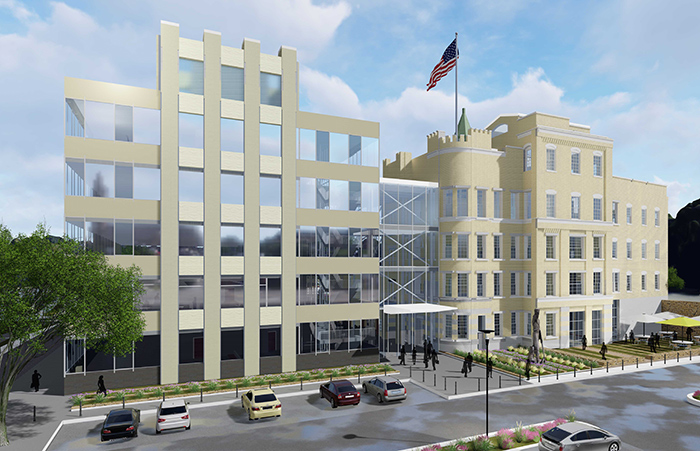 Looking at the long game is proving beneficial to Northern Kentucky construction outfits.
The Paul Hemmer Co., for example, a fixture on the region's building scene for almost 100 years, bills itself as not only a construction company but a long-term partner in the life of the projects it builds.
"We're able to look to the future of a building," said President and CEO Paul Hemmer Jr. "You want to put in as much of the infrastructure flexibility as you can. We think about that design, like even if some buildings were a build-to-suit, an addition might be something that could occur in 10 years, so you don't want to build that complicated. You may want to put your underground utilities to a point where they go into that space easily. What we try to do is give a menu and help guide the owner."
Energy elements in a project are always essential, but are addressed according to a client's desire to be elaborate or simple.
The long game has proved fruitful for the Hemmer team, and that outlook helps clients thrive in a construction market that is rapidly growing and will likely continue to do so, especially sectors such as manufacturing and logistics.
Fort Mitchell-based Hemmer has an associate company that does facilities maintenance and management, since "what drives value in a building in the end is the income it produces."
A major win for Hemmer came in September 2017 when it began work on a new $80 million manufacturing facility east of Indianapolis for Pure Development, a commercial real estate developer headquartered in Indianapolis. A majority of the Hemmer Co.'s projects are within a 100-mile radius of Northern Kentucky, such as significant jobs for auto parts manufacturers including Bosch, ADVICS, and ZF Boge.
On tap for 2018 is likely to be continued work in e-commerce, which he said has "really driven our business since 2012." Regardless of the category of a build, he said, a team's people, knowledge, experience and values are the difference maker.
Anticipation mounts in the construction sector regarding the ongoing projects sure to flow for years in and around the Cincinnati/Northern Kentucky International Airport related to the recent Amazon Prime Air hub announcement. Its development literally across the street from the global hub for DHL Express air freight will cause some "disruption to the local workforce" but that ultimately the entire Greater Cincinnati market will "only be enhanced by it," Hemmer said.
In nearby Newport, manufacturing clients are also big for EGC Construction, which bills itself a commercial, industrial and residential project development specialist, said Shad Sletto, director of project development.
The firm is seeing increasing activity in both the redeveloping Ohio River "Southbank" and the outlying rural areas of Northern Kentucky, Sletto said.
"There is land available in different parts of the region, and as a community we're looking at how to continue to grow," he said. "Part of that question is the accessibility of that land. We're faced with a question of, even though we do have some good amount of land that's not developed, it's not really accessible or the utilities aren't available to it. We have some good opportunity in the long term, but we have to make some investments to make it accessible."
Meanwhile, the construction industry as a whole is investment in educating the workforce.
"Our goal is to work on building skilled tradespeople, adding those to the workforce," Sletto said. "We spent a significant amount of time on that and will continue to do that in 2018."
Workers are needed in fields like masonry, carpentry, concrete and a bevy of other construction related jobs, and universities and trade schools are heeding the call. EGC works with the education sector as it focuses on project management with a variety of skilled tradespeople.
"We are a full-service construction company and try to be among the most collaborative with our clients in how to get projects done successfully," Sletto said.
The Northern Kentucky region has a laundry list of completed builds and announced builds to keep Hemmer, EGC and companies like them busy. In Florence, some of these include the Comfort Suites Hotel, Magnolia Springs Senior Living center, Hilton Home2 Suites, new to the market ILoveKickboxing, Full Throttle Indoor Carting, Bear Paddle Swim Club, and Dominion Senior Living.
Covington has a long list, including the $17 million Duveneck Square and the "RiverHaus" project in Covington's MainStrasse Village.
In December 2017, Highland Heights-based Northern Kentucky University, in partnership with development partner Fairmount Properties, announced plans for a mixed-use development and professional office building along U.S. 27 and Nunn Drive. The pedestrian-scaled, mixed-use "town center" style district will include restaurants, retail space, apartments, a hotel, structured parking and public gathering spaces. A groundbreaking is expected this year
And, a long-awaited mixed-use development project in Ludlow, Ludlow Yards, in fall 2017 chose Philadelphia-based Pennrose to handle its build.
The Cincinnati office of New York-based Turner Construction Co. also has been busy in Northern Kentucky. Jessica Fitzwilson, a business development official at Turner, said healthcare construction is a hot market for the company.
The firm is finishing up the $97 million Health Innovation Center at Northern Kentucky University, and it just recently won the massive St. Elizabeth Healthcare Cancer Center project. It also is working on a $25 million transformation of the defunct Bavarian Brewery building in Covington to the new Kenton County Administration Building.
Turner's builds are not only eye-pleasing, they are energy efficient. "It's almost becoming the standard," Fitzwilson said. "Our clients are very focused first on cost but also on longer-term costs. Some companies are actually developing their own green standards."
Paul Hemmer Company
226 Grandview Dr.
Fort Mitchell, KY 41017
(859) 341-8300
Paul Hemmer Company is a construction management, building services and real estate development firm that builds Value by Design.  With a history in Greater Cincinnati dating to 1921, Hemmer specializes in design/build construction, which enables it to provide the earliest commitment of cost and delivery for its industrial, medical, commercial and retail clients.
EGC Construction Corp.
30 West 4th Street
Newport, KY 41071
(859) 442-6579
EGC is a design/build firm that reliably provides realistic pricing, schedules, and design by combining experienced personnel on one team, focused on the same clients and the same types of projects. Process equipment installation; facility improvements for manufacturing; medical equipment planning, site preparation and construction; general commercial facilities ranging from restaurant to automobile service and sales centers reflect our capability.