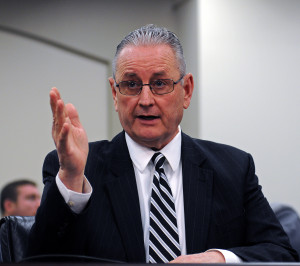 FRANKFORT, Ky. (Feb. 14, 2018) – A Senate committee passed a measure today to preserve the status quo in determining how many liquor licenses are issued in individual cities and counties.
Senate Bill 110 would codify in law rules that limit the number of licenses available for retail package liquor stores and by-the-drink sales of liquor. The number of licenses is limited based on the population of a given community. That number is generally capped at one license per 2,300 people for package stores and one license per 2,500 people for drink sales.
Senate President Pro Tem Jimmy Higdon, R-Lebanon, said regulators shouldn't completely scrap the decades-old caps just because they need to be modernized.
Out of Kentucky's 120 counties, 89 are wet or have wet cities. Higdon said five of those counties and 28 cities have reached their quota for retail package liquor stores. He added that three counties and three cities have reached their quota for by-the-drink sales of liquor.
Senate Minority Floor Leader Ray S. Jones II, D-Pikeville, said he supported SB 110 because voters who backed ballot measures allowing liquor sales in their communities did so knowing how many liquor stores would be permitted under the quota system. He said those voters never anticipated that the state would later lift the caps on the number of alcohol licenses issued in any one city or county.
Jones said the removal of the regulation would also have "catastrophic consequences" for small businesses in rural communities. He said those local businesses would not be able to compete with national chains that could exploit the lifting of the caps by flooding the market with stores.
Senate Majority Floor Leader Sen. Damon Thayer, R-Georgetown, said he didn't support SB 110 because it goes against his core belief of removing artificial barriers to free enterprise. He said he was considering filing a number of amendments to the measure. One would direct the state ABC to eliminate all outdated quota systems.
The malt beverage administrator at the state Alcoholic Beverage Control, Carol Beth Martin, testified against the measure.
"SB 110 does not help with the regulation of alcohol," she said. "It merely provides protection and a monopoly to a select sector of the alcohol industry in select areas of the state."
Martin said there is no similar limitation on the more than 40 other existing license types administered by the state Alcoholic Beverage Control. In those cases, economic factors have determined the number of businesses that a community can support, she said.