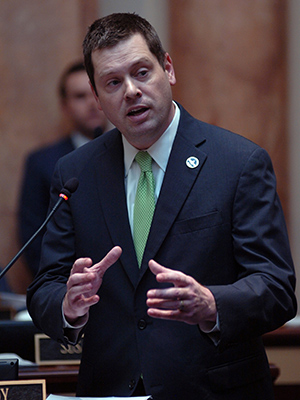 FRANKFORT, Ky. (March 1, 2018) — A $22.5 billion state spending plan that would shore up funding for public education and public safety while ensuring that Kentucky meets its obligation to fund the state employees' and teachers' retirement systems passed the state House today on a 76-15 vote.
House Appropriations and Revenue Chair Steven Rudy, R-Paducah, said House Bill 200 meets the "overall theme of what the Governor (Bevin) was committed to do" by fully funding the state pension systems, keeping the state debt percentage below six percent, and building the state's "rainy day" emergency fund up at least $250 million.
Rudy said he hopes any agreements that need to be reached on the budget with the Senate are reached in a "timely fashion where we will be able to keep our constitutional ability to override (any) vetoes."
Most state agencies will take a 6.25 percent baseline cut from their budgets in the biennium as recommended by the governor while several areas will see additional funding, especially for public pensions for public employees and teachers. HB 200 would increase funding for the Kentucky Retirement Systems by $774.5 million and the Kentucky Teachers' Retirement System by $89.1 million to meet the full actuarial required contribution (or ARC) for state employee and teacher pensions. Full funding for teacher retirement would be provided at the school district level while health coverage for retired teachers would be secured with an additional $59.5 million in the bill, which would also ensure funding of health care for active school employees.
For K-12 education, HB 200 would boost base per-pupil funding for K-12 education, or SEEK, to a record level of $4,055 in the first year of the biennium and $4,056 in the second year. It would also increase school transportation funding to $127.8 million in each year of the budget cycle to restore funding that was not found in earlier budget proposals.
More than $100 million is proposed in the bill for new hires that would help implement proposed adoption and foster care reforms in HB 1, a bill that passed the House on Wednesday. And additional funding for public safety is also included, including funds for 260 new cruisers and 800 new rifles for state troopers and additional funds for legal aid and day treatment for troubled juveniles.
Voting in support of HB 200 was Rep. Wilson Stone, D-Scottsville, who said he supported the budget plan for its value to public education.
"I rise to say I voted 'yes' because I think we made a statement today for public education in Kentucky," said Stone. "The way to a better Commonwealth (is) through education."
Retired public educator Rep. Derrick Graham, D-Frankfort, voted against the proposal for what he said was its use of the state's public employees' health plan transfers to balance the plan.
"You're saying, 'Well, this is a vote for education.' Lord knows, as a person who's come out of education, I'm supporting education and I try to support education each and every time," said Graham. "But what really galls me is we're taking funding for the health care of our public employees to try to balance this budget."
Kentucky prohibits revenue measures from being included in its state spending bills, so the revenue increases for the next two-year state budget were approved separately by state lawmakers. The funding required to carry out the appropriations in HB 200 is found in HB 366, approved by the House today on a vote of 68-25.
The revenue bill, as HB 366 is called, includes a couple of tax increases – a 50-cent per pack increase in the cigarette tax beginning this July and a 25-cent per dose fee on opioids at the distribution level. Both revenue sources are projected to rake in an extra $377 million over the two-year budget cycle for the Commonwealth. (Other revenue changes in HB 366 would bring in around $123 million in additional revenue over the next two years, for a total of around $500 in new revenue over the biennium.)
Voting in support of both HB 366 and HB 200 was Rep. Jason Nemes, R-Louisville, the chair of the House Budget Review Subcommittee on Justice, Public Safety and Judiciary. Nemes said the revenue bill and budget plan in HB 200 has been praised by educators in his public school district and beyond.
"You should vote yes on this, and you should vote yes on the budget. Stand with the teachers and stand with the highest education funding in the history of this Commonwealth," Nemes said.
Both bills were also supported by another Louisville lawmaker, House State Government Chair Rep. Jerry Miller who said other options should be considered when looking for future revenues. Miller has filed HB 229 this session which proposes amending the state Constitution to allow regulated casino gaming in Kentucky.
"Keep in mind we have a stream of revenue we are not tapping and that is gaming. We have an opportunity to have an income stream," said Miller, R-Louisville. "We need to wake up and recognize that casinos would help the urban areas generate tax revenue to support the rest of the state."
Also approved today by the House were the state Legislative and Judicial budgets, which were passed without much fanfare by House votes of 83-7 and 84-8 respectively.
All four bills now move to the Senate for its consideration.