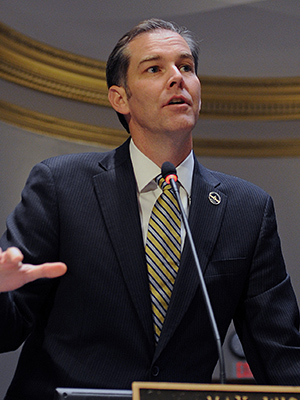 FRANKFORT, Ky. (March 2, 2018) — A bill that would put the state back in charge of its Medicaid drug program has moved to the House.
The measure, known as Senate Bill 5, passed by a vote of 32-4 yesterday in the Senate. Sen. Max Wise, R-Campbellsville, said he introduced the legislation because pharmacy-benefit managers (PBMs) hired by the state's Medicaid managed-care organizations (MCOs), are not paying Kentucky's independent pharmacies a fair price for their drugs – which is putting them at risk of closing.
"That's not free market," Wise said. "That's not capitalism. It's gaming a system to close our local businesses – and it isn't right."
He said the dominate PBM in Kentucky, which also own their own chain of pharmacies, are only paying independent pharmacists a professional dispensing fee of 85 cents per prescription. The Centers for Medicare and Medicaid Services states that fee should be around $10.64, plus the cost of the drug being dispensed.
"I'm all for companies making a profit," Wise said. "I don't have any issue there at all. I've been proud to vote for several pieces of legislation last session, and even this session, to create a better business climate in Kentucky so those companies can make a profit."
Wise said SB 5 is designed to take the money that PBMs and MCOs are sucking out of the $1.7 billion Kentucky spends on pharmacy benefits and instead use, at least a portion of the money, to pay a federally recommended minimum dispensing fee to pharmacies.
Sen. Tom Buford, R-Nicholasville, spoke in favor of SB 5.
"The legislation we pass today might not end up passing the whole General Assembly," he said. "It may not make it through the governor's office. But what you do here today is send a message."
Buford expressed frustration that the PBMs wound not provide an explanation on where all the money is going if independent pharmacists are reimbursed so little.
Sen. Wil Schroder, R-Wilder, stood to explain his "no" vote. He expressed concerns that the state Medicaid commissioner said SB 5 would cost Kentucky taxpayers an additional $36 million a year. That was his agency's official estimate of the bill's cost, attached to it as a fiscal note.
"It has become abundantly clear that there are problems," Schroder said of PBMs. "The main one I see is a transparency problem. I hope we can address those problems, but with that fiscal note, I vote 'no' today."