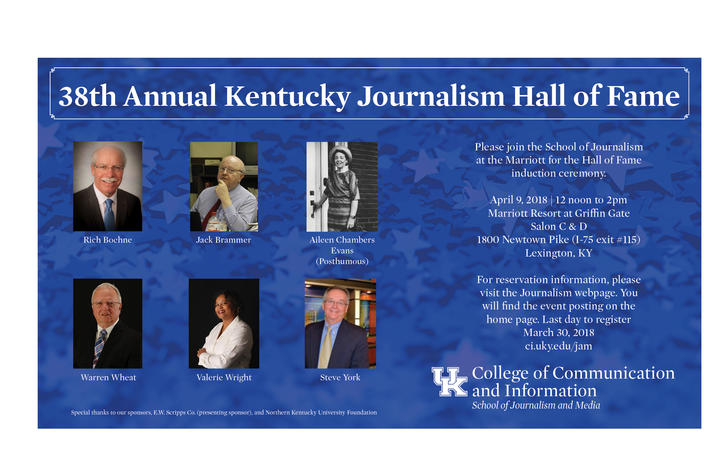 LEXINGTON, Ky. (March 6, 2018) — A transformational media executive, a woman who inherited a newspaper when her husband died, a highly respected Capitol reporter, a copy editor on prize-winning magazine work, a longtime TV reporter and editor, a veteran reporter and editor — this is just part of the story behind this year's inductees in the Kentucky Journalism Hall of Fame.
A total of six journalists who have made contributions to journalism will be inducted into the Kentucky Journalism Hall of Fame on April 9. They have worked in the Commonwealth, Texas, South Carolina and Washington, D.C.
"We have an outstanding class of inductees this year, and they represent the quality of journalism that has benefited our state for decades," said Mike Farrell, interim director of the University of Kentucky School of Journalism and Media in the College of Communication and Information, which houses the hall of fame and sets up the luncheon.
The 2018 class will bring the total of inductees to 226. The hall was initiated in 1981. Tickets for the induction luncheon at the Griffin Gate Marriott, located at 1800 Newtown Pike, are $50.
The class of 2018 inductees:
Rich Boehne started his newspaper career near the bottom rung and climbed all the way to the top. Boehne, a native of Ft. Thomas, sold subscriptions to The Cincinnati Post while a student at Highlands High School. He earned a degree in communications and journalism at Northern Kentucky University. He worked first as a part-time reporter for The Cincinnati Enquirer, then worked for a group of suburban newspapers before joining The Post as a business reporter and editor. In 1988, he joined The Post's parent corporation, the E.W. Scripps Co., just before the family-owned newspaper and broadcasting company went public. He rose through the ranks to become president and CEO in 2011. He stepped down in 2017 and remains chairman of the board. He helped co-found the Scripps Leadership Institute and led Scripps through the tumultuous era when news media were undergoing dramatic changes. He serves as a director of the Associated Press, a director of the Cincinnati Freestore Foodbank and as chairman of the Board of Regents of NKU. He received the First Amendment Award from the Associated Press and the Outstanding Alumnus Award from NKU as well as its prestigious Lincoln Award.
Jack Brammer has worked at the Lexington Herald-Leader in its state capital bureau for 40 years. While he has won accolades for his reporting during the terms of nine Kentucky governors and 58 sessions of the Kentucky General Assembly, his colleagues declare he has served as an outstanding mentor to the young reporters who have joined him in the bureau. Among those he taught are such Herald-Leader standouts as Editor-in-Chief Peter Baniak, Deputy Editor John Cheves and editorial writer Jamie Lucke. Brammer, a native of Maysville, began his career at The Sentinel-News in Shelbyville. Two years later, he joined the Lexington Leader, which became part of the Herald-Leader. He has covered Frankfort ever since. Among his awards, Brammer was part of the team that won the prestigious Seldon Ring in 1990 for the series, "Cheating Our Children," which uncovered the economic inequities plaguing Kentucky's schools. His nominators praised him for his fairness in covering decades of political stories.
Aileen Chambers Evans inherited the News-Democrat in Russellville in 1940 when her husband died at age 47. She poured her life into the community newspaper for the next 28 years before selling it. In her farewell column, she wrote, "I have written miles of copy of every kind and have walked miles of concrete in advertising." But the only time her byline appeared in the newspaper was on that final column. Her original nomination was written by John Siegenthaler, the editor of The Tennessean in Nashville and a staunch defender of the First Amendment. Siegenthaler recalled writing a story on Thanksgiving Day 1953 revealing that a Russellville woman, who had disappeared and been declared dead, was actually living in Texas. Evans called her staff and they published an "extra" before dinner. Siegenthaler's letter reports that the story made international news. Evans and her staff, according to the letter, won more than 70 awards in the annual Kentucky Press Association contest. Her ownership of the newspaper was a family matter: children and grandchildren worked at the News-Democrat and went on to other news outlets. Evans, who was born in 1895, graduated magna cum laude from Vanderbilt University while playing for the women's basketball team.
Warren Wheat spent 55 years in journalism, graduating from the University of Kentucky, where he worked on the Kentucky Kernel. First, there was a stop with the United States Air Force, where he served as a public information officer. His path led to the Winchester Sun; to the Lexington Leader as a city hall reporter while taking graduate classes; and then 14 years at The Cincinnati Enquirer covering Northern Kentucky and serving as chief of first the Columbus bureau and then the Washington bureau. From 1979-1984, he was a regional reporter with the Gannett News Service. He worked at USA Today for 14 years, serving as the first deputy Washington editor and then working on the editorial page. After two years as governance and national editor at The State in Columbia, South Carolina, Wheat returned to Kentucky to edit The News-Enterprise in Elizabethtown. He retired in 2009 and now works for No-Labels, an organization based in Washington, D.C., that advocates for bipartisan policymaking.
Valerie Ellison Wright is a native of Lexington and a journalism graduate of the University of Kentucky. Her journalism has, in some ways, followed the career of her husband, George Wright, a UK alumnus who recently stepped down after 14 years as president of Prairie View A&M University in Texas. After graduating in 1972, Wright worked for the Louisville Times as a reporter covering neighborhoods. She covered city and county governments for The Durham Sun from 1974-1977. From 1977-1980, she worked at the Lexington Leader, reporting on schools and local courts. The following year, she worked as a copy editor and reporter for The Austin American-Statesman. After being employed by the Texas Education Agency, she took a job at Texas Monthly Magazine as an assistant editor. She was promoted to associate editor and then research editor. From 2000 until her retirement in 2016, she was a fact-checker, serving again as associate editor and then research editor. In 1980, she was a member of the first class for Editing Program for Minority Journalists at the University of Arizona. In 2013, Texas Monthly won National Magazine Awards for stories it published. In the magazine's announcement, the editor praised her for her work fact-checking one of those stories.
Steve York, a graduate of Georgetown College, also logged many years in journalism. He started at WVLK-AM and -FM in Lexington, as a reporter/news director working with a five-person news team that covered Central Kentucky. From there, he moved to WAVE-TV in Louisville. He covered stories from Central and Western Kentucky for WAVE from Elizabethtown from 1978 to 1985. He provided WAVE viewers with celebrated coverage of the 1979 and 1983 gubernatorial races, as well as the 1981 coal strike. In 1985, WAVE named him assignment editor, and he was promoted to assistant news director in 1998, overseeing daily operations of the newsroom. He retired in 2011. He is the recipient of numerous journalism awards from the Kentucky Associated Press, the Kentucky Broadcasters Association and the Society of Professional Journalists.
For tickets to the April 9 induction luncheon, visit http://ci.uky.edu/jam/. Tickets are $50. The deadline for reservations is March 30. The presenting sponsor is the E.W. Scripps Co. Other sponsors are the Lexington Herald-Leader, the Northern Kentucky University Foundation and the UK School of Journalism and Media.