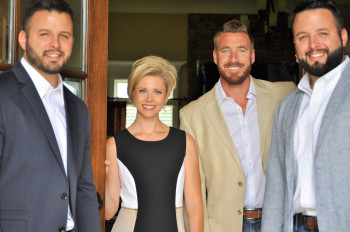 MOUNT WASHINGTON, Ky. (March 7, 2018) — Red Edge Realty has announced the addition of real estate agent Bobby Vormbrock to its leadership team. As a managing partner, Vormbrock will lead a new Red Edge office in Mount Washington.
This marks the fourth Louisville-area office for Red Edge, which has grown to 55 agents in Kentuckiana.
Red Edge Realty's Vormbrock-Novak Real Estate Center is officially open. The Bullitt County Chamber of Commerce will host a ceremonial ribbon-cutting at 1 p.m. March 22  at the new office, 683 N 31 E Bypass, Mount Washington.
Vormbrock joined Red Edge on Feb. 14 after 15 years at RE/MAX, and he brings with him an "A-Team" of agents. The addition of Vormbrock and his team will further fuel the growth of Red Edge, which Business First ranked in its Top 40 Real Estate firms in 2017, a year in which Red Edge agents sold 550 houses for $103 million in volume.
"Bobby and his team are adding to the momentum we're building at Red Edge," says Mike Hall, principal broker, founder and owner of Red Edge. "It's an exciting time to be part of real estate in and around Louisville – especially when you have agents that are the caliber of Bobby."
Vormbrock's past accomplishments include earning the rank of No. 7 RE/MAX Agent in Kentucky in 2016 and being inducted into the RE/MAX Hall of Fame in 2013, an honor bestowed upon exceeding $1 million in commission.
"The opportunity to grow here at Red Edge was a much better fit for me and my team," Vormbrock said, adding that the firm's fees and commission plans are some of the best he's ever seen.
Vormbrock brings with him four longtime agents he describes as his A-Team: Nicki Vormbrock, Nick Novak, Geoff Novak and Becky Mann. In addition, he's already made three more agent hires.
Red Edge Realty now has locations in the East End, Highlands, Shepherdsville and Mount Washington. Visit www.rededgelive.com to learn more about the company.