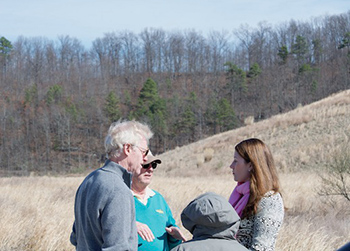 HAZARD, Ky. (March 9, 2018) — Secretary of State Alison Lundergan Grimes on Friday announced a strategic partnership she has formed with three Eastern Kentucky county judge-executives to explore a solar energy investment in the region.
Last year, Grimes began facilitating discussions between a leading solar energy developer and judge-executives Scotty Alexander of Perry County, Zach Weinberg of Knott County, and Dan Mosley of Harlan County.
Grimes on Friday traveled to Hazard to meet with the judge-executives, county officials, and executives from the energy developer who were conducting site visits in the region.
"Eastern Kentucky is perfectly positioned for solar energy," said Grimes. "In a region where rising energy costs are driving up power bills and unemployment is a serious issue, solar energy can help to diversify our energy sources, lower utility costs, and create good jobs. I'm excited about what this investment opportunity could mean for this area I love so much."
"Throughout our discussions and exploration in Kentucky, Secretary Grimes has demonstrated a passion for helping drive investment and job creation in Eastern Kentucky through solar energy," said Vee Shapiro-Frye, a leader on the Kentucky project for the developer. "We're committed to working with the Secretary and the judges to identify a solar energy investment in this key region which could lead to further economic development opportunities for Eastern Kentucky."
"Diversified jobs are the key to developing a strong sustainable community," said Mosley. "The potential of this project would create new, good-paying jobs and will expand our energy portfolio. Harlan County has a strong workforce and this is another great opportunity to put our people back to work."
"In the wake of the decline of the Appalachian coal industry, it is imperative that counties in Eastern Kentucky collaborate to develop and create diversified 21st Century economic opportunities," Weinberg said.
The partners hope to make an investment announcement this year.