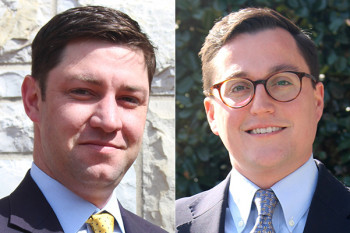 LEXINGTON, KY (March 12, 2018) – Keeneland officials today announced that Kyle Wilson and Dean Roethemeier will join the sales team as sales associates effective March 19.
Wilson and Roethemeier bring a breadth of international experience to Keeneland gained while working with major industry organizations around the world. Both are graduates of the Darley Flying Start (now Godolphin Flying Start) program.
"We are pleased to welcome Kyle and Dean to Keeneland," Keeneland Vice President of Racing and Sales Bob Elliston said. "Their knowledge of the global horse industry and hands-on experience with top breeding farms will be invaluable to our client services and recruitment efforts."
As stallion seasons director at WinStar Farm since 2015, Wilson was responsible for all stallion sales-related activity associated with the farm's 22 stallions. He also has been involved in bloodstock sales and management at Three Chimneys Farm and with Bradley Thoroughbred Brokerage.
Roethemeier comes to Keeneland from Darley America, where he handled client development and nominations sales. Prior to Darley, he was the marketing executive at Dalham Hall Stud in Newmarket, England, and supported sales staff in Europe, Japan, Australia and the U.S.
Keeneland is the world's largest Thoroughbred auction house, conducting three premier sales annually: the September Yearling Sale, November Breeding Stock Sale and January Horses of All Ages Sale. The September Sale will be held Sept. 10-22.