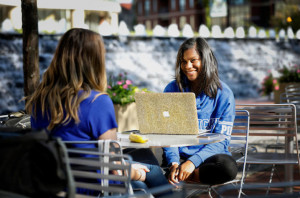 The University of Kentucky constantly asks how it can enhance the living, learning, teaching, research and working environment for members of the UK community. An example of that progress comes from cybersecurity, where the school has made a commitment to provide high-speed internet access across campus.
To that end, UK's campus wireless internet will transition to Eduroam,while the old ukyedu server will be disabled at the end of the semester. The current UK HealthCare Wi-Fi networks will not be impacted at this time.
Eduroam is a secure and encrypted Wi-Fi network providing enterprise-level internet access. The switch will increase our internet security and the speed of internet on campus. Eduroam connection is available on laptops, tablets, iPhones and Android smartphones.
Eduroam originated in Europe with more than 2,000 universities before coming to the U.S. in 2012. Eduroam has been available for years at UK, but beginning May 8, it will be the sole Wi-Fi open to the campus community. UK HealthCare will not be changing at this time. To view a map of where the Eduroam network is available, click here.
More than 400 other institutions in the U.S. use Eduroam. Therefore, when a UK student, faculty, or staff member visits one of these participating institutions, they will receive access to that Wi-Fi, without needing to request a guest account. This will benefit faculty visiting other schools, visitors attending sporting events, and students traveling within the U.S. and abroad.
Connecting a device to Eduroam is required once every five years. Once connected to Eduroam you will have a secure Wi-Fi as your primary Wi-Fi network on campus. Connecting to Eduroam Wi-Fi will also help manage data overage charges.
Eduroam is intended for students, faculty and staff use. There will also be a guest level of access for visitors from other institutions to UK, though they will not have full enterprise-level access. Guests at the university can self-register or be sponsored for temporary access to the designated UK-Guest network.