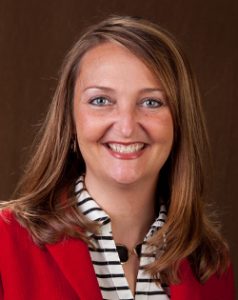 BOWLING GREEN, Ky. (July 2, 2018) – Whitney Peake, Vitale Professor of Entrepreneurship in the Gordon Ford College of Business, has been named the director of the Center for Entrepreneurship and Innovation, effective July 1. She replaces Dr. Dawn Bolton, who is retiring.
"I am excited for all the Center for Entrepreneurship and Innovation has accomplished under Dr. Bolton's leadership the past several years, and I look forward to continuing the momentum we gained as the incoming Director," Peake said. "As an applied College of Business, the CEI has so many opportunities to continue engaging students across the University in a multitude of ways and I look forward to having the opportunity to advance that mission."
Dr. Peake earned her Ph.D. in Agricultural Economics from Purdue University in 2008 and joined the GFCB faculty in 2014. Her research focuses on family business and entrepreneurship topics, having won numerous conference best paper awards in these areas. She currently serves on the editorial board for the Small Business Institute Journal and as an associate editor for the Journal of Small Business Strategy.
Over the past three years, three student groups from Dr. Peake's Small Business Analysis and Strategy course have earned national recognition from the Small Business Institute Project of the Year Competition. She received the Homer L. Saunders Mentor Award from the Small Business Institute, won a national best practices award for her integration of entrepreneurship into the general education curriculum, and mentored students through several local and national business plan competitions, which has yielded more than $50,000 in student winnings.
"We are proud of the innovative ideas Dr. Peake already has brought to the Center for Entrepreneurship and Innovation," said Dr. Catherine Carey, interim dean of the Gordon Ford College of Business. "As an applied College of Business, our faculty are dedicated to providing programs that allow students to apply their classroom knowledge to hands-on business experiences. We know Dr. Peake will continue that strong tradition in her new role."