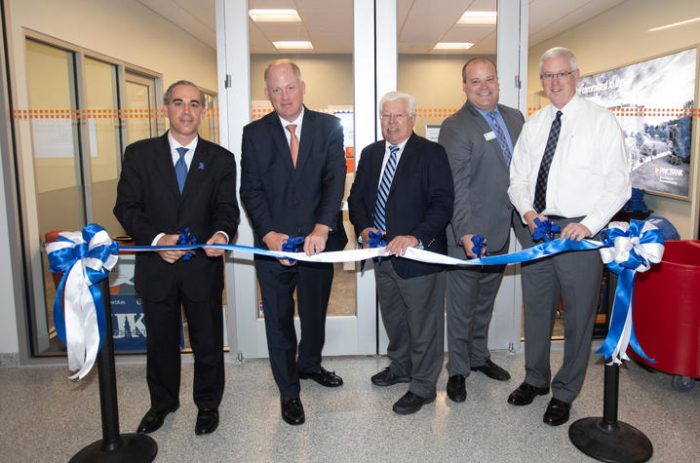 LEXINGTON, Ky. — The University of Kentucky and PNC Bank officially opened its new financial services center Friday on UK's campus to serve more than 45,000 students, faculty and staff. It is the first PNC university banking branch in Kentucky.
Located in the Gatton Student Center, the 645-s.f. branch is staffed with two full-time consultants to assist customers with completing transactions. The branch is open 8 a.m. to 5 p.m. Monday-Friday.
On campus, customers will have access to interactive financial planning tablets and advanced function ATMs. These advanced ATMs allow customers to deposit and withdraw cash, including $1 bills, transfer funds between accounts and allow customers to retrieve account information.
"PNC and the University of Kentucky share a commitment to educating college students on successful money management practices," said John Gohmann, PNC regional president for Lexington. "In addition to providing world-class products and services, we can help students, faculty and staff to be smart with their money and achieve their financial goals."
"The University of Kentucky and PNC Bank have partnered on a variety of initiatives over the past several years, and we are excited to see this new financial services center open in the Gatton Student Center," said Eric N. Monday, UK's executive vice president for finance and administration. "We are committed to providing substantive benefits to our campus community and to promoting financial literacy among our students. This location — and this partnership — support those goals."
Students can sign up for Virtual Wallet Student, an online and mobile account to manage expenses, plan and save. For parents, the account has alerts, a "send money" feature and spending tracker. The accounts feature one free incoming wire transfer per monthly statement cycle and one free courtesy overdraft fee waiver during the first 12 months.
Financial and consulting support is available for the UK MoneyCATS Peer Education and Coaching Program along with on-site workshops on personal financial management and financial literacy. Topics include basic banking, credit management, savings and investing, identity protection and home buying.
PNC account holders also have the capability to link their account to their Wildcat ID, which can be used to conveniently access cash at all PNC ATMs.
Five additional PNC ATMs are located on campus at The 90, William T. Young Library, Funkhouser Building, Johnson Recreation Center and University Health Service.
The bank has relationships with more than 400 colleges and universities.