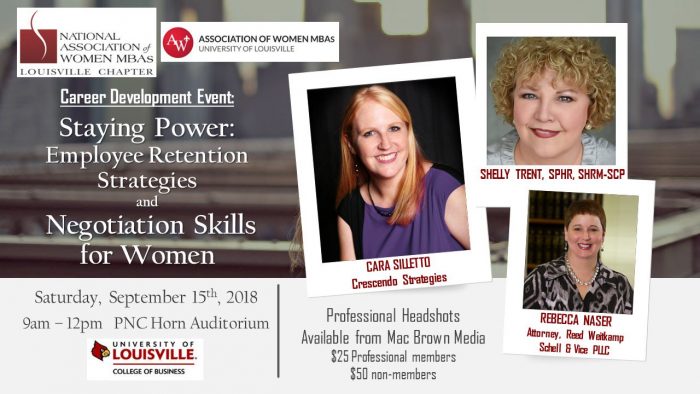 LOUISVILLE, Ky. — The Louisville Professional Chapter of the National Association of Women MBAs (NAWMBA) and the University of Louisville's Association of Women MBAs will host speakers Cara Silletto, president and chief retention officer of Crescendo Strategies, as well as Shelly Trent, and Rebecca Naser, attorney with Reed Weitkamp Schell & Vice, on Sept. 15.
This joint event will start at 9 a.m. and will be held in the Horn Auditorium at the University of Louisville College of Business, 110 West Brandeis Avenue, Louisville, Ky.
During the event, attendees will learn how to build stronger, more genuine relationships with their team members, as well as how to think strategically and prepare tactical plans for negotiations in a number of areas, including salary negotiations. In addition, attendees will network and build relationships with fellow professionals in the community.
"Cara Silletto has become a leader in the field of bridging generational differences and reducing employee turnover in the workforce," said Jill Morzillo, president of the NAWMBA Louisville Professional Chapter. "We are pleased to be able to share her business knowledge with managers and future leaders in our community.  In addition, we look forward to learning strategies for negotiating effective career outcomes from experts Shelly Trent and Rebecca Naser."
The event is open to the public. Non-members and students are welcome to attend. To register, visit  https://bit.ly/2P6d6KJ  For more information about NAWMBA Louisville, visit www.nawmba.org/page/Louisville.