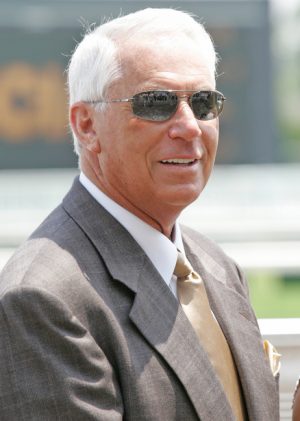 LOUISVILLE, Ky. – The Breeders' Cup, in conjunction with the Breeders' Cup Festival and the Kentucky Derby Museum, today announced that D. Wayne Lukas, who transformed his skills as high school basketball coach in Wisconsin to become the greatest winning trainer in Breeders' Cup history, will be honored with the Breeders' Cup Sports and Racing Excellence Award on Oct. 31 at the Kentucky Derby Museum in Louisville.
The event will also be the first time guests can explore the Museum's new $6.5 million expansion and renovation project, which includes a new exhibit dedicated to celebrating the career of D. Wayne Lukas.
The presentation of the Sports and Racing Excellence Award is a part of the week-long series of Breeders' Cup Festival of events and attractions in Louisville in support of the 35th Breeders' Cup World Championships at Churchill Downs, Nov. 2-3.
Ticket information for the reception honoring D. Wayne Lukas is available at www.breederscupfestival.com.
Born in Antigo, Wis., Darrell Wayne Lukas had a keen interest for horses at an early age. He bought, sold and raced horses while a teacher and high school basketball coach, after earning a master's degree in education from the University of Wisconsin.
He began a successful career training quarter horses in the late 1960's before turning over to Thoroughbreds full time in 1978. He rose quickly to prominence winning the 1980 Preakness with Codex and by 1990 became the first trainer to earn more than $100 million in purses.
Lukas became the first to surpass the $200 million barrier in 1999, leading the nation in money won by trainers 14 times in his career. During this period, he established a nationwide stabling operation at the major American racing centers, incorporating an elaborate, innovative and efficient approach to the racing business, and taught several young assistant trainers those same principles.
Nicknamed "The Coach," Lukas has had a number of his protégés from his coaching tree move on to prominent careers of their own, including Bobby Barnett, Randy Bradshaw, Mark Hennig, Mike Maker, Kiaran McLaughlin, Todd Pletcher, Dallas Stewart and George Weaver.
When the sport's leading breeders formed the Breeders' Cup in the 1980's, Lukas said at the time, "I told (son) Jeff and my staff that this is going to be bigger than anyone imagined," and went after the event's multi-million purses with enormous gusto. Lukas became the first trainer to win three races on a single Breeders' Cup card in 1988 at Churchill Downs, taking the Sprint with Gulch, the Juvenile Fillies with Open Mind and the Juvenile with Is It True. He nearly won a fourth race, but Personal Ensign nipped Winning Colors at the wire to win the Distaff. Lukas went on to be the leading trainer in the Breeders' Cup history with 20 victories.
Lukas won his first Kentucky Derby in 1988 with Winning Colors, only the third filly to ever win the "Run for the Roses." He won the Derby three more times with Thunder Gulch (1995), Grindstone (1996) and Charismatic (1999). Further, he won six Triple Crown races in a row starting with Tabasco Cat winning the 1994 Preakness and continuing through Grindstone's Derby triumph in 1996. When Oxbow won last year's Preakness, Lukas broke the Triple Crown all-time victory mark of 13 he shared with James E. "Sunny Jim" Fitzsimmons.
Lukas has trained 24 Eclipse Award winning horses, and three of those were voted Horse of the Year: Lady's Secret in 1986, Criminal Type in 1990 and Charismatic in 1999. He has won the Eclipse Award as Outstanding Trainer on four occasions (1985,'86, '87 and 1994).
Lukas was inducted into Thoroughbred Racing's Hall of Fame in 1999 and was inducted into the American Quarter Horse Hall of Fame in 2007, becoming the first ever to be honored by both institutions.
"Wayne's career migration from coaching sports to his extraordinary mastery of training Thoroughbred champions and record-breaking achievements has been truly remarkable over the past 40 years," said Breeders' Cup President and CEO Craig Fravel. "Wayne still holds the mark for Breeders' Cup wins by a trainer and for that record of achievement and in recognition of his contribution to the development of so many trainers of the next generation, we are especially proud to present him with the Breeders' Cup Sports and Racing Excellence Award."
"We are honored to celebrate the storied career of D. Wayne Lukas, not only with this prestigious award, but also with the grand unveiling of the brand-new wing at the Kentucky Derby Museum. Guests attending will have the first chance to explore the D. Wayne Lukas exhibit that is a highlight of our multi-million-dollar expansion and renovation project. It will be a memorable evening saluting one of the icons of the racing industry. We are looking forward to sharing it with Wayne and everyone in attendance," Kentucky Derby Museum President and CEO Patrick Armstrong said.
The Breeders' Cup Sports and Racing Excellence Award is presented periodically to an individual who has displayed outstanding achievements both a sports related activity and in Thoroughbred racing. Previous recipients of the award have been champion professional golfer Gary Player and renowned broadcaster, the late Dick Enberg.