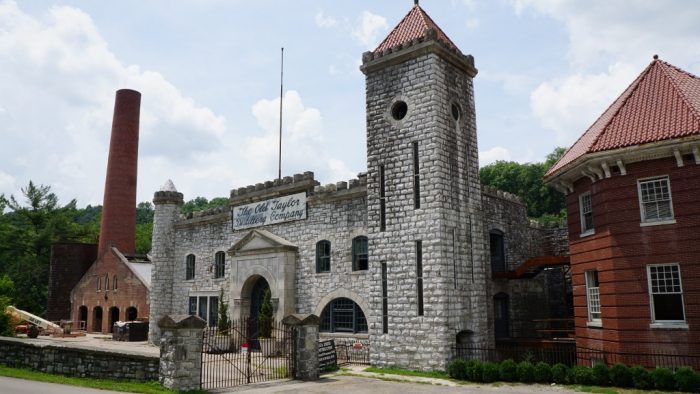 FRANKFORT, Ky. — At Wednesday's opening of Castle & Key Distillery, Gov. Matt Bevin congratulated the company's leaders on their $30 million renovation – a project expected to create 100 jobs in the coming years – and welcomed the public's return to the restored, long-dormant grounds of the former Old Taylor Distillery Co. in Woodford County.
"In the middle of an international resurgence of Kentucky's bourbon industry, we welcome Castle & Key as another crown jewel of spirits production, tourism and hospitality," Gov. Bevin said. "I commend the owners' vision to resurrect the historic property and their team's tremendous effort in renovating and preserving the buildings and grounds, creating jobs and, as of today, opening to the public."
Will Arvin and Wes Murry, founding partners of Castle & Key, bought the dilapidated property in 2014 and began an extensive historic renovation the same year. Work included creating a guest center in the original boiler room, installing new stills and rehabilitating the world's longest barrel warehouse. The team preserved the key-shaped peristyle springhouse, creek-fed well house and multiple other buildings and features. They also replanted the estate's sunken gardens and created a botanical walking trail on the 113-acre property.
"For the last four years, we've worked incredibly hard to create a destination where discerning tastemakers can experience history in motion," Arvin said. "Many people thought this day would never come, but we're proud that we had the courage to keep pursuing this dream."
Murry said vision, drive and a full recognition of the property's potential helped the team reach today's grand opening.
"The opportunity to revive this historic property to its original glory and build a company from the ground-up was too enticing to turn down," he said. "We can't wait to show our guests this property and all we're doing to create spirits with conviction over pocketbook."
The Castle & Key team also includes partner Marianne Eaves, Kentucky's first female master distiller since Prohibition, and restaurant owner Brook Smith, a partner and businessman in Louisville. Spirits production began in 2016 and, while the bourbon and rye age, Eaves is producing gin and vodka using bourbon and rye-based recipes and locally sourced products.
Col. Edmund Haynes Taylor Jr., a bourbon industry financier, innovator and political advocate, founded the Old Taylor Distillery and planned the facility as a tourism-oriented showcase of bourbon making. Built in in 1887, the distillery features a European-style castle main building, a central still that visitors could walk around, an ornate, colonnaded spring house, sunken gardens, a fish pond and limestone buildings.
Taylor is known as the father of the modern bourbon industry for his numerous innovations, including in grain handling, sour mash processing, column still design and steam heating for barrel warehouses. A former Frankfort mayor, he also played a key role in the passage of the U.S. Bottled in Bond Act of 1897, which ended the widespread adulteration of distilled spirits.
The Old Taylor Distillery became a major employer in the area and was the first distillery to reach 1 million U.S. Government certified cases of straight bourbon. However, across the decades ownership changed multiple times and demand for bourbon dropped, forcing the distillery to close in 1972, and the property fell into severe disrepair. Sazerac Co. purchased the Old Taylor and Col. E.H. Taylor brands in 2009 from Beam Global Spirits & Wine, and continues production at its Buffalo Trace Distillery in nearby Frankfort.
The state's bourbon industry employs about 17,500 people and contributes more than $1.6 billion to economy annually through employee payrolls and federal, state and local taxes annually, according to the Kentucky Distillers Association.
Kentucky's broader beverage industry exported nearly $459 million in products last year, a 22 percent increase over 2016. This year through July, the beverage industry's exports hit $298 million, up 32.5 percent over the same months of 2017.
To encourage the investment and job growth in the community, the Kentucky Economic Development Finance Authority (KEDFA) in 2014 preliminarily approved Castle & Key's parent company, Peristyle LLC, for tax incentives up to $200,000 through the Kentucky Business Investment (KBI) program based on a $4.2 million investment and creation of 10 new jobs. The performance-based incentive allows a company to keep a portion of its investment over the agreement term through corporate income tax credits and wage assessments by meeting job and investment targets.
KEDFA also previously approved Peristyle for up to $200,000 in tax incentives through the Kentucky Enterprise Initiative Act (KEIA). KEIA allows approved companies to recoup Kentucky sales and use tax on construction costs, building fixtures, equipment used in research and development and electronic processing.
For more information on Castle & Key, visit www.CastleAndKey.com.
A detailed community profile for Woodford County can be viewed here.