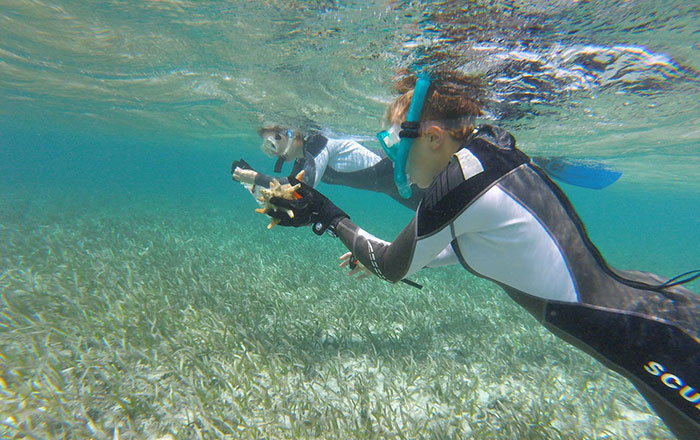 HIGHLAND HEIGHTS, Ky. — Northern Kentucky University has received a National Science Foundation grant to support underrepresented STEM (Science, Technology, Engineering and Mathematics) students. The grant totals just over $1 million and will continue the College of Arts and Science's Project SOAR, a program to recruit, retain and graduate talented students with a financial need.
Project SOAR is a collaboration that involves five NKU academic departments – biological sciences, chemistry and biochemistry, physics, geology and engineering technology, computer science and mathematics and statistics. This is NKU's third NSF S-STEM grant awarded to support SOAR. The project was established in 2008 and continued in 2012.
SOAR 3 is under the direction of Dr. Denice Robertson and Dr. Bethany Bowling.
"It is very impressive that we have received three consecutive NSF S-STEM grants to fund Project SOAR," said Diana McGill, dean of the College of Arts and Science. "It really speaks to the positive impact SOAR has on our STEM students."
The project will award two-year scholarship to under-represented, talented students with the goal of meeting the local and national need for highly skilled scientists and technically trained employees. NKU will fund scholarships for the final two years for SOAR Scholars. Dean McGill, co-PI on the previous NSF grant notes, "Our SOAR alumni will be thrilled when they hear the news that we were awarded a third NSF grant to continue the program." Current SOAR students say the program's impact goes well beyond the classroom.
"Working two summers with my research advisor Dr. Kristy Hopfensperger at AJ Jolly Lake has shown me how much dedication this field takes. For my research, I would get up at 5 a.m. to pull samples from the lake," said Lauren McMillen, SOAR Biological Science (EEO) and Environmental Science double major. "I really loved the entire experience–being out in the field, analyzing samples in the lab and then presenting my work either through a poster or oral presentation. Dr. Hopfensperger's support, advice and helpful criticism has made me realize I'm up to the challenge."
The NSF grant will allow the College of Arts and Science to scale up the program, serving 36 incoming freshmen compared to 17 in previous years.
"We want to increase the number of students we reach and still maintain our previous high retention and graduation rates," said Dr. Robertson, PI on the SOAR 3 grant. "We will also focus more on job shadowing to help students gain a better understanding of the amazing opportunities a STEM career can offer."
"Not everyone knows how to apply their passion for science and math. Our goal is to expose them to all the career paths that come from STEM," said Dr. Bowling, College of Arts and Science associate dean. "Spending a day job shadowing at a large company, they can see an engineer working with robotics, someone in a lab or a computer data scientist. It gives them something to work towards when they are taking these really difficult classes."
Project SOAR is based on best practices for increasing retention and graduation rates for low-income, first-generation students. The key elements of the rigorous program include a year-long freshman seminar; STEM learning communities; a STEM-living community; opportunities for research, internships and co-ops; entrepreneurship training; and academic support services including peer mentoring and tutoring. Faculty mentors also work one-on-one with SOAR students.
"I'm fortunate to have Dr. Lili Ma, a full-time faculty of the Department of Chemistry and Biochemistry, as my research advisor. Her work is a great inspiration," said Quynh Nguyen, a SOAR Chemistry major. "My interest in Chemistry was sparked from my desire to innovate medicines and medications that are more approachable and efficient to low-income people. I thought studying Chemistry would allow me to understand the fundamental structures of life and also learn how the human body interacts with different chemical compounds."
Dr. Ma was awarded a NSF grant last year for her organic chemistry research project.
NKU also received a second NSF grant in 2017 for the humanities and social sciences project studying the Parker Academy.
Over the four years of the SOAR program, 144 total full scholarships will be awarded to NKU STEM students starting in Fall 2019. As part of this grant, NKU will help Ferris State University in Michigan establish a similar program. Former Chair of NKU's Department of Biological Sciences Dr. Kristi Haik now serves as dean of Ferris State's College of Arts and Sciences. Dr. Haik helped launch NKU's SOAR program.