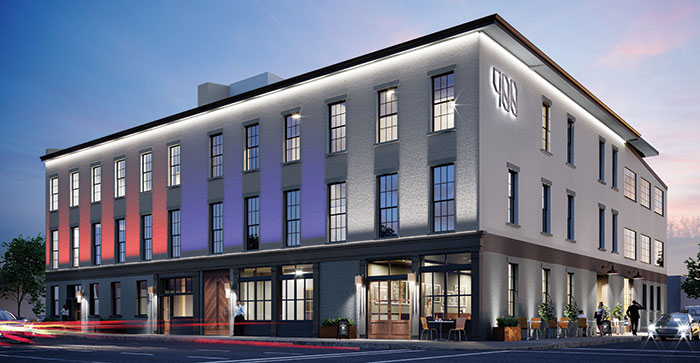 With state government shuttering its dozen Kentucky Innovation Network offices in favor of more localized support for startup business ecosystems, the Greater Louisville region is percolating with new public-sector ventures to incite economic growth by nurturing the area's entrepreneurs.
The Louisville metropolitan area is growing, but not as rapidly as it would prefer with a rate of 4.2 percent between 2010 and 2017, according to the United States Census Bureau.
In the current business era of go-go internet-oriented capitalism and informal impact collaboration, most cities are making a technology-sector grab. They are encouraging new channels and success models for all types of startup and growth businesses striving for profitability.
In place of its former network of similar offices offering similar services, the commonwealth's rebranded KY Innovation program now is forming Regional Innovation for Startups and Entrepreneurs (RISE) partnerships, part of its 120-county effort to modernize Kentucky's support for high-tech, high-growth-potential businesses.
In Louisville this has meant funding a coalition called LEAP, which stands for Louisville Entrepreneurial Acceleration Partnership. This partnership includes $1.3 million in state funding for five entities: Greater Louisville Inc.'s Enterprise Corp.; The Louisville Healthcare CEO Council; the recently added 1804 Entrepreneurship Center; XLerateHealth; and the University of Louisville. Now there is an April report by nationally respected TechStars.
---
IT'S FREE | Sign up for The Lane Report email business newsletter. Receive breaking Kentucky business news and updates daily. Click here to sign up
---
KY Innovation is the new name for the Kentucky Cabinet for Economic Development's initiative supporting business founders and growing companies. In August 2018, it called for proposals to lead RISE hubs around the state. KY Innovation plans to invest more than $4.7 million in these regional efforts, more than doubling funding that had gone to the 12 offices of the former Kentucky Innovation Network. Each participating RISE entity must include a proposed match for the funding it wants from Frankfort. The funding contract for LEAP can be renewed for up to five years.
Specialty spinoff events are being held for health-care entrepreneurs, including a CareTech competition to be held during Kentucky Derby Week, with Pitchbook as a sponsor as part of the Louisville Healthcare CEO Council efforts. 
Will Metcalf, director of research, development and strategic innovations at the University of Louisville, chairs LEAP.
"We will be leveraging our area's health-care innovation with new Entrepreneurs in Residence, and LEAP will be developing a CRM database in Salesforce of entrepreneurs in the area," Metcalf said. "There will be more connections amongst associations to build up the area's ecosystems."
Most important from his perspective will be corporate engagement in the entrepreneurial ecosystem, he said.
Significant impact in Louisville is expected as a result of venture capital from the Covington office of SIDIS – an acronym for Spirited Individuals Delivering Innovative Solutions, a life sciences-focused private investment and management company founded in Colorado in 2004.
SIDIS dollars plus financing from PNC Bank will open a new entrepreneurial space at 900 E. Main St. in Louisville that will include local players like Story Labs, a co-working space. SIDIS' investments in Kentucky's largest city exceed $13 million. In addition to the Main Street space, there is Louisville-based MobileMedTek and Adaptiv Endo LLC.
SIDIS is a backer of Covington-based BioLOGIC, a community-supported foundation dedicated to advancing human health through innovation, education and entrepreneurship, and plans on playing an ongoing role in the Northern Kentucky region's health-care innovation corridor.
Grace Simrall, chief of civic innovation and technology for Louisville Metro government, and others from the region participated as judges in BioLOGIC's recent life-science innovation awards competition. Louisville-based Innovative Therapeutix, a pediatric-focused device company that solves medical and developmental issues in infants and children, was a semi-finalist in the competition.
"More informal collaboration amongst entrepreneurs and those in our region is something I encourage," said Galen Powers, Louisville native and CTO of SIDIS. "With the 900 E. Main St. building, we are trying to create a physical space, which makes that easier." A June ribbon-cutting for the building is planned.
New network for collaboration
Louisville investor and entrepreneur Alex Day would like to see more Midwest and regional activity putting together mentors, entrepreneurs, and idea producers – whom he calls "explorers" –  as well as experts from the corporate world looking to get into the commercialization cycle.
Day has been working for about eight years on a new entrepreneurial network concept with a paid membership model called the Sheltowee Business Network (SBN). After a soft launch in 2018 in Evansville, Ind., the network team has opened nodes in Louisville, Cincinnati and Lexington.
The network has launched a sister fund called the Sheltowee Venture Fund, which aims by the end of the year to be a $20 million fund investing in early-stage startups.  First investments are targeted to occur in the second quarter of 2019, but only for those entrepreneurs who complete key curriculum in SBN.
"I see real change in Louisville," Day said. "I see, for the first time, a collaborative business spirit, with entrepreneurs taking a leadership role – a drastic change from 20 years ago when I started my own company (in pharma)."
Day has pulled together a founding member team. Key first entrepreneurial companies in the Sheltowee fold include Blue 222, Thermal Wall Technologies, and TreaterER.
"A primary goal for SBN is to bring more capital to early-stage companies, seed and pre-seed," he said. The SBN Venture Fund is collaborating with a family office in Cincinnati as well as other individual investors.
Capital ideas keep coming
Other venture capital access in the region announced in recent months includes a $25 million Poplar Ventures L.P. fund investing in early growth-stage, cloud-based software technology companies in mid-America, as well as more cultivated activity in Southern Indiana from Indianapolis-based Elevate Ventures. A "Shark Tank" TV series casting call for entrepreneurs in Louisville took place at the University Club on April 29 under the organizing efforts of Louisville entrepreneur Andrew Prell, who is also running his second "Run for the Unicorns" blockchain event during Derby week in the city. 
Louisville's other active circles for entrepreneurship expansion have grown out of persistent efforts over a number of years to make a difference in what has been referred to as 'Possibility City.'
In the last year, the facility to have seen the most entrepreneurial activity nationwide from Louisville is not any of those recently seeded by the state under its RISE initiative. Nor is it the chamber of commerce, known as Greater Louisville Inc. In its first year of operation, the nonprofit Thrive Center (thrivecenterky.org) in downtown Louisville saw more than 80 documented aging and wellness-focused startups coming from all over the globe looking for corporate partnerships and other health-care ecosystem connections.   
This young organization is one of two birthed out of Signature Healthcare's ongoing efforts – via funding from the defunct InnovateLTC (closed out in 2016) – to create a more collaborative venture approach to push Louisville to innovate and be recognized at the global table as a catalyst for aging innovation and wellness. The other spinoff effort from Innovate LTC and Thrive Center activity is the new Innovators Alliance (innovators-alliance.com), led by Managing Director John Reinhart.
The Innovators Alliance was recently formed by premier nonprofit senior-living organizations to solve challenges and create differentiation opportunities by partnering with young companies on emerging solutions for market tests, demonstrations or first sales inside institutions.
"After you've been through an incubator or accelerator, we offer an approach for two-way commercialization, which brings a validation methodology inside skilled nursing facilities, home health care, and more," Reinhart said.
This initiative has 10 key health-care organizations involved with facilities in Kentucky and nationwide, like Masonic Communities Kentucky, Hosparus Health, Christian Living Communities and others. The alliance's 2019 commercialization program is now taking applications on its website that will allow for investments and paid pilot opportunities, for example.  First benefactors from the Thrive and Alliance efforts include PayActiv of San Jose, Calif., and VirtuSense of Peoria, Ill.
Co-working spaces keep sprouting
Co-working spaces are growing in size and number, including locations by national players like Regus US. More locally based, Reinhart's 31E on Bardstown Road at the former Edenside Christian Church property is expanding beyond its initial 12 entrepreneurial suites with a café and conference areas; Phase II will be to renovate the sanctuary, which is prepped for development. The Root, a venture of father-and-daughter duo Mark and Brigid Morrissey, is housed in a former grocery store in New Albany, Ind., that has been transformed into an 8,000-s.f. technology hub.
Diversity in seeding entrepreneurship remains an important component to West Louisville growth, according to Kevin Fields, executive director of the Louisville Central Community Centers, which held its Entrepreneurship 4 All Kickoff in March. That event began a 10-week training curricula, with backing for entrepreneurs under the WoodForest Foundry, with support from Woodforest National Bank. Entrepreneurs who were raised in the area have come back to support these new efforts, including Butch Mosby of Sponsor4 Success. 
Metro Louisville government offers programs like those through the Nia Center (2900 W. Broadway in Louisville), plus the Entrée-preneurship Series with Chef Space, and the Etsy Craft Entrepreneurship to create a foundation to help budding business owners in specific fields get started or grow, pointed out Mary Ellen Wiederwohl, chief of Louisville Forward. In addition to training and guidance, Louisville Forward offers a suite of loan programs, including Spark, a $500 to $4,999 loan for those businesses younger than a year; Ignite, a $5,000 to $15,000 loan for businesses older than a year; the gap financing loan, which offers up to $200,000 to eligible small businesses; and façade loans for exterior property improvements.
Intra-preneurship too
Growth from the corporate sector for entrepreneurship includes spinoffs. For example, Louisville has seen activity around spinoffs from major corporations like Genscape and El Toro. Last summer Genscape, the leading global provider of data and intelligence for energy and commodity markets, announced the successful spin-out of its LineVision business, which provides secure non-contact transmission line monitoring, conductor asset management and dynamic line rating solutions to electric utilities worldwide.
Universities, and now high schools also, are active in encouraging students into entrepreneurial spaces. Those include the University of Louisville's School of Business Launch-IT program, as well as the J.B. Speed School of Engineering effort with Kindred Healthcare Inc. for internal innovation begun in 2017 under the name The Hive to aid in the development of technology inside that company.  Ten to 12 engineering students (and soon business students) participate in Hive activities each quarter.
Revolution's Rise of the Rest Seed Fund, managed by ex-AOL mogul Steve Case, has invested in Kentucky, pushed regional entrepreneurs into the spotlight – including a recent appearance on "60 Minutes" – and put his influence behind AppHarvest's work to build an agtech ecosystem. The company recently launched an agricultural entrepreneur program at Pike County's Shelby Valley High School, where more than 80 students applied for 33 available slots.
City government efforts under KentuckianaWorks like Code Louisville, as well as nonprofits like the Technology Association of Louisville Kentucky, Code for Kentuckiana (Code for America), and others are advocating for more workforce training, STEAM curriculum, and other methods to introduce more tech talent through education to support the entrepreneurial landscape.
GLI President and CEO Kent Oyler has dubbed this the "Year of Technology" for Louisville and expects to see more interregional cooperation, especially through tools and tactics tied to the KY RISE efforts. Oyler points out the Northern Kentucky region and Louisville both have strong corporate players to support more entrepreneurial efforts in logistics.
"We will be taking entrepreneurship to a higher level with national best practices, and the Techstar report will give us guidance on methodologies to make that happen, borrowing ideas from Cincinnati and its Centrifuse plan," he said. Greater Louisville's Enterprise Corp. offers assistance for Louisville's entrepreneurs with business-plan assessments, capital access, strategic introductions and peer-to-peer networking through Mentor Louisville and RevIt. Oyler said he also hopes to revitalize the inactive Enterprise Angels group, and see more activity in the region from Bluegrass Angels, based in Lexington.
---
Dawn Marie Yankeelov is a correspondent for The Lane Report. She can be reached at [email protected].