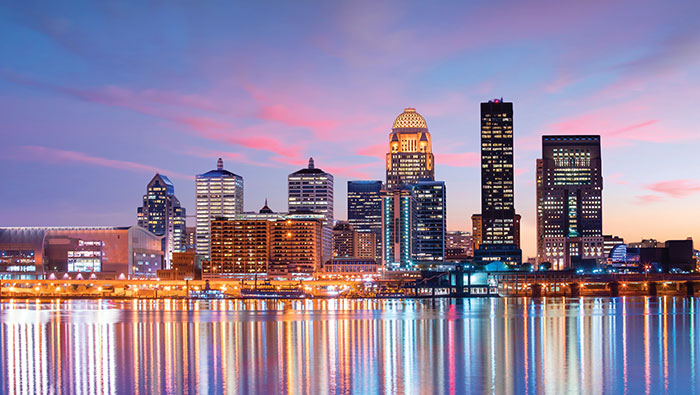 Aging is a new dawn of health care. Tens of billions of dollars are at stake as an epochal time for revolutionary wellness and aging care begins. Louisville is contending to lead the revolution but it is not clear yet that anyone has defined exactly how best to compete for and win this new health sector of aging innovation.
The older we get, the more we recognize that age is just a number – and considering the alternative, age, at any age, is a good number.
In his book "The Longevity Economy," Joseph Coughlin notes that the concept of "old age" is actually a newer invention: "Historically, in many different cultures and time periods, growing old was something experienced on an individual basis – not at a set age … and not always according to the same set of rules."
Good to know since an avalanche of aging boomers is arriving – a byproduct of a decade-plus period post World War II when the world produced an outpouring of what had been lost in war's carnage: life. Now, that burst of "baby boomers" is pouring in at a rate of 10,000 a day. They are coming; they are here.
Born 1946-1964, with plenty of company from the years before and after, they want what they want. Considered the "me generation," it is 40% of total consumer spending and 70% disposable income (Forbes, Sept. 2017). Tech smart, active and focused on healthy lifestyles, they have unprecedented buying power and are generating an innovative health care rush by the thousands who serve them – from the single entrepreneur to the multifaceted provider communities.
But as the new dawn of aging breaks, what does it look like with new rules – or no rules?
---
IT'S FREE | Sign up for The Lane Report email business newsletter. Receive breaking Kentucky business news and updates daily. Click here to sign up
---
The challenge of influencing, even leading, this new dawn has been set, and Louisville has a real shot at crafting the rules: what it can look like, how it can feel, how health care delivery happens both in hospitals and post-acute facilities and the halls of their homes, how seniors will engage, how they will interact with technological might, how they will access care, pay for it, even prevent sickness.
Yet, this megabuck competition may be Louisville's to lose. It already has been deemed a national aging innovation centerfold by a 2018 Forbes magazine article based on its health care industry heavyweights like Humana, Kindred Healthcare, Trilogy Health Services, Atria Senior Living, PharMerica (merged now with BrightSpring), Norton Healthcare, Signature Healthcare, Baptist Health, Apellis Pharmaceuticals and others with approximately 375,000 employees across various domains of insurance, home-based health care, hospice, pharmaceuticals, rehabilitation, senior living and skilled nursing.
'We need to go and get it'
It's already a powerful economic driver worth $90 billion in revenue, according to Ben Breier, president and CEO of Kindred Healthcare.
"Louisville is considered the aging-care capital of the United States," said Humana CEO Bruce Broussard, "because of what the companies based here are doing in health care."
"Health care is our largest sector in the city and Louisville has a legitimate claim, but we need to go out there and get it," said Kent Oyler, president/CEO of Greater Louisville Inc.
Earlier this decade, realizing the potential in aging care, some of Louisville's sector leaders began efforts to join forces and grow their economic critical mass. Last year another dynamic was launched to increase the collective strength of once-siloed powerhouses of health care into a juggernaut of unprecedented force.
A dozen stalwart companies in the aging-innovation space formed the Louisville Healthcare CEO Council (LHCC) to aggregate the atomic power of these formidable health care giants and the critical resources big companies can provide for investment, prototype pipelines, mentoring and being a driving force for change – with the intent also of crowning Louisville the monarch of this medical sector.
"The whole concept is to band together with a common voice, a common place for opportunity to happen," said Randy Buford, president/CEO of Trilogy Health Services.
"My colleagues and I on the LHCC represent the strength of health care organizations we have in this portion of the country," Broussard said. "With the companies represented on this council, including Humana, you can journey map the entire patient health care experience beginning to end."
"The creation of the CEO Council was the missing piece. … We are now able to mobilize as an industry cluster and energy source for others to plug into," said Joe Steier, president/CEO of Signature Healthcare.
"We now have a solid platform for intentional disruption," Breier agrees. "It's not always easy to think about innovation, but now we can solve for the big problem – start on one path, change when we need to."
New tools to speed innovation
Some national innovation leaders agree that Louisville is a viable contender to be the capital of aging care innovation.
"I don't think it (Louisville) is yet, but it could be," says Cedric Francois, president/CEO/co-founder of LHCC member Apellis Pharmaceuticals, a biopharma development company working to create sophisticated therapies for autoimmune and inflammatory diseases. "We are about to see dramatic reform, and Louisville is onto something; I like the ambition behind it. The recent CareTech pitch (a LHCC aging innovation pitch competition) is a great example of focusing on an important segment of society that is neglected. Tactically honing into the caregiver is a great approach."
"Louisville has a shot," says Unity Stoakes, president and co-founder of San Francisco-based Start-Up Health, founded in 2011 to build a 25-year plan to improve health by investing in a "global army" of entrepreneurs. The LHCC "is a great example of an ecosystem that has emerged around a particular theme," Stoakes said. "These great companies can not only invest but commercialize (products) and innovate new solutions."
He went on to say that the emergence of the internet fueled the power of retail and media in the 1990s but outpaced health care innovation; Louisville's ecosystem is better positioned now to speed things up.
This new speed is optimized by LEAP (Louisville Entrepreneurship Acceleration Partnership), a vehicle for entrepreneurs to jumpstart and accelerate their ambitions of innovation and technology in the aging-care space. It has the early blessing of the Kentucky Cabinet for Economic Development's organization and funding, the academic and research arm of the University of Louisville, the startup support team at GLI's Enterprise Corp., XLerate Health's innovation building, and the LHCC, as well as a new capital model to help finance opportunities and the entrepreneurs needed to make them.
"Health care is a top sector and priority for the Kentucky economy and is so critical in real measurable economic output; it boils down now to focus," said one of state government's lead economic development specialists.
A growing collective reasoning emerges: Louisville may finally be able to play host to a full sanctuary of mechanisms and structure for a growing community of wellness and aging-care pioneers.
Cooperation generates excitement
Entrepreneurs like John Williamson, founder/CEO of RCM Brain, a startup looking to use artificial intelligence to improve workflows, are encouraged.
"Now a motivated start-up with a relevant solution may have a better chance at a connector and interested BigCo (big company) influence," Williamson said.
"Innovation can now take hold in a real system, and have an outcome," says Mary Haynes, CEO Nazareth Home Inc.
"Baptist Health is actively working together with other Louisville-based health care companies and their CEOs, and the academic community," said Gerard Coleman, CEO of Baptist Health and a recent addition to the LHCC, "to identify both existing companies and innovative start-ups that will not only help support and improve the lives of the senior population, but also the lives of those who care for them."
The pace of technologies like AI (artificial intelligence) and nontraditional care settings like staying in the home longer is accelerating, with help from the powerful connectivity engine of telemedicine, "smart" home technologies, virtual reality, sensors that can determine just about anything, apps that can detect paid and unpaid caregiver burnout, analytics that can predict a fall before it happens, even the nonimaginary realization of "domotics" (domestic robots).
If it achieves traction, Louisville can not only redefine care delivery with its great depth of expertise but re-create and re-cast the meaning of aging – what it actually means to age – rewrite the rules and become a mecca for entrepreneurs who aspire to advance their fields, products and services because of the support system that awaits them.
The current excitement around the LHCC is demonstrable, but there also is some better-late-than-never sentiment.
"There were stops and starts" in the city's ascendancy efforts regarding well and aging care, said Randy Buford.
When Signature Healthcare moved to Louisville in 2010 from Palm Beach Gardens, Fla., it had hoped to quickly be part of a broader business community of shared learning and collaboration. Signature viewed with reverence the rich health care legacy of Humana, Vencor, Kindred, ResCare Human Services and others. However, there was not as much collaborative synergy-creating connectivity at first.
"The main difference now," said Joe Steier, CEO of Signature, "is that the health care vertical is being embraced by both private and public resources with funding shifts and resource support."
Nine years later there is a broader sense that Louisville should fight even harder to wear the aging-care innovation crown, not only because of its existing juggernaut and health care legacy, but because the longevity economy is real. And it is big.
Success would be felt statewide
According to Coughlin's "Longevity Economy," which was released in 2013 by AARP and Oxford Economics, the financials of meeting the care needs of the aging generation clock in at around "$8 trillion, and this is growing," said John Reinhart, an early innovation leader.
And what is it worth in real dollars to the city and the commonwealth of Kentucky? Hard-dollar figures on aging care's present role locally do not exist, but should Louisville's existing force achieve recognition as a leading world center and attract even 1% of the global longevity economy to move or expand here, that $80 billion would represent a 40% expansion of the state's current $200 billion GDP.
According to recent reports, Louisville is already Kentucky's primary economic engine and generates 42 cents of every state tax dollar, funding public services in all 120 counties.
"Expanding … in the aging care and wellness space is a top priority," said Mary Ellen Wiederwohl, chief of Louisville Forward, the city's economic development agency. "Health care is transformative to a local economy, creating growth in office space utilization and innovation jobs well above the median wage."
In fact, think of the economic force of the 65 and up U.S. population as its own territory and space quantified by its own country calculated by GDP (Gross Domestic Product) and boomers become the third largest country in the world.
Boom!
"We now live in a world chock full of older people, with, as of 2015, 617 million people aged 65-plus, a population roughly double that of the United States, the world's third-largest country," according to "The Longevity Economy."
In fact, the Greater Louisville economic health care engine right now "reaches nearly half of the nation's aging population and over 80 million people annually," said Tammy York Day, president/CEO of the Louisville Healthcare CEO Council. And that will only grow as the Longevity Economy does.
An entrepreneurial system's payoff
To be able to harness a part of the multitrillion-dollar aging care innovation world would bring Kentucky and Louisville into a first-tier city, perhaps as much as landing an NBA team would.
"And we would be solving problems," Steier said. "I know our post-acute (care) space is five times more challenging to survive in than when we relocated here. … To have external peer support, accelerated alignment for the big change stuff and a safe place for objective dialogue is invaluable."
"Funding for innovation in aging care can come from cost-avoidance for organizations paid under value-based or other recent incentive structures," said David Jones Jr., managing partner and chairman of Chrysalis Ventures, a Louisville venture capital firm. "For example, Medicare Advantage insurers might be interested in paying for healthy food or telemedicine consultations in the home, if these innovations keep seniors out of the hospital."
And just how important is the academic and research side of health care innovation? Big enough to be a founding member of the LEAP initiative: the University of Louisville, with a top entrepreneurial school, academic and research arms, and the UofL Trager Family Institute for Optimal Aging, is considered a critical factor to the overall success of this developing ecosystem.
"We are all in," said Neeli Bendapudi, University of Louisville president. "Especially from a research perspective. We have all the pieces of the (aging) industry (in Louisville). It's what we want to be known for, and be a part of our city, state and industry focus." "The Trager Family Foundation and Republic Bank Foundation are heavily invested in the community, particularly in making us (Louisville) a center piece in serving the aging public," agrees Steve Trager.
Consider the following scenario for local, state, national and international innovation collaboration:
An entrepreneur is here, starts a company, develops a specialized technology, receives early-stage connections through LEAP, accesses capital, builds out a commercialization strategy through XLerate Health mentors, connects to fellow travelers and partners through GLI's more than 400-member Health Enterprise Network, becomes an academic clinical trial at UofL, pilots with a local national BigCo, is showcased at The Thrive Center and scales its way to product adoption by the Louisville Healthcare CEO Council either for sale (B2B, B2C) or product service enhancement – an epic collaboration of resources in an aging world.
Louisville's odds improve if…
But most are in agreement that the following must happen:
• The BigCo doors stay open.
• The LHCC giants engage – Kindred's Breier and Humana's Broussard are very engaged, according to a council member.
• The entrepreneurial innovators show up – LEAP aims to be a catalyst.
• The research and academic arms find effective ways to integrate their formidable power into the enterprising process, which requires variations of venture capital, investment and "friends and family" money to fund it.
• More access to new capital.
• The specialization of varied workforce, detailed labor and talent to get it all done is achieved.
And they do it all together.
Louisville then has a good chance.
But there may be a few challenges to overcome.
LEAP recently issued a comprehensive TechStar report assessing the local community and found that even with all the city's goodwill toward innovation, it was still emerging in three of four categories. "We are emerging, but we want to be leading. We're emerging because we are moving toward a higher number of start-ups being formed, but we do need more collaboration and impact. This is a team sport. Industry, academia, angel investors, venture capitalist, and mentors – we all need to work together," says Patrick Henshaw, CEO, LEAP. "We need to go from activity to impact. We need to connect and collaborate."
Sean O'Leary, EdjAnalytics founder and co-founder/former CEO of Genscape, an entrepreneur his whole career, says that he and others are very "excited about the TechStar report and LEAP" and want to model "it after what Cintrifuse has done in Cincinnati." Cintrifuse is a consortium similar to Louisville's LEAP whose plan helped launch the Cincy entrepreneurial landscape into new stratospheres of impact.
"There is an opportunity," O'Leary said, "for a young company from the B2B side who just needs a chance to prove a product, so that getting the opportunity to work with larger companies" is critical.
But how can Louisville compete with the Bostons and the San Francisco Bays, especially from a capital, workforce and tech development perspective?
Anything that drives the entrepreneurial spirit – and has an epicenter of challenge and economic gain – attracts competitors. And there are other cities vying to be the aging-care innovation capital. In addition to Louisville, experts point to the MIT AgeLab in Boston, for one; another Midwest city that is promoting its "SilverTech revolution;" and also, of course, the Northern California Silicon wave that is also swept up in this innovative aging race.
Capital? It 'follows the opportunity'
Investment capital for innovation could also present a key hurdle since, as one Louisville entrepreneur said, "We have to work twice as hard to get local dollars."
"We are addressing this by bringing capital into the region," York Day said, as well as better leveraging current investment streams and streamlining capital access intricacies.
But there's good news.
"Capital follows the opportunity more than it creates the opportunity," said Jones. "We exist to serve the entrepreneur. We are a matchmaker. And most importantly in the context of the LHCC and CareTech [pitch] and what's going on in the aging economy, the purchasing power of these big companies," can be huge.
Another constant challenge is the workforce talent and expertise needed; it exists already in Boston and larger first-tier cities.
"It's a growth area for our economy," according to O'Leary, who has expertise in the high-level technical and analytical job market.
There are solutions, like the launch of The Hive – a joint creation by Kindred Healthcare and UofL to collaborate, for example, with West Coast tech resources, and to identify workforce early within the J.B. Speed Engineering School and spark thinking about the business of home health and senior care and innovative tech ways to address needs and solutions for this growing aging population.
Another big step toward fixing the workforce deficit is the launching of the IBM Skills Partnership that UofL's Bendapudi announced in April. In this first-of-its-kind initiative, IBM is teaming with five universities to improve next-generation workforce skills by providing resources – including special training for faculty – to improve tech education "literacy tools" in cloud computing, artificial intelligence, data analytics, blockchain, supercomputing and other areas that are crucial especially in a modern health care world.
And there are the tech innovation hubs popping up across the Greater Louisville area from the new NuLu Hub, Startup Louisville, iHub and the 1804 Entrepreneur Center, where technological creations, solutions and gap-filling ideas grow out of either work experience or personal encounters. The emerging Louisville landscape is populated with the pieces to become a capital of "aging well" innovation, especially focusing on the city's health care roots, and every leveraged strength of its health care past merging and integrating with the new seeds of startups.
There is a school of pragmatic thought to focus on where one leads or specializes. In Louisville's case it is aging innovation care.
"The DNA of our health care existence in Louisville is really strong," said Russell Cox, CEO, Norton Healthcare Inc.
Effective ecosystem attracts talent
If Louisville can't compete with Boston and San Francisco, for example, for other technologically tuned innovative advancement, it can perhaps win the health care sector battle with its core strengths and increasing competitive advantages in aging care innovation.
Unique to Louisville is the advanced leadership development in the aging-care space underway. Keith Knapp, associate professor and chair of the Health Services and Senior Living Leadership Department in Bellarmine University's College of Health Professions, a health care quarterback for decades, has developed a senior-care management program for health services and senior living leadership at Bellarmine. There are less than 15 such programs in the country.
"We are developing leaders for tomorrow's spectrum across the aging services continuum, anything in the post-acute care space including home health, hospice, senior living, etc.," Knapp said. "Equipping students who are not necessarily drawn to a clinical role but want to be leaders in health care are drawn to this unique career path. The common denominator is the deep-seated empowerment to make a difference."
The program has attracted more than 30 students into the new major and had its first two graduates this year. New students are coming to Bellarmine because of the program.
"Our program is growing faster than expected; we are recruiting new faculty," Knapp said. "And we (Louisville) have such a hallmark of leadership in the city, we can bring in the presence of locally based national practitioners to teach courses."
And while Louisville isn't Boston, Trilogy's Buford makes the point that what separates Louisville from these other cities is that if the community gets the right ecosystem going, the talent will be drawn to a city where affordability and quality of life may outpace the competing markets.
"Some entrepreneurs simply can't afford to live in San Francisco," Buford said. "With growing access to capital and events like the CareTech Pitch, people are starting to notice our city. It doesn't happen overnight. It's a layering of piece by piece."
"We need to fully adapt the opportunity of Louisville, which is a cool city for young people," Apellis' Francois said.
"It's not just a place to live. It's also a medical address that can take you fully through your life and enable you to age well, no matter your age," said Norton CEO Cox. "Companies who provide health care services or products to any demographic can thrive here and achieve stickiness for a long period of time."
PR efforts crucial to a win
Passport Health Plan CEO Mark Carter, one of the LHCC founders and its current chairman, describes it as "grabbing the space, distinguishing ourselves (from a Nashville market) and winning the PR battle" for the aging-care capital.
Breier agrees.
"It's ours; especially if we say it enough," he said.
It is an unusually rare opportunity, York Day notes.
"Aging innovation is a national issue, and we are at its center for solutions meeting a critical national need. So why not here?" the LHCC president/CEO said.
"The council's work is not limited to Louisville," Humana CEO Broussard said. "Rather, Louisville is the nucleus, and the rest of the country benefits from what's developed here. The LHCC was created to ensure that we are on the forefront of driving and discovery of innovation, supporting entrepreneurs and businesses, access to infrastructures and capital necessary to bring their ideas to market and scale their business."
Within this decade, seeds tilled by many local entrepreneurial pioneers have grown together into an opportunity to stake a real claim as the aging-care innovation capital for the nation, maybe the globe. However, Louisville today doesn't have the luxury of time that allowed a Kentucky Derby first run in 1885 to rise to worldwide prominence and a bourbon industry to mature over recent decades into its present global footing.
A technological environment in which forces can measure change in minutes and seconds must be respected, and action must be taken when the business forge reaches the right heat. If Louisville does not disrupt the current future of aging care, another city will. Louisville could truly be positioned to be a capital for aging innovation, or it could turn out to be a hub that feeds another.
An ecosystem is a dynamic force that if built, nurtured and developed can be an organism of change and make being the capital of aging care innovation a reality. And it looks like everything is pointing forward, with the LHCC dynamically unified, good and deliberate sowing of past efforts and the embarkment of real collaboration, even with some stubbed toes and previous starts and stops.
Louisville is taking the partnership steps to meet the critical needs of research, workforce and capital for the emerging space of entrepreneurialism for an aging globe.
The forces that are for Louisville are greater than the forces that are against her.
---
Dianne H. Timmering is a correspondent for The Lane Report. She can be reached at [email protected].