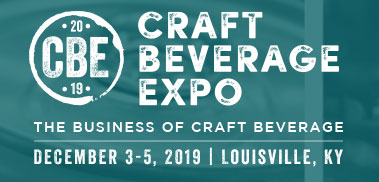 LOUISVILLE, Ky. — Craft Beverage Expo 2019, the only show dedicated to independent beverage producers, opens registration and welcomes the craft beverage community back to Louisville, Ky., Dec. 3-5.
For nearly 200 years, Louisville has been synonymous with the finest alcoholic and non-alcoholic beverage development, and is one of the fastest growing cities for specialty and small-batch beverage companies in the country.
CBE, now in its fifth year, will host two and a half days of thought leadership in the critical areas of distribution strategy, marketing and branding, and newly introduced retail roundtables. The retail roundtables are designed to provide attendees with a one of a kind opportunity to ask questions and obtain expert advice from the industry's biggest buyers.
"CBE 2019's new retail roundtables will give attendees unprecedented access to the biggest players and brightest minds in the industry," said Kellie Shevlin, executive director of CBE. "To have a private meeting with buyers of this caliber may be the key to success for many event attendees."
An all new Women in Craft day will celebrate women in the industry and provide customized programming to address their unique challenges. Women in Craft will be Dec. 5. More programming information will be announced soon.
The robust 2019 conference education tracks will focus on providing solutions to industry challenges and will present immediate actionable strategies to get attendees from production to distribution success. Session topics will include:
Distribution's Effect on Beverage Businesses
How to Secure and Retain Distributors
Consolidation's Effects on the Industry
Packaging's Effect on Distribution/Market Share
Diversifying Ownership to Alternative Beverages
Beverages with Cannabis
The Importance of Digital Marketing Campaigns
"Craft Beverage Distribution Conference sessions are designed with the everyday fundamental needs of the craft community in mind" commented Shevlin. "Offerings focus on strategies that will get innovative products onto retail shelves, which is key to the success for most independent producers. It's our ultimate goal to provide attendees with the most relevant insights into the state of distribution in today's small-batch world, with best practices to effectively market and brand their businesses. CBE provides the best opportunity to come together as a community to identify solutions, share experiences and learn skills to address industry challenges."
The Craft Beverage Trade Show will provide equipment, supplies and products that address all aspects of craft wine, beer, spirits, cider, mead, soda, coffee, kombucha and other beverage businesses. Everything from labels to inventory management technology will assist attendees in managing all aspects of the supply chain.
Easily accessible from all over the U.S. with direct flights from major cities, Louisville is known as a top convention destination. Louisville itself is a model for growth, expanding from its distillery roots to a high concentration of breweries and wineries. The all-new Omni Louisville, where the conference and trade show will be hosted, is centrally located and provides easy access to the city's history and culture.
Register today to attend the event uniquely created to support the craft beverage community. Tickets are now on sale, and early-bird pricing is available through Aug. 31, 2019. To purchase tickets or find out more, visit www.craftbeverageexpo.com. To exhibit at Craft Beverage Expo, visit www.craftbeverageexpo.com/expo.