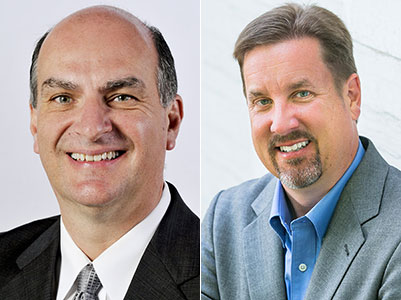 Rodney Hitch and Brad Thomas are among the top 50 economic developers in North America, according to a leading economic development consulting firm.
They work to bring new and expanding businesses to rural Kentucky on behalf of Kentucky's Touchstone Energy Cooperatives. Hitch serves as economic development director and Thomas as economic development manager.
"Each year we ask our robust site selector community and economic development partners to nominate individuals that they feel are top-notch and worthy of the title 'Top 50 Economic Developers,'" said Consultant Connect — an international trade group for economic developers — in announcing the honor. "We are so glad to have the opportunity to collaborate, learn from and lift up these individuals!"
The economic development team for Kentucky's Touchstone Energy Cooperatives has been recognized with several major awards for using cutting-edge technologies — including data from aerial drone flights, online videos and mobile mapping — to market rural Kentucky communities globally, and bring jobs to the state. Over four years ending in December 2018, businesses served by Kentucky's Touchstone Energy Cooperatives have announced more than $5 billion in investments and more than 10,000 new jobs for areas served by the co-ops.
"These honors reflect the teamwork and support of the electric co-op family at each of the 17 cooperatives we represent and the many communities we work with," said Anthony "Tony" Campbell, president and CEO of East Kentucky Power Cooperative. "It's only when everyone is pulling in the same direction that we are successful."
Kentucky's Touchstone Energy Cooperatives include 17 not-for-profit, member-owned electric cooperatives that serve more than 1 million Kentucky residents across 87 Kentucky counties. They include:
Big Sandy RECC, Paintsville, Ky.
Jackson Energy Cooperative, McKee, Ky.
Blue Grass Energy, Nicholasville, Ky.
Licking Valley RECC, West Liberty, Ky.
Clark Energy Cooperative, Winchester, Ky.
Nolin RECC, Elizabethtown, Ky.
Cumberland Valley Electric, Gray, Ky.
Owen Electric Cooperative, Owenton, Ky.
Farmers RECC, Glasgow, Ky.
Salt River Electric, Bardstown, Ky.
Fleming-Mason Energy, Flemingsburg, Ky.
Shelby Energy Cooperative, Shelbyville, Ky.
Grayson RECC, Grayson, Ky.
South Kentucky RECC, Somerset Ky.
Inter-County Energy Cooperative, Danville, Ky.
Taylor County RECC, Campbellsville, Ky.
East Kentucky Power Cooperative, Winchester, Ky.