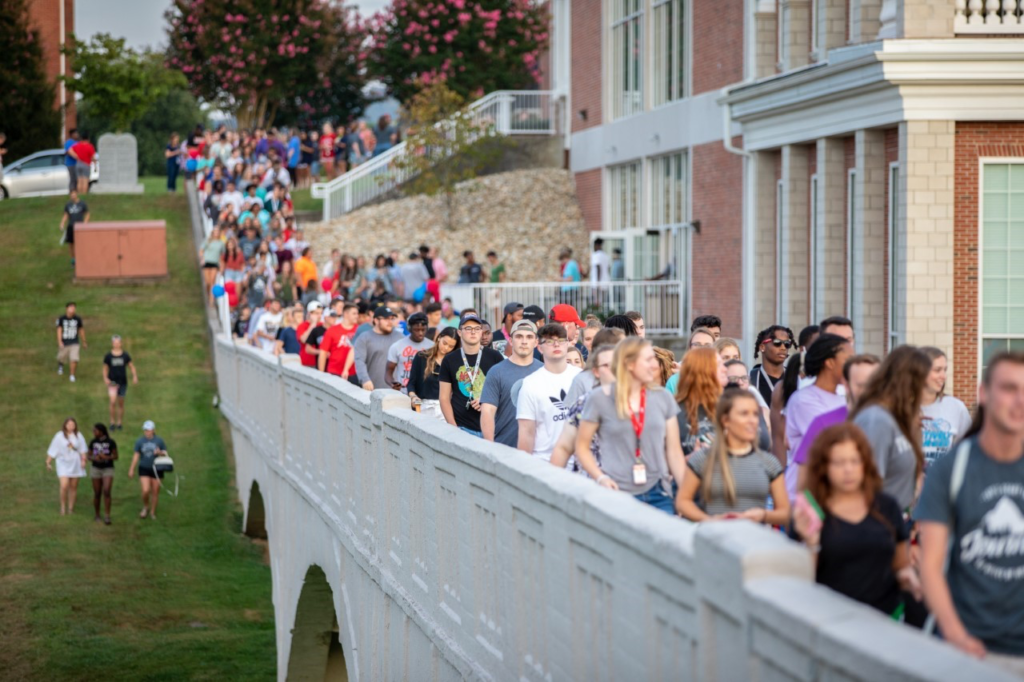 WILLIAMSBURG, Ky. — The Chronicle of Higher Education has recognized University of the Cumberlands (UC) as one of the fastest-growing colleges in America, as reported in their annual Almanac of Higher Education. The article, The Strategies Behind Rapid Enrollment Growth, represents data from both private and public colleges and universities from across the country.
"The online move has made Cumberlands, which was founded by a group of Baptist ministers in 1888, the fastest-growing doctoral private nonprofit institution in the country," wrote Kelly Field for the Chronicle. "In the decade from 2007 to 2017, Cumberlands' enrollment grew 350%."
Cumberlands' largest growth has been in the school's online graduate programs, which launched in 2011. Among the most sought-after online degrees are information technology, digital security, digital forensics, and other technology-related programs. Cumberlands also confers a large number of degrees and certificates in the field of education.
"Cumberlands is different by design," said Dr. Larry L. Cockrum, president of UC. "Whether in-seat or online, all of our programs are built on a foundation of affordability, quality instruction, and service to students."
The Chronicle recognized Cumberlands' growth behind mega-universities: Western Governors University, a 100% online institution, and SNHU (Southern New Hampshire University). SNHU has grown enrollment to more than 90,000 students behind a $132 million marketing budget. Cumberlands, which expects enrollment to be around 16,000 total students this year, spends less than 2% of their functional expenditures recruiting new students.
The Chronicle noted that UC has used the success of its online programs "to subsidize the education of its residential learners."
In September 2018, UC announced it was slashing tuition costs by 57% for all on-campus, undergraduate students beginning in fall 2019. The average annual tuition for a four-year, not-for-profit private college in Kentucky is $22,359, according to data from 2018-2019 collected by the U.S. Department of Education. Cumberlands' tuition used to be on par with the average at $23,000, but as of this fall, the cost dropped to $9,875.
"With the tuition reduction, I no longer have to take out any loans," said Daniel Hunt, a senior at Cumberlands from Bowling Green, KY studying communication arts. "That's thousands of dollars that I don't have to pay back anymore. I'm really thankful for that. I feel free."
The tuition reduction sparked nationwide recognition for UC and acted as a catalyst for this year's high enrollment. Nearly 900 new students are coming to the Williamsburg campus to study traditional undergraduate programs this fall.
"We're following a business model built on the strong attributes of the University," said Dr. Jerry Jackson, vice president for Enrollment and Communications. "We offer the public something they need. We make it affordable. We make it high-quality. And we provide a positive experience for all our students as best we can. When you follow those foundational principles, the finances take care of themselves."
The Chronicle of Higher Education is a privately-owned independent news and information organization founded in 1966 that is dedicated to covering colleges and universities.
University of the Cumberlands is the largest and most affordable private university in Kentucky. Located in Williamsburg, Cumberlands is an institution of regional distinction offering quality undergraduate, graduate, doctoral, and online degree programs. Learn more at ucumberlands.edu.