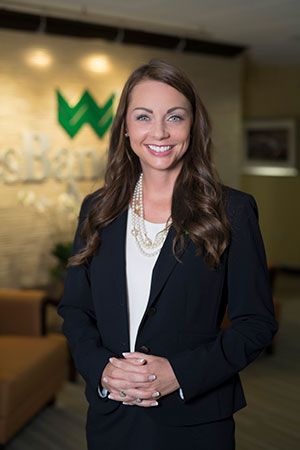 LEXINGTON, Ky. — Jeffrey Koonce, market president, and Rick Harp, city president, WesBanco Bank Inc., an affiliate of WesBanco Inc., have announced the appointment of Amelia Martin Adams to the position of vice president and senior trust officer, WesBanco Trust and Investment Services.
As vice president and senior trust officer, Adams is responsible for administering trust and investment accounts and consulting with clients, their attorneys and other professionals to develop estate plans and trusts. She will serve clients in Lexington and surrounding communities and will occupy an office on Vine Street in Lexington.
A cum laude graduate of Transylvania University, Adams earned a bachelor of arts in accounting and earned a juris doctor from the University of Kentucky College of Law.
Prior to joining WesBanco, Adams served as a judicial law clerk to Chief Judge Tracey N. Wise of the United States Bankruptcy Court for the Eastern District of Kentucky, after several years of private law practice where she focused on bankruptcy, litigation and debtor-creditor relations. She also served as the statewide executive director of the Kentucky Bar Foundation and IOLTA Fund.
Adams is the president of the Fayette County Bar Association and received the FCBA Outstanding Young Lawyer Award in 2014. She serves as a barrister in the Central Kentucky American Inn of Court and is a past president of the Fayette County Women Lawyers Association. Adams is a Leadership Lexington graduate and was named a Rising Star by the Lexington Young Professionals Association.
Outside of her profession, Adams is an active community volunteer. A Transylvania alumna, she served on the University's Young Alumni Council and received the university's 2016 Outstanding Young Alumni Award.
She is a past president of the Junior League of Lexington and past chair of the league's historic Bodley-Bullock House Board, where her contributions to the house earned the Susan R. Anderson Award. Adams also supported the historic preservation community through the Blue Grass Trust for Historic Preservation, which honored her with the Betty Hoopes Volunteer Service Award.
A native of Richmond, Ky., Adams now lives in Lexington with her husband Will, a daughter and two dogs.