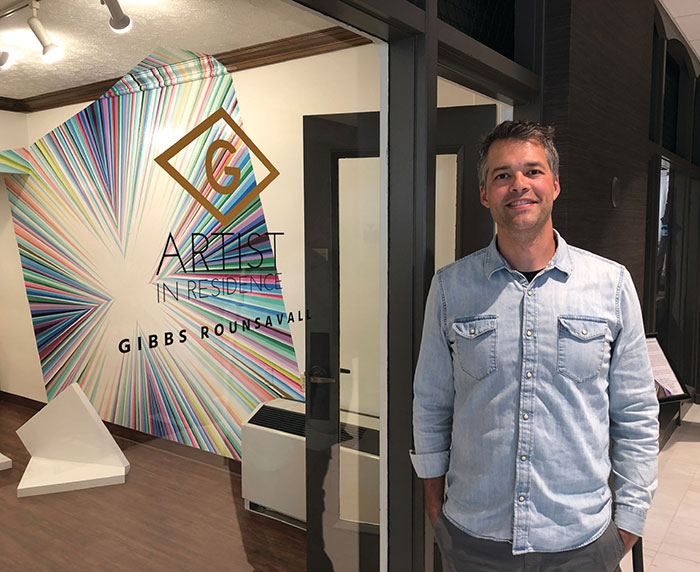 Louisville's Galt House Hotel has been a fixture of downtown Louisville for decades, woven into the tapestry of the River City's culture. In May, the hotel announced a new venture that corporate leaders hope will further cement the hotel's stature among the community: They hired an artist in residence.

The Kentucky Arts Council recently spoke to the artist in residence, geometric abstract painter Gibbs Rounsavall of Louisville and Scott Shoenberger, president and CEO of the Al J. Schneider Co., which owns the Galt House, for an episode of the arts council podcast KyArtsCast. Quotes for this column are taken from that interview. (To hear the full podcast episode, visit kyartscast.ky.gov.)
The residency is believed to be the first ever in a Kentucky-owned hotel and Rounsavall has latched onto the distinction with fervor. He has been given a space alongside retail merchants in the Galt House Rivue Tower. The artist-in-residence studio is completely visible from the hallway, with floor to ceiling windows allowing passersby to see Rounsavall at work. They are free to enter the space and have conversations with him about his work or just watch him create. Rounsavall said it's a job that a prior career in teaching helped prepare him for.
"When you do demos for 30 high schoolers, you have to have a thick skin and be impervious to any kind of comments, so that helped me hone my own ability and be comfortable working in public," Rounsavall said. "I stopped teaching a little more than year ago, and I didn't recognize how much I missed that interaction with other people. When I was awarded this residency, it kind of reignited that passion I have for working with the public."
One element of the residency is that it pulls back the curtain on the creative process, allowing hotel guests, and even staff members, a literal window into the life of an artist.
"I'm working in space with glass windows and it's very open to the public. It's to demystify the art-making process, which a lot of people, I think, are intimidated by. Some people don't know what goes into that process," Rounsavall said. "I've tried to create an inviting atmosphere where people can come in and ask questions. And there's a lot of engagement and insightful conversations, which has been really nice."
Shoenberger, who has been in the hospitality business for nearly 40 years, came to Louisville having successfully implemented similar art programs at hotels in Santa Fe, Oklahoma City, Kansas City and Milwaukee over the last 19 years. He credits his executive assistant, Michelle McCarragher, who is a Louisville artist herself, with getting the ball rolling for the residency in Louisville.
---
IT'S FREE | Sign up for The Lane Report email business newsletter. Receive breaking Kentucky business news and updates daily. Click here to sign up
---
"If you want to do this, you need to find the right person who understands how it works and will do it," Shoenberger said. "Michelle has the passion and love for it."
As for the return on investment, Shoenberger said the deed itself is the hotel's reward.
"I wish I could tell you there was a dollars and cents motivation behind it, but there wasn't," he said. "There was no business filter used in this whatsoever. Art helps make a community whole. I think it's our responsibility in terms of being good corporate citizens to really showcase that. The people who were really excited about it were shareholders of the company, family members who live here (in Louisville). We're a Louisville family-owned hotel. It's important for us to showcase what makes Louisville so special."
An artist-in-residence program can potentially work for businesses that host members of the public – hotels, restaurants, banks or most retail spaces. Shoenberger advises these first steps toward creating a similar program.
"Make sure you're truly committed to make it happen. It's different for any other city. Understand what is truly unique about your city," he said. "Also get to know key players in your artist community."
He added that a business owner should also acknowledge that they need to get out of the way of the process.
"My own success in contributing to this was recognizing my shortcomings and not inserting myself into it."
Business owners interested in starting an artist-in-residence program can contact the Kentucky Arts Council for advice. We are happy to connect you with companies like the Galt House, which have successfully done residency programs before. Visit us online at artscouncil.ky.gov to learn how to contact us.
---
Chris Cathers is executive director of the Kentucky Arts Council.