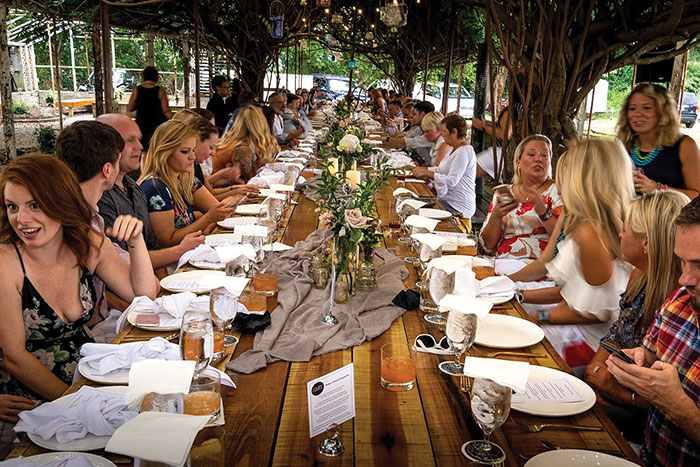 Girlfriend getaways have been all the rage for a number of years now, but how are guys supposed to bond? Over chips and tall, cool ones watching "the game" from cushy La-Z-Boys? Over footlongs and king-sized cups of cool, foamy suds at the stadium or the ball field? Maybe at the cabin or the lake for a fishing or hunting trip? Those all work. But if you're looking for something a little different, Oldham County has the perfect solution.
Easy to reach, it's only 20 miles northeast of Louisville and you have lots of choices as to how to spend your guy time. Depending upon your interests, options include a distillery, breweries, a garden, golf, farm tours, a shooting range, the Underground Railroad and freight trains.
Unpack your bags for the whole getaway at the Neal House Estate, a stunning 8,000-s.f., colonial-style rental home on eight spacious acres in Crestwood, right in the middle of Bluegrass horse country. Rife with Southern elegance and grace, the house's features include a sunroom and wide outdoor patio with vast estate views, a library with walk-in wet bar, and six bedrooms, each with king beds and private baths. Advertised capacity is 14 people. (However, Kim Buckler Hydes, executive director of Oldham Kentucky Tourism and Conventions, tied the knot here last year and says, "It's massive. I had 19 family members there.") Lower-level lodge space sports poker tables, a pool table, two fireplaces and a full bar.
---
IT'S FREE | Sign up for The Lane Report email business newsletter. Receive breaking Kentucky business news and updates daily. Click here to sign up
---
Also ideal for a corporate retreat, the Neal House provides eating options such as BYO guilty pleasures and cook – or not – in a roomy kitchen, have your fridge pre-stocked, or request a personal chef who will prepare and deliver farm-fresh food for you and your guests on-site. Should eating good-for-you foods be your goal, nearby farms offer organic, sustainable produce, grass-fed bison, pastured pork and eggs.
The non-overnight meeting attendee max is 50.
When you're ready to explore, you won't have to go far. The following three attractions are all on the same short street in Crestwood.
The first, Kentucky Artisan Distillery, is the brainchild of Trey Zoeller, creator of Jefferson's bourbons, whose eighth-generation grandmother was arrested in 1799 for "moonshining and bootlegging." You get a peek into the production of and taste samples of Jefferson's "ridiculously small batch" bourbons; Jefferson's Oceans, which is aged in barrels on ships that cross the equator four times; and Whiskey Row, a pre-Prohibition whiskey. Not your ordinary distillery, this small craft facility is the only grain-to-bottle distiller in the state. Its corn, rye and barley grow one-and-a-half miles away at historic Waldeck Farm (which also has a rentable circa 1888 mansion) and are trucked freshly harvested to the distillery.
The second attraction on Old LaGrange Road is the 8.6-acre 3rd Turn Oldham Gardens Brewery, which consists of 3rd Turn Brewing, Hive & Barrel Meadery, and the Backside Grill. 3rd Turn Brewing features a greenhouse with a springtime wisteria canopy over an 80-foot-long communal table, and an indoor taproom and outdoor bar. Thirty-two taps pour the brewery's beer along with local and regional selections. Bourbon and fruit slushies are also on the menu, as is live entertainment. The Meadery serves locally made honey wine that's gluten free and great for non-beer drinkers who want to hang out in the Beer Garden. You can tour the production area with six meads for tasting and bottles to purchase and take home. And the Backside Grill's specialties include smoked pork sandwiches or brisket and pimento cheese burgers.
For nature buffs, the third attraction, Yew Dell Botanical Gardens, is an internationally recognized center of gardening, plants, and education. Listed on the National Register of Historic Places, the gardens range from formal to informal, in beautifully rendered displays. You can be sure something is blooming at Yew Dell all year. Guides offer tours for groups of at least 10.
If you and the guys want to hit the links, Oldham has a driving range and four courses. The Nevel Meade Golf Club is designed after Scotland's lovely links, with rolling terrain, a fresh-water spring, deep bunkering and expansive areas of heather grass. Sleepy Hollow is a well-laid-out nine-hole, while Oldham County Country Club and Eagle Creek Golf Course feature 18.
Also in Crestwood, Openrange Sports houses five-star gun ranges, a paintball reball (think paintball minus the mess) arena, and gun rentals, such as a Kentucky Longrifle flintlock for a taste of Daniel Boone's era.
As the Farm Tour Capital of Kentucky, the county offers 15 different hands-on farm tours. Hermitage Farm, which for 100 years was a noted Thoroughbred farm, is now owned by philanthropists Steve Wilson and Laura Lee Brown (owners of 21C Museum Hotels and the Kentucky Bison Co.) and is currently in the midst of an extraordinary makeover. The 700-acre property still serves as a Thoroughbred nursery with mares, foals and yearlings, but now its historic 1835 home is filled with contemporary art and is a rentable overnight and event space. The property's new focus is on food, bourbon and horses as an educational, all-things-Kentucky, sustainable agritourism attraction.
An existing dairy barn is slated to open as a restaurant on October 1, with much of its produce supplied by a 10-acre, on-site garden. Its hayloft will be an event space for 225 guests. At a bourbon experience, you can learn all about and taste Kentucky's native spirit from seed to sip, while equine experiences offer a glimpse of Hermitage's historic carriage collection that includes one used in "Gone with the Wind," films of its championship carriage-driving sport horses, and the opportunity to touch retired racehorses and ponies.
Of nine Underground Railroad sites in the state, two are in Oldham County. As for freight trains, up to 30 a day rumble straight down the middle of Main Street in LaGrange. There's even a train observation tower in front of Main Street Bourbon and Ale House.
Oldham County can keep you as busy as you choose. To plan a getaway, visit touroldham.com or call (800) 813-9953.
---
Katherine Tandy Brown is a correspondent for The Lane Report. She can be reached at [email protected].