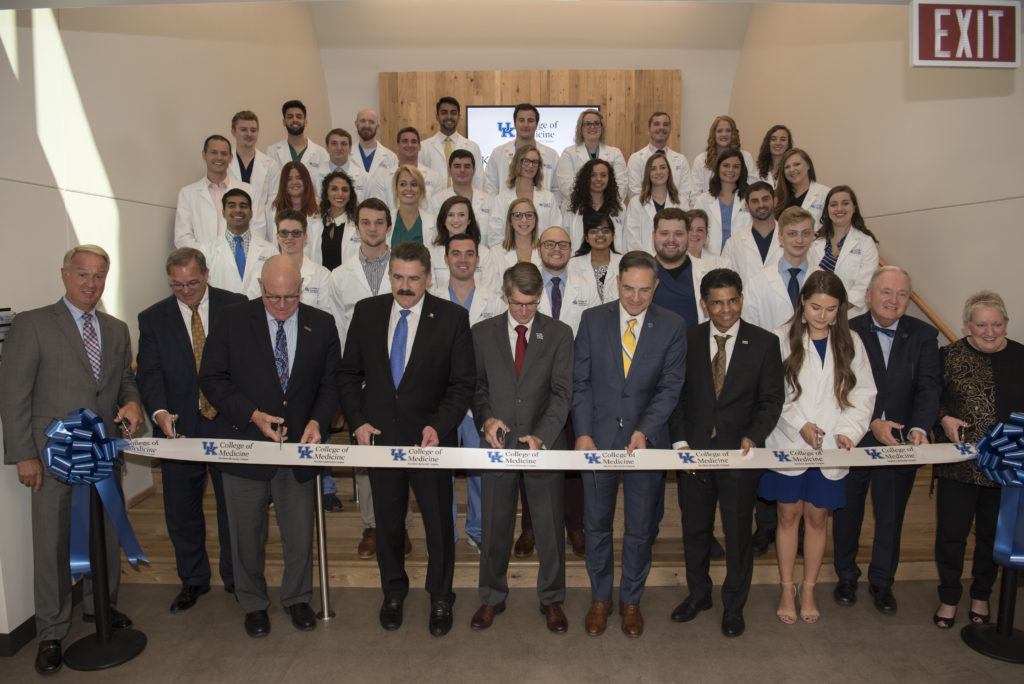 HIGHLAND HEIGHTS, Ky. — The University of Kentucky College of Medicine joined partners St. Elizabeth Healthcare and Northern Kentucky University on Thursday for a ribbon-cutting ceremony that officially marked the opening of its new Northern Kentucky Campus.
The new site welcomed an inaugural class of 35 medical students during a white coat ceremony in August. This will be the UK College of Medicine's second four-year regional campus. The first in Bowling Green opened in 2018.
"At the University of Kentucky, we know that working together—across disciplines and across the Commonwealth—is the best way to ensure real, positive change for those we serve," said UK Provost David Blackwell. "Thanks to the collaboration and enthusiastic support from so many leaders from NKU and St. Elizabeth, as well as from citizens throughout Northern Kentucky, we have effectively and efficiently found an answer in meeting this important need in training more physicians for Kentucky."
The UK College of Medicine has continuously met capacity at its Lexington campus with a deep applicant pool for medical students. Its new campuses in Northern Kentucky and Bowling Green not only provide more openings for potential applicants, but also represent the University's efforts to address Kentucky's physician shortage by training more future health care leaders so they're prepared to better the health of surrounding communities.
"We are incredibly grateful to such revered organizations to open a campus that will help us educate more physicians to improve health and wellness for Kentuckians," said Dr. Robert DiPaola, dean of the UK College of Medicine. "This is an exciting time for our college and for these students who will pave the way for upcoming classes."
The new campus, located on the third floor of the Albright Health Center, touts 19,806 s.f. and includes two large classrooms, two conference rooms, five standardized patient rooms, a physical exam lab and six group study rooms.
"This is a historic day for NKU and for the region. We are proud to partner with UK and St. Elizabeth to establish a medical school in Northern Kentucky, that is designed to educate and keep physicians here," said NKU President Ashish Vaidya. "This project aligns well with NKU's academic focus on health and related fields to address critical issues facing the Northern Kentucky/Greater Cincinnati region through collaboration and innovation."
The Northern Kentucky Campus is fully functioning and utilizes the same curriculum and assessments as the Lexington Campus. Faculty have UK College of Medicine appointments, teach in small groups and provide simulated, standardized patient experiences. Third- and fourth-year medical students gather clinical experience at St. Elizabeth Healthcare.
"We are thrilled to partner with the University of Kentucky and Northern Kentucky University to invest in the future of health in our community," says Garren Colvin, St. Elizabeth Healthcare president and CEO. "With this partnership we will be able to provide additional benefits to both organizations as well as the region by directly assisting in medical school support and recruitment for the Northern Kentucky Campus. The collaboration addresses the physician shortage in the region and aligns with our commitment to serve the health needs of the area."
The College of Medicine's expansion aligns with its strategic plan to make an impact through a transdisciplinary strategy in areas of education, research, clinical care, diversity and inclusion, and community engagement. Through this plan, the college has committed to educate more physicians in Kentucky for Kentucky.
"The University of Kentucky has worked efficiently and effectively to create opportunities across the state for future physicians to receive a high-quality medical education, and here in Northern Kentucky, we look forward to expanding UK's impact," said Dr. Steve Haist, associate dean of the Northern Kentucky Campus. "And thanks to our partners Northern Kentucky University and St. Elizabeth Healthcare, we are able to execute this strategy."
For students, the Northern Kentucky Campus offers smaller class sizes, the benefit of scholarships and the opportunity to live, work and learn in a dynamic region of the Commonwealth.
"The support from the University of Kentucky, Northern Kentucky University, and the generous scholarship from St. Elizabeth Healthcare have made this dream a reality for many in my class," said Allison Anstead, NKU graduate and class of 2023. "It has been an incredible experience to join the administrative staff and faculty here and to be a part of the inaugural class of the Northern Kentucky Campus."
More information on the UK College of Medicine can be found by visiting med.uky.edu.