By Aimee Nielson
UK College of Agriculture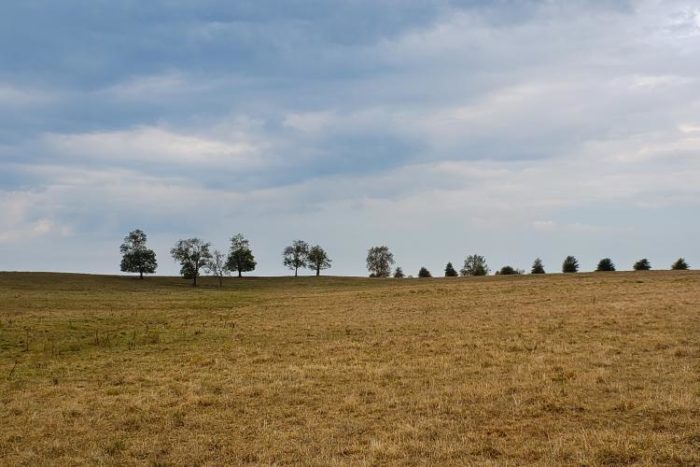 LEXINGTON, Ky. — Just six or seven months ago, Kentucky was dealing with overabundant rainfall and soaked pastures, but now things are close to bone dry. Kentucky needs rain, and fast.
"Unfortunately, we've been seeing many reports that the dry conditions we seem to be stuck in are putting stress on our farmers," said Matthew Dixon, agricultural meteorologist for the University of Kentucky College of Agriculture, Food and Environment. "Kentucky is officially in agricultural drought, and now some reports indicate hydrologic drought is starting to develop."
These conditions are not new to Kentucky's farmers — they know the variability and sometimes extreme weather fluctuations in the state — but it doesn't make it any easier to deal with on the farm.
Official information from the U.S. Drought Monitor lists more than a third of Kentucky as abnormally dry and about a quarter of the state in moderate drought.
Dixon said many areas haven't seen rainfall since the last week of August, and the state has only averaged .07 inches since the beginning of September through Sept. 20. Couple that with above-average highs in the 90s many days this month, and things are getting pretty crispy.
"Many reports I'm hearing here in the Ag Weather Center are that pasture conditions are greatly diminishing and farmers are having to feed supplemental hay to livestock, when they would normally still be grazing on healthy pasture. One county even said their farmers market would close in the next week or so due to crops drying up. Water availability for horses, cattle and goats is starting to become a concern in Magoffin County, in addition to other portions of the state."
Carol Hinton is the cooperative extension agent for agriculture and natural resources in Breckinridge County. She said farmers there are holding off putting cover crops in the ground for fear of failure without adequate moisture.
"Honestly, rain has been scarce most of the second half of summer," Dixon said. "Even with the remnants of Tropical Storm Barry passing through, north central Kentucky missed most of the rainfall. We went almost an entire year without any part of the state in a drought, but now it doesn't look great."
Dixon said that long-range outlooks through the end of September don't paint a great picture for catching up on missed rainfall. Many counties are now under a burn ban across the state. Here is an updated list of burn bans.
"Bottom line is it's dry now, and the forecast isn't giving us much promise for rainfall going forward," he said.
For current weather and drought status, visit the UK Ag Weather Center and the NIDIS.