By Greg Paeth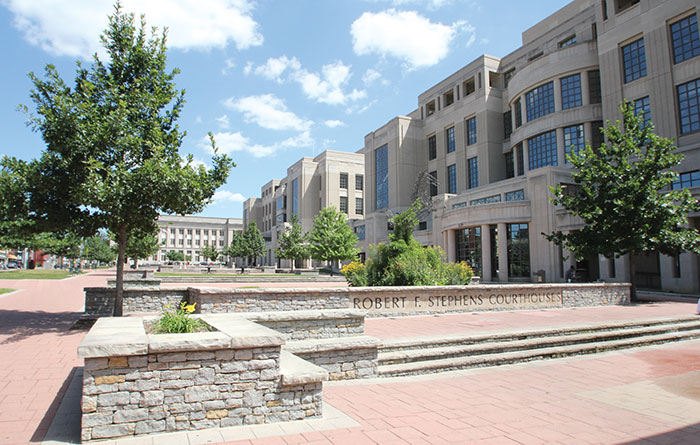 It's a pretty good bet there weren't many attorneys without a job when the preliminary unemployment rate for Kentucky hit 4.3 percent in July.

Lawyers in Central Kentucky firms say they are very busy right now handling legal issues that are as old as the commonwealth or as recent as this morning's Twitter feed.
There's also plenty of competition for clients at a time when a growing economy creates a growing need for legal expertise. At last check, the Fayette County Bar Association had nearly 1,100 members.
Although many firms have seen growth in different segments of their practices, there's broad agreement that technology and the internet have had a 50-megaton impact on the types of legal questions that are being asked, as well as how lawyers respond to those questions.
"Changing technology continues to impact the businesses of our clients and ourselves," said James H. Frazier III, managing member of the McBrayer law firm's Lexington office, which has added attorneys at a "significant pace" and integrated two smaller firms into McBrayer offices in Lexington in 2017 and Louisville in July.
"Our clients face the challenge of staying up-to-date to keep their businesses competitive while the laws change to keep up with the new questions that arise. A great example is the world of intellectual property online," Frazier said in an email. "When a photo is posted to a social media platform, for example, who owns it? Who can share it without paying royalties? And, how is the law keeping pace with these questions?"
Like Frazier at McBrayer, Jason T. Ams, partner with Bingham Greenebaum Doll in its Lexington office, said his firm has a group of experienced attorneys who focus on intellectual property helping clients in "… obtaining, monitoring and enforcing rights in patents, trademarks, copyrights and trade secrets. We help our clients strategically protect what makes their businesses unique."
Technology and innovation also have changed how attorneys handle paperwork and meet with clients.
"Our case and document management is now done through a robust online system; we now hold video calls with clients and attorneys as if they were in the same room; and we access the vast world of legal research from our fingertips," said Stephen G. Amato, a member of the McBrayer firm in Lexington.
"The internet has fundamentally changed the way we serve our clients. We are able to deliver service to clients any time of day, no matter where we are or where they are," said P. Douglas Barr, member and managing partner of Stoll Keenon Ogden in Lexington. "But the increased ease of communication comes at the expense of a dramatically increased risk associated with online security and data security."
Stoll Keenon Ogden has offices in four cities in Kentucky and two in Indiana.
"Demand for legal services in growing and, for us, much of the growth in demand is organic, from our clients' growth and from new clients," Barr said.
Ams of Bingham Greenebaum Doll reported similar growth.
"We have seen a significant increase in the demand for legal services of all types, coming from pre-existing clients as well as new clients. We are also in the process of adding attorneys, including several over the last few quarters, and are looking to continue increasing both attorneys and staff to keep up with the demand both inside and outside of Central Kentucky," Ams said. "The increase in demand can be seen in all practice types. For example, in our Lexington office, we have seen a surge in activity for real estate purchasing and development, financial services, and energy and mineral rights developments."
Barr said the legal practice in Lexington typically mirrors what's happening elsewhere in the country.
"Demand for legal services does tend to change to reflect national economic trends," he said. "We have seen increased demand in merger and acquisitions in all business sectors; increase in demand in commercial banking and related matters and real estate development."
He added that he has not seen a decrease in the amount of litigation that the firm has handled.
Barr also expressed some caution about the performance of the economy.
"We are ever mindful that the economy is always susceptible to a downturn and we are actively assisting our clients in preparing now to weather the next downturn," he said.
McBrayer member Jaron P. Blandford said the firm has seen "significant growth in the health care and employment law sectors. Health care has been undergoing monumental change in the last decade in the legal and regulatory environment, and we've been helping clients old and new keep ahead of the curve in all respects. The same is true in the employment law context, which seems to be in constant flux at the federal level from administration to administration."
"The overarching concern for all of our practice areas, but especially health care and employment, is compliance, and we have been working with our clients to develop and maintain rigorous compliance programs," Blandford added.
One of his colleagues in Lexington, member Lisa English Hinkle, couldn't agree more. Compliance is a growing area of concern for all businesses, she said, "and this concern has been mounting on an almost exponential basis in the past few years."
"The public sees law firms as a group of litigators, but our goal is to prevent litigation or criminal investigation by keeping businesses squarely in line with law, regulation and even public sentiment, all of which can be a moving target," Hinkle said.
Growth in Lexington firm extends to Louisville
Expansion continues Kentucky growth for McBrayer
The 24th floor of 500 W. Jefferson St. provides a spectacular panoramic view of the Ohio River and of downtown Louisville, as well as an extended home for the McBrayer Law Firm. The recent move of seven Reed, Weitkamp, Schell and Vice PLLC attorneys to McBrayer doubled the Lexington-headquartered firm's footprint in Louisville. This is the second such expansion for McBrayer in three years, and it highlights the firm's growing attorney workforce, client base and position in the Lexington and Louisville markets.
"We're not expanding just to be larger, because we pride ourselves on giving our clients the hands-on attention they would expect from a smaller firm," said James H. Frazier III, managing member of McBrayer. "We're making strategic additions to better serve our clients – that means we're adding talented, hard-working attorneys in key practice areas that round out our competencies. We're expanding in areas that complement our already exceptional full-service practice, and we're bolstering our ability to serve clients in Louisville, Lexington and beyond."
The firm, which now has more than 50 attorneys, has also expanded its practice areas, such as intellectual property; medical malpractice and professional liability defense; health care regulation; mediation; hospitality law; estate planning and administration; and employee benefits law.
McBrayer continues to grow in measured ways, providing an ever-broader range of services while maintaining the personal contact that has become its hallmark since it was founded in 1963. The growing Louisville office strengthens the reach of the formidable Lexington office.  McBrayer isn't out to be the biggest law firm in Kentucky – just the best.
McBrayer
201 E. Main St., Suite 900
Lexington, KY 40507
mcbrayerfirm.com
With a team of more than 60 attorneys, the McBrayer law firm continues to serve clients throughout Kentucky. Our recent growth has served to bolster our already robust client services as we simultaneously strengthen infrastructure to improve efficiency.
We deliver exceptional personal attention and responsiveness that is our hallmark. We remain committed to clients and our community through multifaceted charitable and community involvement, the pillars of our organization.
Our diverse practice includes healthcare, banking regulations, employment, corporate, intellectual property, professional malpractice defense, real estate, estate planning, litigation, and mediation, among others.
In addition to offices in Lexington, Louisville, Frankfort, Greenup, Ashland and Washington, D.C., the firm is recognized for our exceptional lobbying group, MML&K Government Solutions.
Dickinson Wright
300 W. Vine St., Suite 1700
Lexington, KY 40507
(859) 899-8700
dickinson-wright.com
Dickinson Wright PLLC is a business law firm with more than 475 attorneys and 19 offices located throughout North America, including Lexington. Our services cover corporate and business law, real estate, taxation, health care, estate planning, commercial litigation and white-collar criminal defense.
Central Kentucky law firms
Bingham Greenebaum Doll LLP
bgdlegal.com
Boehl Stopher & Graves LLP
bsg-law.com
Bowles Rice McDavid Graff & Love LLP
bowlesrice.com
Britton Johnson PLLC
brittonjohnsonlaw.com
DelCotto Law Group PLLC
dlgfirm.com
Dickinson Wright PLLC
dickinson-wright.com
Dinsmore
dinsmore.com
Fogle Keller Walker
fkw-law.com
Fowler Bell
fowlerlaw.com
Frost Brown Todd LLC
frostbrowntodd.com
Gess Mattingly & Atchison PSC
gmalaw.com
Goss Samford
gosssamfordlaw.com
Harris Federal Law Firm
federaldisability.com
Jackson Kelly PLLC
jacksonkelly.com
Kinkead & Stilz
ksattorneys.com
Landrum & Shouse LLP
landrumshouse.com
Littler
littler.com
McBrayer
mcbrayerfirm.com
Miller, Griffin & Marks PSC
horselaw.com
Morgan Pottinger McGarvey
mpmfirm.com
Rose Grasch Camenisch Mains
rgcmlaw.com
Steptoe & Johnson PLLC
steptoe-johnson.com
Stites & Harbison PLLC
stites.com
Stoll Keenon Ogden PLLC
skofirm.com
Sturgill Turner
sturgillturner.com
Walters Richardson PLLC
wmrdefense.com
Ward, Hocker & Thornton PLLC
whtlaw.com
Wyatt, Tarrant & Combs LLP
wyattfirm.com