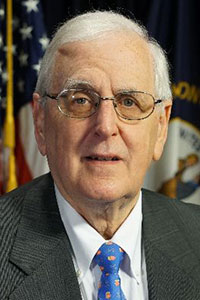 FRANKFORT, Ky. — Attorney General-elect Daniel Cameron announced Wednesday the appointment of attorney Steve Pitt to serve as counsel and special advisor to the attorney general.
"Steve Pitt is renowned across the commonwealth's legal community for his skill and judgment," said Cameron. "His decades of experience as a litigator and prosecutor make him an ideal choice for the legal team we are assembling to work on behalf of the people of Kentucky each day."
Pitt has nearly 50 years of legal experience. Since 2015, he has served as general counsel for Gov. Matt Bevin, where he regularly appeared in federal and state courts to defend challenges to state laws, while advising officials throughout the executive branch.
"I look forward to serving the people of Kentucky as part of Attorney General-elect Cameron's team," said Pitt. "I am committed to working alongside the attorney general-elect to support and protect Kentucky families, our law enforcement community and our most vulnerable."
Pitt previously practiced law for Wyatt, Tarrant and Combs where he was a member of the firm's Litigation & Dispute Resolution Service Team, Executive Committee and chaired the Environmental & Toxic Torts and Antitrust & RICO practice groups. Pitt has also served as assistant U.S. attorney for the Western District of Kentucky and was senior trial attorney with the Public Integrity Section of the U.S. Department of Justice.
"Steve Pitt is the dean of Kentucky law, and we will quickly put his diverse experiences to work in General-elect Cameron's office," said incoming Deputy Attorney General Barry Dunn.
Pitt, originally from Logan County, graduated from the University of Kentucky College of Law, where he served on the staff of the Kentucky Law Journal. He and his wife, Kathy, have four grown daughters and six grandchildren. They live in Louisville.