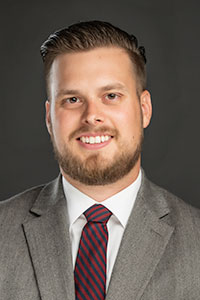 NEW ALBANY, Ind. — The Wheatley Group announced Wednesday it has hired Dylan Fisher as vice president of redevelopment and real estate.
The Wheatley Group is a New Albany, Ind.-based firm specializing in the conception, planning and implementation of economic development and redevelopment initiatives.
"I am thrilled we are adding Dylan to our team," said Paul Wheatley, principal and founder of The Wheatley Group. "His unique skillset and proven track record of project leadership on significant redevelopment initiatives will bring immense value immediately to our clients."
In his new role Fisher will be advising public and private sector clients with the implementation of strategic redevelopment and economic development initiatives.
Fisher is the former redevelopment director for the town of Clarksville. He held the position from 2016-20, where he oversaw the community's redevelopment program while managing and directing its annual $8.5 million TIF and $2 million EDIT budgets. His regular duties included planning and managing capital improvement projects, negotiating public-private partnerships, assembling and entitling land for large scale redevelopment projects, and improving community relations.
Fisher has managed over $45 million in local capital improvement projects. He has negotiated local public incentive packages to leverage over $100 million of new construction in the hospitality, retail and multifamily residential sectors. He successfully negotiated purchase contracts and administered the acquisition due diligence process for over 120 acres of developable land in multiple brownfield/infill redevelopment project areas.
Fisher is a native of Clarksville, Ind. and received his bachelor of science degree in urban planning and regional development from Ball State University in 2015. Outside of his professional life, he is current president of the Clarksville Kiwanis Club.