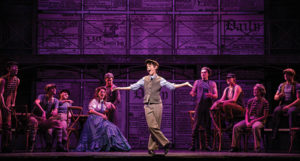 No matter the challenge, hardship, pain or pestilence, art can always be created. The medium and materials may change, but art prevails.
The arts contribute to quality of life in Central Kentucky – and the economy. The total economic activity attributed to the arts in Lexington is an estimated $32.1 million, according to Americans for the Arts' Arts & Economic Prosperity report released in 2017.
"This spending by organizations and their audiences supports over 1,200 full-time equivalent jobs," said Maury Sparrow, communications director of LexArts. "The arts are also a big factor in our quality of life and sense of place. Our great public art, the LexArts Hop, theater and dance for all ages, music for all tastes – our culture attracts people to Lexington and keeps them here."
With an annual budget of approximately $1.8 million, LexArts financially supports six major partners: Carnegie Center for Literacy and Learning; Central Kentucky Youth Orchestras; Lexington Art League; Lexington Children's Theatre; Lexington Philharmonic; and the Living Arts and Science Center, as well of dozens of smaller arts organizations, both established and emerging. LexArts is an advocacy and fundraising organization formed originally in 1989 as the Lexington Arts & Cultural Council by the merger of the Lexington Council of the Arts (founded in 1972) and the Fund for the Arts (from 1984). The name was shortened to LexArts in 2005.
In mid-April, LexArts and Blue Grass Community Foundation created the Arts Resilience Initiative.
"The arts inspire and sustain us in good times and in bad. Theaters, studios and galleries may now be closed, but art has never been more essential," said Lisa Adkins, president and CEO of Blue Grass Community Foundation. In its first four months, the resilience initiative provided funds to 46 individual artists, 18 arts organizations and six LexArts general operating support partners.
Lexington Opera House, built in 1886, is listed on the National Register of Historic Places. On March 4, the lights of Broadway (and Short Street) became bright, indeed, with a new exterior marque. Jointly funded by Lexington Center Corp. and the Opera House Fund, the two pieces of the marquee weigh a total of 9,550 pounds. The lighting system has 1,100 LED light bulbs. The electronic message displays are almost 12 feet wide and over 4 feet tall. The Opera House marquee was built and installed by Elyria, Ohio-based Wagner Electric Sign Co. that specializes in marquee signage for historical theaters. Lexington Opera House, along with Triangle Park, Rupp Arena and the newly named Central Bank Center, is managed and maintained by the nonprofit agency Lexington Center Corp.
Lisa Higgins-Hord was elected chair of the Carnegie Center's board of trustees in July. She is an assistant vice president at the University of Kentucky and the first Black woman to lead the board of the 28-year-old literacy and learning center. A month later, the Carnegie Center held its "Kentucky Great Writers Series" via Zoom, as poets Savannah Sipple, Ron Davis and John James read their work in the event, promoted as "Carnegie from your couch."
The Lexington Theatre Co., known as The Lex, developed a line of programming called Creative at Home in lieu of its regular summer performance season at the Lexington Opera House. Offerings included a series of online bilingual music and storytelling, a lecture series exploring musical theatre, three digital productions, a podcast called "Creative Conversations" and "monthly motivations" classes for theatre artists from third grade to professionals.
In Versailles, Woodford Theatre produced scenes and showcases virtually during the spring. Central Music Academy announced it will hold classes and music lessons in the fall via Zoom.
"Saturdays at the Lyric" was a summer program with weekly take-home art supply kits from the Lyric Arts & Cultural Center and online video tutorials on how to build things like popsicle stick birdhouses, recycled paper beads and Chinese paper knots. The popular program was extended for young artists and their families to take advantage of monthly take-home packages September through December.
In mid-September, Passions for the LatinX Arts held a virtual art exhibition opening on YouTube and Facebook during LexArts HOP. Titled "ApART," the 2020 exhibition highlighting Latin art in Lexington would have been on display at the Lyric Theatre Gallery, but now will be online for the foreseeable future.
Red Barn Radio is in its 19th broadcast season of presenting "Roots Music, Southern Style." The in-person concert series was suspended from March 18 until the end of May, at which time weekly musical guests began performing without a live in-studio audience at the performance hall at ArtsPlace. In August, Red Barn Radio held its 700th concert recording.
The UK Art Museum reopened in late August with an online ticketing system to schedule hourly appointments, for a maximum of 20 visitors per hour. Other safety protocols include temperature checks, masks, social distancing, signs for directional foot traffic and revised museum hours.
Kentucky Ballet Theatre, founded in 1998, supports a professional ballet company of 10 to 12 dancers and the KBT Academy, with year-round classes for 100 students ages 4 to adult. A typical performance season includes four fully staged productions at the Lexington Opera House and the Pam Miller Downtown Arts Center, as well as the Center for Rural Development Theater in Somerset and the Mountain Arts Center in Prestonsburg. The KBT Academy continued classes virtually in the spring of 2020 and began a hybrid model for the fall semester with small on-site dance classes.
In June, the National Endowment for the Arts announced a total of $215,000 "Our Town" grants to be awarded to six Lexington-based projects: $75,000 each to CivicLex for its Civic Artist in Residency program and to Community Ventures, for art works in Lexington's East End neighborhood and at the new mixed-use development known as The MET; $20,000 each to Breaking the Bronze Ceiling and the Lexington Public Library; $15,000 to Lexington Children's Theatre; and $10,000 to the Living Arts & Science Center.
On Aug. 18, 1920, ratification of the 19th Amendment granted women the right to vote and 100 years later, the event was commemorated in downtown Lexington with the installation of a bronze statue called "STAND" by artist Barbara Grygutis. "This monument is a fitting and engaging tribute to the lives of so many exceptional and tenacious women," said Jennifer Mossotti, chair of the Breaking the Bronze Ceiling initiative. "It is a long overdue piece of public art for Lexington and will serve as constant reminder to current and future generations of women's perseverance in the suffrage movement and the importance of exercising your right to vote."
Public art is abundant throughout the capital city of Frankfort. The Frankfort/Franklin County Tourist and Convention Commission developed the Frankfort Public Art Tour in 2012, a self-guided walking or driving tour of public art, and devoted a website to it with a grant from the National Endowment for the Arts. Funds were allocated in 2019 for an upgrade of the digital infrastructure, and in June 2020, public art was integrated into the main tourism site (visitfrankfort.com). Details and a mobile-friendly map are curated in collaboration with Josephine Sculpture Park and FrankArts, the Franklin County Arts Council.
When you think of The MET, do you think New York or Lexington? Where Winchester Road becomes East Third Street at Midland Avenue, The MET is on track to be completed in the fall of 2020. The mixed-use complex, a community development project of Community Ventures, has residential units, a bakery, a coffee shop, hair salon and other commercial businesses. There's an art gallery on the first floor, 24 studios on the second floor for artists in the community to lease, and a series of public art pieces are being installed on and around The MET. The first art installation went up on Sept. 8, a 25-foot canvas on the Midland Avenue side of the building with a poem written by Frank X Walker, titled "Ode to the East End."
Art already is and will continue to be a big presence at The MET, thanks to Art Inc. Kentucky, a Community Ventures social enterprise led by artist and photographer Mark Johnson.
"Art Inc. Kentucky was designed to be an incubator for artists to make a living with their craft. It has grown," said Jonah Brown, president of marketing for Community Ventures.
A block away from The MET is the Artists' Village, a shared community planned by Community Ventures and Art Inc. Kentucky.
"The village was a unique concept that took everything to the next level," Brown said.
Each artist's home will have a garage converted into a studio, and an open space connected to the homes will have a track and green space to host poetry readings, concerts, festivals for kids and art shows.
"Not only does the East End community have a rich history in arts and culture, this is an opportunity to introduce a new generation to the arts, and a way for them to see people who look like them from their neighborhoods to go on and become successful artists," Brown said. This is a huge investment into the arts community for Central Kentucky."
The Lexington Philharmonic, founded in 1961, employs 80 full- and part-time musicians and employees. The organization generated over $195,000 in federal, state and local taxes during its 2019 fiscal year (July 1, 2018, to June 30, 2019) with an annual budget of $1.3 million, the largest economic impact of any performing arts institution in the region, and produced 130 educational programs, 85% of which were free to attendees. The majority of LexPhil's annual operating budget comes from grants, sponsorships and individual donations, with a small percentage from ticket sales.
The 2020-21 season, named "Connect," pivoted from its previously scheduled traditional orchestra venues to one of bringing music directly to community neighborhoods and other outdoor venues, as well as virtually through a "LexPhil Living Room" series. LexPhil also established an IDEA task force for inclusion, diversity, equity and accessibility.
"The pandemic is pushing everyone, including the Lexington Philharmonic, to reimagine how we connect with our community," said Colmon Elridge, III, board president of the Lexington Philharmonic. "For decades we have been honored to convene audiences to experience live orchestral music, but now we are honored to bring great musical experiences to our community wherever they may be. The upcoming season, like so much of our lives, will be different. We are committed to safely connecting with our community through unconventional and exciting programs. As president of the board of directors, I invite you to come on this journey with us. I promise you, the best is yet to come."