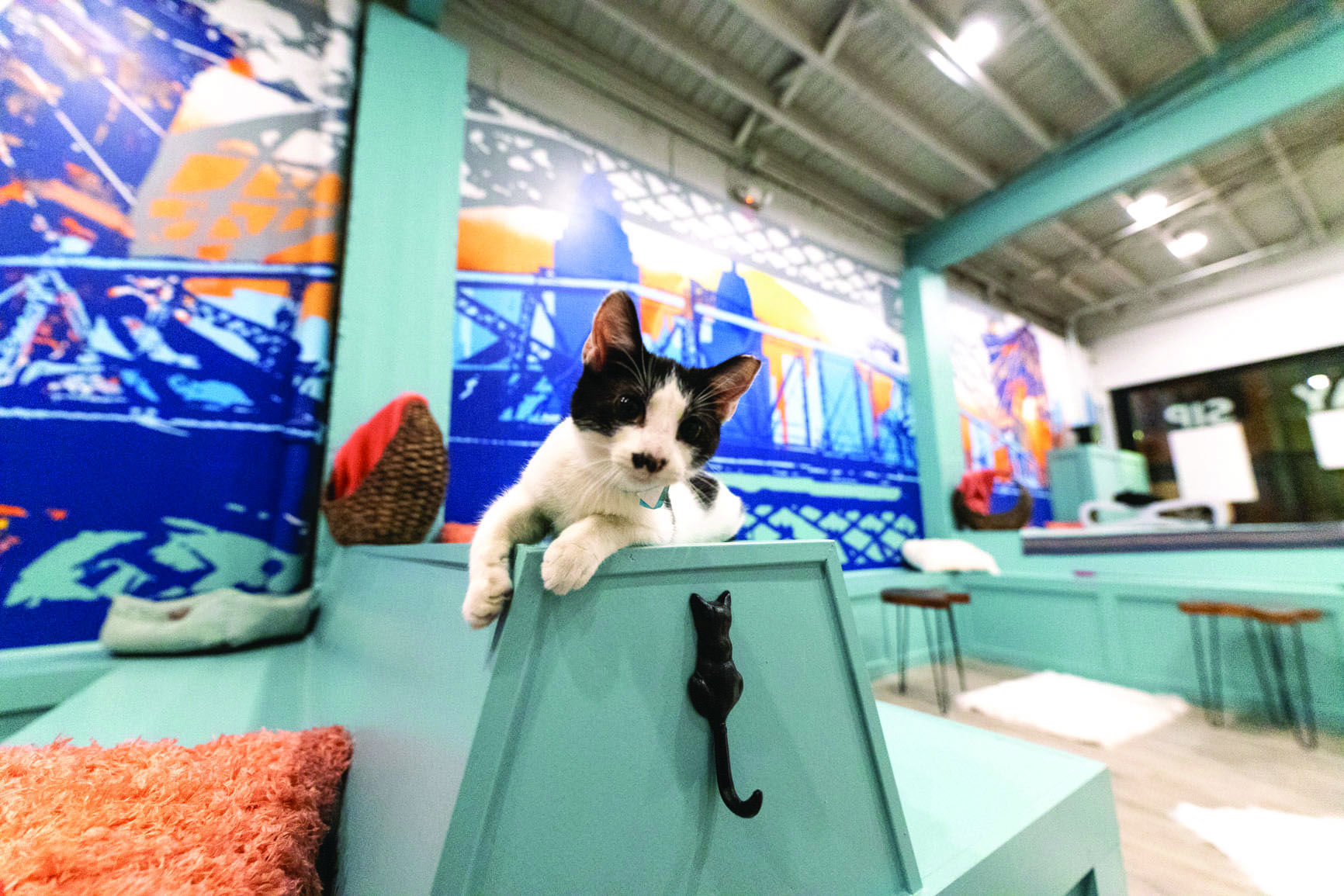 Louisville entrepreneurs Chuck and Tricia Patton sold their automotive marketing company Traffic Builders in 2015 and began looking for their next venture. They had three objectives: They wanted to have fun, be different and be an industry disruptor.
While vacationing in Charleston, S.C., the couple visited a "cat café," a cozy eatery where humans and cats interact and the cats get a chance at finding a "fur-ever" home.
"We felt like Louisville would love and support the concept … and we were so right," Chuck Patton said.
The Pattons brought the idea back to the Highlands, a Louisville neighborhood known for its eclectic collection of shops, restaurants and nightlife options. With the Kentucky Humane Society as a resource, they opened Purrfect Day Café in August 2018.
The café, which serves light snacks and sweets, alcoholic beverages and fresh-brewed coffee and teas, was quickly successful at pairing customers with fluffy felines who needed a home. In November 2020, the Pattons opened a second location in Covington and have a total of approximately 30 employees between the two locations.
The couple's marketing and advertising background was a great asset in launching such a unique business, he said.
"We believe [the café] works because it disrupts the traditional shelter model so the shelter can focus on what they do best—cat care and intake—while Purrfect Day Café enhances the adoption experience," he said. "Some visitors come in to socialize the animals while others bring home their 'fur-ever' friend."
Chuck Patton shared more about his unique business for this issue's Small Business Snapshot.
The Lane Report: You have cafes in Louisville and Covington. Do you plan to open any others here in Kentucky? 
Chuck Patton: Not at this time, but you never know. We are exploring other opportunities based on where the needs are for kitty care and opportunities in the market.
TLR: What kinds of items are served at the café?
CP: We have "pawstries" such as scones, hot "purretzels," "pawpcorn," "meowcohol"—wine, beer, "purrbon" and "meowmosas"—and some sweets such as cake pops, brownies, etc. We also serve coffee and tea.
TLR: How many cats do you keep at a time?
CP: Normally, we have between 12 to 20 cats, but during kitten season—May through December—we can have up to 30.
TLR: When you meet someone new, how do you describe your job?
CP: It's an adoption center meets bar and coffee shop. For anyone interested in the business side, I call it an "out-of-the-litter-box thinking, industry disrupter." It's a social enterprise model and a business with a "purrpose."
TLR: Tell us something you are proud of.
CP: I am proud that the "Purrfect Team" and staff have made this such a "pawsitive" experience that over 30,000 animal lovers travel every year to come to the cafés. We have donated over $33,000 to animal charities, including the Kentucky Humane Society, and our community has made Purrfect Day the highest adoption cat café in the country, coming up on 5,000 adoptions.
TLR: What has been your biggest challenge as a company?
CP: People do not always know what a cat café is and how they can help. Although the adoptions are the focus, we need people to come in and grab something to eat/drink in order to remain fiscally healthy. Our long-term priorities are to be making an impact until we are no longer needed, and in order to do that, we need visitors as well as adopters.
During complete shutdown, Purrfect Day remained open doing adoptions one person at a time. Since then, we have only been open at about 30 to 40% capacity to comply with protocols. Our Covington location opened during COVID-19 restrictions and has had very little help because grants and assistance did not apply to newly opened businesses. We have been able to keep our heads just above water, but we are not out of the woods yet.
TLR: Is there anything else you'd like to tell us about your company?
CP: We would not have been a success if it were not for the Kentucky Humane Society and the Kenton County Animal Services, along with their family of volunteers and fosters. It takes a team, that is for sure.
Lorie Hailey is special publications editor for The Lane Report. Send recommendations for Small Business Snapshot to [email protected].