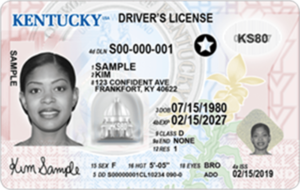 FRANKFORT, Ky. — The Interim Joint Committee on Transportation, co-chaired by state Rep. Ken Upchurch, received an update on REAL ID driver's license issuance by the Kentucky Transportation Cabinet.
KYTC officials said the REAL ID license deadline is extended to May 3, 2023. After that date, licenses without a black star cannot be used at airport security checkpoints for U.S. commercial air travel or to visit military bases and federal facilities that require ID.
Though there will be travel and access restrictions after the enforcement date, REAL ID cards are optional in the state. Other federally approved documents, like a valid passport, are still acceptable for U.S. air travel and military base entry.
The KYTC still encourages Kentuckians to make their REAL ID plan as early as possible now that several counties have more accessibility. According to testimony from the Department of Vehicle Registration, the administration expects nearly 30 regional offices to open throughout the Commonwealth. To learn more, go to drive.ky.gov.