LEXINGTON, Ky. — Rubicon, a software platform that provides smart waste and recycling solutions to businesses and governments worldwide, announced Tuesday that the company is opening a new office space in Lexington that will serve as the firm's global headquarters. 
The location expands the company's existing footprint in the state and honors its Kentucky roots. It joins the company's other executive leadership office in New York City, which has remained in operation throughout the past year as the majority of Rubicon's workforce transitioned to remote operations, a significant portion of which continues to be based in the Atlanta metro region.
More than 10 years have passed since Rubicon was founded in Kentucky and, throughout its life, the company has been committed to ensuring that each of its employees has the flexibility to live and work in the ways best suited to their individual circumstances. Expanding the company's presence in Kentucky is a natural progression given the state's central geographic location and it being the company's birthplace.
[Read a Lane Report profile of Rubicon from 2018.]
A key factor in Rubicon's expansion of its footprint in the city is that the company's new office space is located in the City Center development, a state-of-the-art commercial, retail, and residential complex in the heart of downtown Lexington. 
Rubicon's business model enables the growth of small businesses everywhere. The company helps its customers run their businesses more effectively by streamlining their waste and recycling operations, and contributes to the growth of its key hauler partners, many of which are small, family-owned businesses themselves, by working with them to expand their customer bases.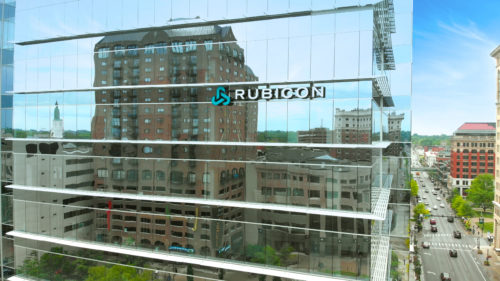 The company is positioning itself via its headquarters location to expand its central role as a driver of economic opportunity in the state. In addition to its focus on the waste and recycling space, Rubicon also intends to support waste-related research and manufacturing opportunities.
Rubicon's headquarters will be formally open later this summer.