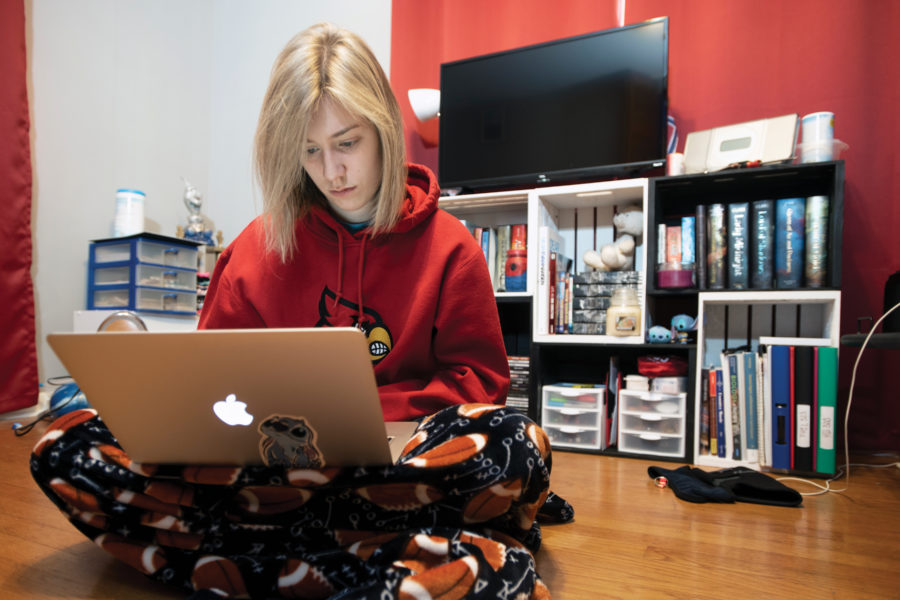 Louisville students and educators proved that even a pandemic is no match for brainpower and sheer determination. Not only did learning continue through the worst of COVID-19, but there also was time and energy to fight for crucial issues such as racial equality.

The pandemic struck in the first semester of 2020, and it hit Louisville especially hard.
University of Louisville professors and students fought back on myriad fronts.
UofL researchers developed a technology believed to block the coronavirus from infecting human cells. It is now in development with a biomedical company, Qualigen Therapeutics.
Nationally networked labs enabled researchers to safely study the coronavirus while infectious disease researchers worked with all 10 Louisville hospitals and two in Southern Indiana to process tests and study the illness.
The university was able to provide a reliable estimate of the breadth and spread of coronavirus infection in different parts of the city through the Co-Immunity Project, a groundbreaking collaboration.
UofL researchers tested Louisville wastewater to track COVID-19 – a method since adopted elsewhere and lauded in The New York Times – while other researchers used internet searches to map its spread. One team discovered a biomarker that predicts a crisis in COVID-19 patients.
UofL students were also active in fighting the virus.
Engineering students created 3D-printed face shields for health care professionals while another team developed a more effective, reusable N95 mask, and 3D-printed swabs developed at UofL filled a gap in test kits.
Business students started a company to meet demand for reusable face masks, and launched a decontamination program to alleviate a mask shortage for health care workers.
Although COVID-19 dominated the headlines, UofL was busy in many other areas. The university:
• developed next-generation manufacturing technology.
• rehydrated blood in space.
• used dance to treat veterans with PTSD.
• examined the effects of vaping and nicotine on youth.
• advanced carbon dioxide reduction.
• described a possible mechanism for a link between obesity and breast cancer.
• discovered a key driver behind the bacteria that causes Legionnaire's disease.
• unveiled that Group B Strep infections are more common than previously recognized.
• began testing a new gene therapy for heart attacks.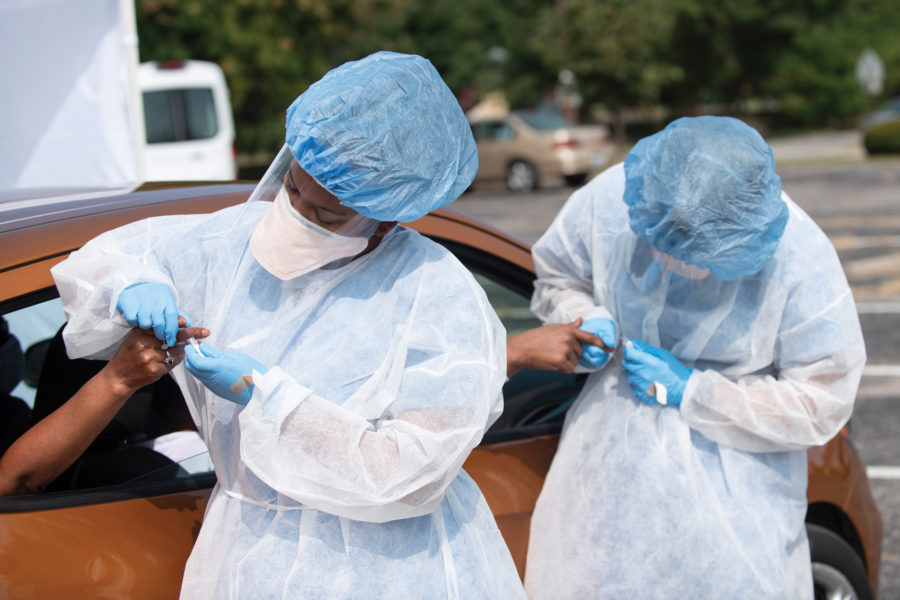 Additionally, UofL still secured $170 million in competitively funded research – the most ever and nearly $18 million over the previous record year, fiscal 2018-19.
The university ranked as the best college in Kentucky based on statistics from the U.S. Department of Education.
"Our research efforts have certainly turned heads," said UofL President Neeli Bendapudi, "which is why we've received millions in funding to launch a health care cybersecurity curriculum (with $6 million in National Security Agency funding) and advance cancer immunotherapies, why partners have signed up to bring our technologies to market, and why Pfizer Inc. designated UofL as its first Center of Excellence."
Outside of the lab, UofL redefined student success as enrollment reached more than 23,000 students – the highest in 23 years.
Experiential learning opportunities, including internships and co-ops, increased despite the pandemic. For the sixth time, UofL was included on the list of U.S. colleges and universities producing the most Fulbright scholars. Twenty-one UofL students and alumni won prestigious international fellowship offers this year.
UofL was identified as one of only three U.S. universities that provides equal access to Black and Latino students, as well as a top school for Black students pursuing a criminal justice degree.
UofL became one of just 28 public/private partnerships funded by the Department of Labor to build a program that will prepare students for jobs of the future.
As Bendapudi said, "2020 was not a year of simply watching and waiting. It was a year of Cardinals doing what they do best – stepping up to help others."
In a year filled with racial justice protests, Bendapudi declared an objective of UofL becoming the nation's premier anti-racist university. She joined other area higher ed presidents in pledging to end racial inequality in the city and created a scholarship in memory of Breonna Taylor. The School of Medicine established an endowed fund to combat racial inequality, while the UofL College of Business and the Kentucky Distillers' Association teamed up to increase diversity in the industry.
The same idea of working on solving issues rather than watching was behind an innovative program at Bellarmine University.
The Women of Color Entrepreneurs-Leadership (WoCEL) certificate at the university's Rubel School of Business launched this year.
"The new noncredit initiative is offered as part of our executive education and certificate programs," said Natasha Vijay Munshi, dean of the business school. "It is a new addition to the Rubel School of Business portfolio that is focused on lifelong learning."
The first class is giving 10 minority women from the West End of Louisville an opportunity to go through an intensive leadership program like those usually reserved for top executives. The course is free and provides an opportunity to learn skills that can help participants transform their lives and community and help others do likewise.
"I don't think there is another college program that is entirely focused on women-of-color entrepreneurs," Munshi said.
Patricia Carver, an advocate for Black rights in Louisville, was chosen to lead the program. Other Kentucky business leaders offered to provide financial support and decided each woman would have a sponsor who pays for them to go through the program. The instructors are minorities and each participant has a mentor for support.
"Women are capable of transforming society. We know this," Munchi said. "To empower how we are going to see our society transformed, major change is needed at the societal level."
Other schools also worked hard to erase racial inequality. The 16-school Kentucky Community and Technical Colleges System (KCTCS), which includes Jefferson Community and Technical College, created the Office of Diversity, Inclusion and Community Engagement (ODICE) to promote an inclusive learning environment by enhancing efforts to recruit and retain minority students.
KCTCS created an Office of Multicultural Affairs with 16 diversity officers at each college committed to Equal Employment Opportunity/Affirmative Action programs that promote diversity and remedy the underrepresentation of women and people of color.
KCTCS also collaborates with other schools to achieve goals. For example, a linkage between West Kentucky Community and Technical College and UofL is expanding dental care in Western Kentucky. UofL and JCPS launched a residency program to increase the pool of diverse teachers.
Spalding University's efforts to enhance its commitment to justice, equity, diversity and inclusion were bolstered by a $200,000 grant from the James Graham Brown Foundation. The funds will help develop a comprehensive campus plan for diversity and inclusion initiatives and to support the work of the downtown private university's recently created Office of Justice, Equity, Diversity and Inclusion (JEDI).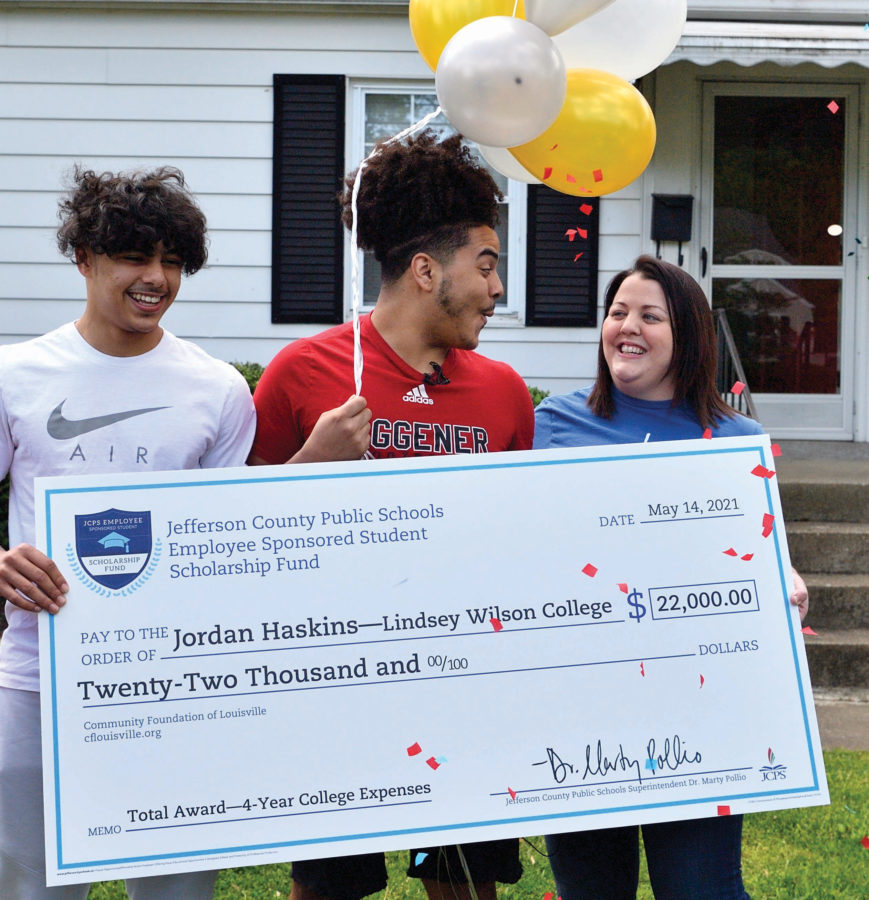 Specifically, the James Graham Brown Foundation's grant will support Spalding in conducting an independent campus climate survey to identify the university's JEDI gaps, then operationalizing the survey's findings in order to increase JEDI best practices across campus.
Spalding is a private institution with about 1,600 students in Louisville. It educates a "diverse community of learners dedicated to meeting the needs of the times," said Melissa Chastain, Spalding's dean of enrollment management and strategic initiatives.
Racial equality is also being addressed at the secondary school level in Louisville.
Eight of the 18 principals Jefferson County Public Schools hired last school year are Black, and the number of Black teachers leaving JCPS has been cut in half.
The statistics reflect a JCPS commitment to recruiting and retaining more educators who look like the district's student body.
Georgia Taylor at McFerran Preparatory Academy is one of the Black principals hired in the past year. She began her career nearly 20 years ago as a teaching assistant at McFerran before becoming a teacher, assistant principal and principal at other schools in Jefferson and Meade counties. Now, she's back where she started and glad to see JCPS following through on its mission to find, hire and keep talented leaders of color.
"I do not take this opportunity lightly," Taylor said. "I recognize the importance of being hired as a Black principal to lead a school that has nearly 80% Black students and another 15% students of color. This gives me the opportunity to be an advocate for students who look just like me. This is a very different experience than I had when I was a student."
Taylor and other persons of color make up 40% of JCPS' full-time principals.
The number of other top administrators of color has increased as well. Since 2018, the percentage of chiefs, assistant superintendents and executive administrators of color has increased from 23% to 42%.
Sixty percent of JCPS students are students of color. JCPS' Racial Equity Plan calls for more diversity across the district with a goal of increasing the number of teachers of color.
That is already occurring in classrooms.
JCPS has more teachers of color and more Black male teachers than ever before. Part of that success has been found in retaining the teachers the district has. JCPS' attrition rate for Black teachers has been cut from 14% to 7% over the past three years.
"Our students have an increased sense of belonging when they have teachers, principals and administrators who look like them and can relate to their life experiences," said Superintendent Marty Pollio.