LEXINGTON, Ky. — LexArts announces the election of seven new members to its Board of Directors: LaShawn Barber, Coach LaShawn Barber, CEO; Angela Coleman, Unified Trust; Joseph Coleman, Kentucky League of Cities; Mark Johnson, Art, Inc.; Whit Whitaker, Lyric Theatre and Cultural Arts Center; Kim Ries, Maker's Mark Distillery; and Dan Wu, Culinary Evangelist.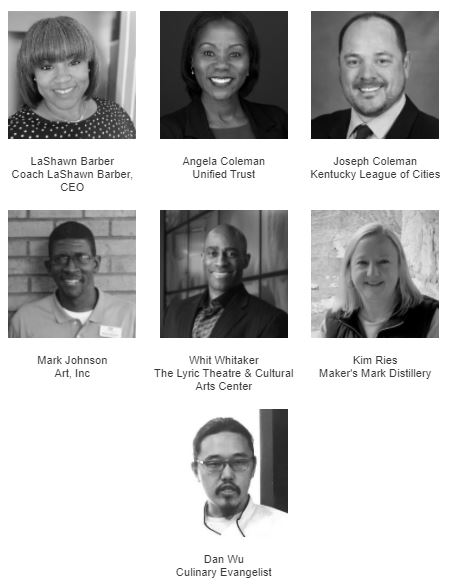 "Each of these individuals possesses a passionate spirit of community and brings talent, expertise, and energy to the table," said Greg Padgett, Chairman of the Board. "We are confident that they will add great value to our Board of Directors and we are very fortunate to have them by our side as we continue to strengthen the arts in Lexington and Central Kentucky."
In addition to Padgett, other members of the Executive Committee include:
John Cioci, WesBanco, Immediate Past Chair; Ame Sweetall, President & CEO, LexArts;  Michelle Deans, MCM CPAs, Treasurer, and Finance Committee Chair; Colin Doherty, Hook Interactive, Vice-Chair, Development Committee; Emmy Hartley, Cornett, Secretary; Jon Stewart, Kentucky Employers' Mutual Insurance, Vice-Chair, Grants Committee;  Robin Thomerson, Dentons Bingham Greenebaum, Facilities Committee Chair; Camden Skidmore, Republic Bank, Nominating Committee Chair; and Heather Lyons, City of Lexington Mayor's Office Representative.
Continuing LexArts Board members for FY 2021 include:
Jessica Berry, YMCA of Central Kentucky; Brent Bruner, EOP Architects; David Bugg, Toyota Motor Manufacturing Kentucky; Lauren Case, Fayette County Public Schools; Bill Farmer, Farmer's Jewelry; Ken Gish, K&L Gates; Gina Greathouse, Commerce Lexington; Jill Hall (fka Rose), Rose Law Office and Don Hall GM Supercenter (Ashland); Stefan Hendrickson, Dean Dorton; Catherine Ladd Kenneally, Cross Gate Gallery; Christa Marrillia, Keeneland; Jeff Murphy, Catholic Health Initiatives; Kathy Plomin, LFUCG Councilmember; Rachel Ray, Lexington Children's Theatre; Chad Rudzik, Bank of the Bluegrass; Yajaira West, PNC Bank.
Click here for more Corporate Moves